SportsNation Blog Archives

Chicago Bears
Is Jay Cutler criticized too much?
After Chicago's oft-maligned quarterback delivered a gritty come-from-behind win over the Raiders on Sunday, that question was posed to Bears tight end Martellus Bennett.
is Jay Cutler too often criticized? Martellus: "They threw rocks at Jesus, & Jesus was an excellent guy who did a lot of awesome stuff."

— Patrick Finley (@patrickfinley) October 4, 2015
Before comparing Jay Cutler to Jesus, Martellus Bennett compared him to Keanu Reeves in the movie 'The Replacements'

— Patrick Finley (@patrickfinley) October 4, 2015
It's safe to say the tongue-in-cheek Bennett is having some fun here, but what an answer.
The quotes predictably earned some laughs and retweets on Twitter, and good on Chicago Sun-Times reporter Patrick Finley for posing the question to Bennett -- the self-proclaimed "black unicorn" -- who's always a good quote.
Brian Urlacher left the NFL in 2012, after a 13-year, eight-Pro Bowl, defensive player of the year-winning career with the Chicago Bears.
Let's check in on what the former linebacker is doing now, via his Twitter account:
Good day on the linebreaker! #americanredsnapper pic.twitter.com/inkGKm0Fze

— Brian Urlacher (@BUrlacher54) June 29, 2015
June 29, 2015
Yup! She caught it! #linebreaker #blackgrouper pic.twitter.com/zIWfTbXNkD

— Brian Urlacher (@BUrlacher54) June 29, 2015
Mine is Bigger!! #Muttonsnapper #Brandon pic.twitter.com/PeYkUMr9OD

— Brian Urlacher (@BUrlacher54) May 25, 2015
Fishing with my homies! #smashingAJs pic.twitter.com/1aqKvbDwYt

— Brian Urlacher (@BUrlacher54) May 3, 2015
Yes, Urlacher is pretty into this fishing thing. According to the Naples Daily News, he and some business partners own a charter boat called "The Linebreaker" and based in southwest Florida.
The name isn't just a simple play on Urlacher's former position. Via Kelly Merritt, in 2011:
On a fishing trip prior to Urlacher purchasing his boat, the line kept snapping from the big fish they were catching. One of the guys on the boat said, "You're not a linebacker -- you're a line breaker," and the name was born.
It doesn't seem the line was breaking too much on those catches, though.
H/T For The Win
Statistically, two is not a trend. But we're calling it anyway:
2014 is the Year of the Jump-Kick.
First there was Antonio Brown of the Pittsburgh Steelers planting a foot on the face mask of Cleveland Browns punter Spencer Lanning (which, admittedly, drew a fine):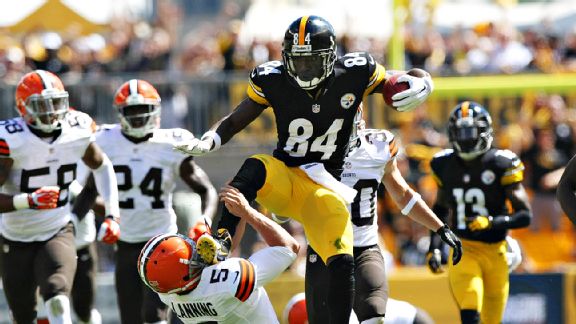 Jason Bridge/USA TODAY SportsSpencer Lanning found out what it feels like to be punted when he tried to tackle Antonio Brown.
On Sunday night, the Green Bay Packers' Jarrett Boykin (perhaps) one-upped Brown by getting a leg to the ball before Chicago Bears punter Pat O'Donnell could kick it: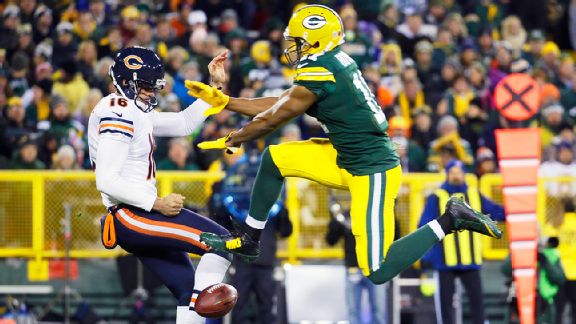 AP Images/Morry Gash
AP Photo/Denis Poroy
NFL Week 2 questions
The NFL's second week has come and gone, and both Washingtons made big news. The D.C. version saw its team lose quarterback Robert Griffin III to an ankle injury -- but win in big fashion anyway behind Kirk Cousins. The team from the state of Washington, meanwhile, was stunned in a 30-21 loss to the Chargers, with cornerback Richard Sherman being called out by San Diego players. What do you make of the week's major storylines?
Thoughts on NFL's opening week?

The NFL is back! On the first Sunday, some teams (San Francisco 49ers, Denver Broncos) won as expected, others (New Orleans Saints, New England Patriots) suffered surprising defeats, and a few more (Dallas Cowboys, Kansas City Chiefs) were downright demoralized. On Monday, the Detroit Lions grabbed the headlines by routing the New York Giants. What's your take on some of the major questions from Week 1 action?