SportsNation Blog Archives

Marion Barber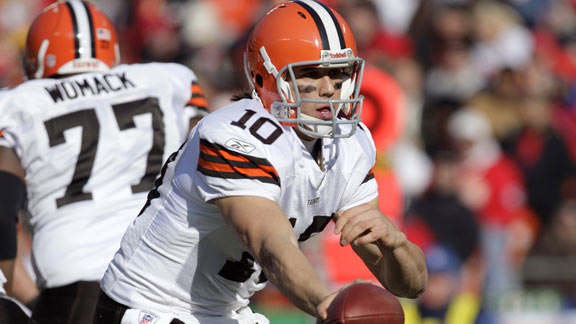 Not many people can pull off a neck beard and successfully play quarterback in the National Football League. Actually, let's reword that: Not many people can pull off a neck beard, period. As Dr. Aaron Perlut (a friend of SportsNation) would put it, beards are compromises for those not committed enough to wearing a mustache.
Obviously, Dr. Perlut has never met Kyle Orton. He's been able to do both quite well in the past year, heading a surprisingly competitive Broncos squad and rocking a thick and extensive beard. The Broncos don't seem to be totally confident in him, however, as they've acquired clean-shaven Brady Quinn as a backup plan. Sure, Orton is starting now, but how long will that last? For certain, he can sympathize with Marion Barber (soul patch), Flozell Adams (mustache/beard combo) and Matt Leinart (stubble). One day, you've got a starting position and a full beard -- the next, nothing. At least Orton can take solace in the fact that SportsNation sees him as the starter for the majority of the Broncos' games this season. Is that the right choice?
"

Look Orton wasn't the total problem with this team, his numbers speaks for themselves...had the running game been a lil better and the D played a lil better no one would have questioned Orton ability...I think his arm decent to throw downfield had McDaniels allowed him too (see Redskins game to Marshall). Quinn is only an upgrade of Simms who stunk and looked terrified to be out there.

"

-- lbmore33
"

Do it. Jones starting, Barber closing. ...don't forget to use Choice.

"

-- blueliner2k3
"

Flozell is a cheap-shot tackle who only gets by on his garbage tricks. He cannot handle the better ends in the league. You will not win with his blocking.

"

-- sauce1977
There's little doubt who the best running back in football is these days; he's the guy that has more states than Minnesota native Walter Mondale carried in 1984 voting for the Vikings to win the NFC North despite Brett Favre's decision to stay retired.
As long as you have Adrian Peterson, you have a chance. Then again, that's not altogether different from how people felt about Larry Johnson as the 2007 NFL season approached.
You remember Johnson, the guy who rushed for 1,789 yards on a record 416 carries in 2006, a year after topping 1,700 yards with 20 touchdowns in a breakout campaign. Back in June, 2007, voters said he was the second-best back in the game (granted, Secretariat's margin of victory in the Belmont was a photo finish in comparison to LaDainian Tomlinson's lead) and clearly the Chiefs' most indispensable player.
Now it's 2009 and despite better than 800 yards last season, Johnson can't get a sniff when it comes to the backs "SportsNation" (4 p.m. ET, ESPN2) is asking voters to rank for Thursday's show. Just more proof that success can be fleeting at one of the NFL's most physically demanding positions. Be forewarned, Vikings fans.
"

wonder where RBs that had a goodly amount of carries combined with a goodly amount of receptions fit in in all this? For example: Matt Forte had 316 carries last year, far below the 370 curse mark, but also caught 63 passes...combined touches 379, so he's over the limit. May not mean anything at all, but I expect to see a drop off in his production this year simply because teams will scheme to shut him down more, IMO.

"

-- The Mini Ditkas
"

L.T. will duplicate his numbers from last season, and I can tell you now.. I spent too much time watching him log around 50 yards with zero scores to rest easy. Time to find a new horse for my squad.

"

-- noodlerii