SportsNation Blog Archives

Brian Urlacher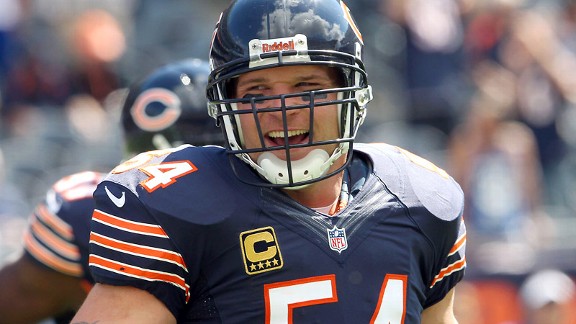 Nuccio DiNuzzo/Chicago Tribune/MCT
The NFL has been under fire recently for its approach to player safety, but at least one former player is saying that some teams took advantage of the system. Bears legend Brian Urlacher claimed his own team (like most others around the league) would fake injuries in order to slow down fast-paced offenses. This isn't anything new, exactly, but to hear a former player (especially someone of Urlacher's stature) just come right out and say it is a rarity. Given the proliferation of high-powered offenses in recent years, we're not surprised to hear that teams are resorting to chicanery to slow them down.
Here's a sampling of what readers had to say in our Facebook conversation on the story:
John Alan: "That's cool, make it a rule that "injured players can not return to the field for a designated time period, or period in play. Will soon cut it out."
Joshua Thompson: "I thought this only happened in Soccer... Don't give me another reason to discredit the NFL, NFL."
Joe Bittner: "Next thing he will be telling us is that the coaches have guys on the sidelines trying to steal the other sides signs and that the sky is blue. Duh."
Andrew McKenzie: "Every sport has it, alas... when the stakes get high, competition pushes people to do this kind of thing. Comes with the territory, and always has."
Bill Edwards: "The injured defensive player should have to sit the rest of the drive or the rest of the quarter. If player safety is such a big concern that would make sense and maybe limit this from happening. Make an "injured" defensive players penalty box to keep it in line."
What do you think? Leave your comments below.
Brian Urlacher has been part of a long tradition of great middle linebackers for the Chicago Bears. But unlike Dick Butkus and Mike Singletary, Urlacher will not end his career in Chicago. The eight-time Pro Bowler and the Bears failed to reach an agreement on a new contract, leaving Urlacher to look for another home for the 2013 season. Can he still contribute at an elite level?
---
The man in the middle
For more than a decade, Brian Urlacher has been a fixture in the middle of the Bears' defense.

---
Still a monster?
Injuries hampered Brian Urlacher in the past two seasons, but he still had 170 tackles in 28 games.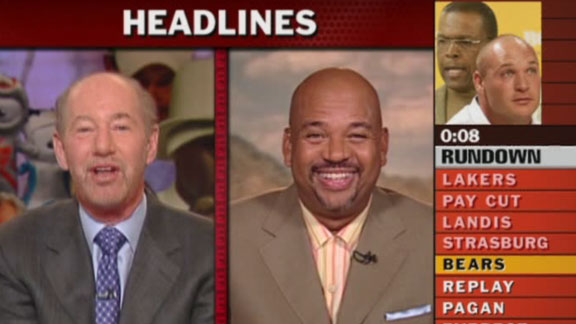 Carlos Zambrano picking a fight with Mitch Williams? Sure, why not. Joakim Noah sparring with Charles Oakley? Yeah, makes sense. We maybe could have even bought Patrick Kane talking trash to Jeremy Roenick. But Brian Urlacher and Gale Sayers? Definitely not the representatives of Chicago sports past and present we had in the feud pool.
In the best Bear-on-Bear action this side of medieval Russia (and people said that history degree was useless), Urlacher, Sayers and Dick Butkus are off and running. Sayers started things off by answering a question about the current Bears with some (rather mild) criticisms. Urlacher took it up a level, Brick Tamland-style, by questioning why a guy who never won a playoff game felt the need to criticize his former team.
That, in turn, led Butkus to chime in with support for his former teammate, which made us wonder about which Bears linebacker it's most foolish to pick a fight with.
"

People will always remember Gale Sayers. Urlacher is just a good linebacker, but theres definatly a lot that are better then him. Past and present.

"

-- ajp_
"

As a Bears Fan unless you're in the Media former players shouldn't throw current players under the bus PERIOD. Even Lions fans are optimistic. You're either a fan or not.

"

-- HJames1193
Chris Mortensen's bus tour of NFL training camps landed him at Bears camp this week, which led to a conversation with Brian Urlacher about living up to expectations as part of a lineage of linebacks that includes Dick Butkus and Mike Singletary. And, of course, the conversation also touched on what Urlacher did or didn't say about Jay Cutler.
Between all the great linebackers in team history and the scarcity of franchise quarterbacks over nearly a century of football, we started wondering about the greatest Bears of all time. Do any of the linebackers top Walter Payton? Where do any of the team's quarterbacks fit in the mix? Is there any way for us to work in a Matt Suhey reference?
We now know Jay Cutler thinks Bears fans are better than Broncos fans (while not reported, we also suspect he thinks lakes are better than mountains and wind is better than altitude), but who are the best Bears of all time?
"

As a Bears fan I have embraced Cutler. He is the type of QB we needed here for many years. Sort of reminds me of Jim McMahon. Both had some cockiness in them but as long as they will win for your club thats all that counts. Hopefully if Cutler can get us into the playoffs the haters will go away.

"

-- bullsfan2223
"

The sad thing is Jay Cutler actually believes kissing the backside of Bears fans will actually make a difference when he forces three picks in one half of a home game this year. It will not. The kid has an arm, too bad he has the same mental capacity as Jeff George.

"

-- Lundonj2