SportsNation Blog Archives

C.J. Wilson
C.J. Wilson tweeted Mike Napoli's phone number, and Napoli's not happy about it. Was Wilson's prank harmless or out of line?
carloshobbs: "Way too serious Rangers fans! Wow! Let it go and just let them take care of it when they face each other."
Pylon Phaneuf: "who cares, Napoli is a millionaire. Just buy a new phone."
PS_28: "Wilson has secured his place as the next Barry Zito. The baseball gods usually keep to the diamond but even they do not approve of this level of off the field lameness."
CheckPlease7777: "Good job, CJ! I thought it was funny and Napoli just acting like a baby. (please don't apologize)"
CompDiddy: "CJ will play great all year for them since they won't make the playoffs. He should stick to what he does best; brag about irrelevant nonsense, quote samurai proverbs, and race go carts."
Clark_and_Addison99: "Wilson's "joke" is a text book example of using poor judgement. I hope Napoli can light Wilson up at the plate this season. "



Join the conversation or respond by signing in or creating a profile and start blogging.
---
Darvish's future?
The Texas Rangers signed Yu Darvish shortly before the 4 p.m. CT deadline, meaning he'll be in a Rangers uniform and pitching in the States to start this season.

---
Best in the West?
The Rangers may have needed to sign Darvish just to keep up with the Los Angeles Angels of Anaheim, who signed Albert Pujols in the offseason ...

---
Wilson or Darvish?
... and also stole ace C.J. Wilson from Texas. Wilson is a proven commodity in the majors, but Darvish's potential is thought to be nearly limitless.

---
Power struggle?
The AL East has been the home of baseball's model franchises over the past decade, but the Pujols and Wilson deals, plus the Darvish signing, could signal a changing of the guard.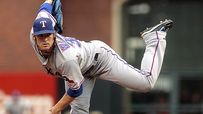 Wilson, who drove the pace car at Sunday's NASCAR race, was 1-2 with a 3.70 ERA in the postseason.
Welcome to SportsNation! On Tuesday, we'll be chatting with C.J. Wilson, pitcher for the AL champion Texas Rangers, about his breakout year this season, his trip to the World Series and his latest charity efforts.
After spending the first five years of his MLB career in the bullpen, Wilson transitioned, with great success, to the starting rotation in 2010. He won a career high 15 games with a 3.35 ERA, both of which were 10th best in the AL. His 170 strikeouts was 15th best in the AL.
Wilson's C.J. Wilson's Children's Charities serves the purpose of assisting all children and their families that are affected by chronic, life-threatening illnesses, and to support the goals of any other organization with which they concur is making a valuable contribution to society.
Send your questions now and join Wilson Tuesday at 12:50 p.m. ET!
C.J. Wilson online: LeftyLefy.com | @str8edgeracer
More Special Guests: Previous chats | SportsNation