SportsNation Blog Archives

Chris Paul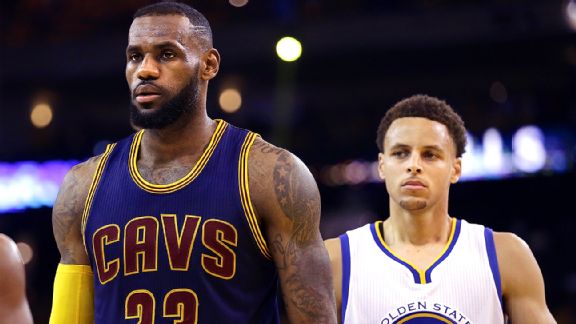 AP Photo/Ben Margot
Recently we brought you the top 10 players, as rated by the latest "NBA 2K" game.
The ratings for "NBA Live 16" also are here -- and they're quite a bit different.
Here's the top 10 (and ties):
1. LeBron James (97)
2. Kevin Durant (96)
T-3. Anthony Davis (95)
T-3. Marc Gasol (95)
T-3. Blake Griffin (95)
T-3. James Harden (95)
T-3. Chris Paul (95)
T-8. LaMarcus Aldridge (94)
T-8. DeMarcus Cousins (94)
T-8. Stephen Curry (94)
T-8. Russell Westbrook (94)
That's right: LeBron James (no surprise) is No. 1, 2014 NBA MVP Kevin Durant is No. 2, and a handful of talented stars across positions come in tied for third.
Meanwhile, the reigning NBA MVP is tied for eighth -- definitely an eye-opening number for a player many consider the best in the league. Then again, perhaps "NBA Live" is drawing upon more than just last season for its ratings; few before 2014-15 had Curry in that top-player-overall conversation.
September 23, 2015
Sep
23
The ratings for "NBA 2K16" are out, and -- unlike in "Madden" -- nobody in the league was given a 99.
In fact, the highest rating was a 94, given to a player whose name long has been synonymous with "best in the NBA."
The 10 overall ratings in #NBA2K16. What do you think? Let the debates begin. pic.twitter.com/qGyUIHajzA

— NBA 2K 2K16 (@NBA2K) September 22, 2015
That's right. Even Stephen Curry's MVP season -- which gave him a four-point jump over his score a year ago -- couldn't push him past LeBron James, although the latter dropped four points (partly due to, as Bleacher Report explains, a new way of calculating rankings).
James Harden's players' choice MVP campaign got him a four-point boost, as did the continued scary-goodness of Anthony Davis, but they still couldn't take down The King. Kevin Durant's injury, meanwhile, likely was the reason for his fall from second place and a 95 rating a year ago. (Interesting note: The three non-LeBron top-four players are on the cover.)
There were a couple of surprise inclusions on the list. Carmelo Anthony was 20th in player efficiency rating, 49th in real plus-minus and 81st in wins above replacement last season, yet checks in at No. 8. LaMarcus Aldridge (11th/25th/22nd) was also an eyebrow-raiser at tied for eighth/No. 10.
Not that either is bad, far from it, But still, no love for the best player on Aldridge's team?
He went too soon: Darryl Dawkins, aka Chocolate Thunder, aka Dr. Dunk, died Thursday at age 58.
His combination of personality and backboard-shattering dunks made him a player no hoops fan could forget. So it's only natural that a social media outpouring followed the news, featuring current and former Philadelphia 76ers, big-time dunkers, other stars past and present, and even those who never played in the NBA:
RIP Chocolate Thunder pic.twitter.com/WFFCPqeELk

— Allen Iverson (@alleniverson) August 27, 2015
Rest In Peace Darryl Dawkins aka Chocolate Thunder pic.twitter.com/0FPKTUel6I

— SHAQ (@SHAQ) August 27, 2015
R.I.P to Orlando florida's own "Chocolate Thunder" Darryl Dawkins. You will be missed my friend. You paved ... http://t.co/NXoiej1nDP

— Vince Carter (@mrvincecarter15) August 27, 2015
So sad to hear that my friend, NBA Legend Darryl Dawkins aka "Chocolate Thunder" passed away.

— Earvin Magic Johnson (@MagicJohnson) August 27, 2015
Darryl Dawkins' bigger than life personality will be missed by all. He was a good friend and I will miss him dearly.

— Earvin Magic Johnson (@MagicJohnson) August 27, 2015
I couldn't wait to see Darryl at every NBA All-Star Weekend. He was always the life of the party!

— Earvin Magic Johnson (@MagicJohnson) August 27, 2015
#RIP #ChocolateThunder pic.twitter.com/PsHPFl7UCO

— Chris Paul (@CP3) August 27, 2015
#RIPDarrylDawkins #ChocolateThunder

— Kobe Bryant (@kobebryant) August 27, 2015
RIP Darryl Dawkins #chocolatethunder! All my prayers to family.

— Isiah Thomas (@iamisiahthomas) August 27, 2015
I can't believe the news about my friend Darryl Dawkins. A fun spirited, loving and family man I hope you rest easy. Praying for your family

— Tyrone Muggsy Bogues (@MuggsyBogues) August 27, 2015
RIP to Darryl Dawkins aka "Chocolate Thunder" - a great man, entertainer, athlete and ferocious dunker. He will be missed but not forgotten.

— Kevin Johnson (@KJ_MayorJohnson) August 27, 2015
Darryl Dawkins was an icon, as a Sixer legend but more as a person. He will be truly missed by all. RIP #ChocolateThunder

— Jahlil Okafor (@JahlilOkafor) August 27, 2015
I'm going to miss you so much Uncle Darryl. There will never be another Chocolate Thunder. Love you so much and going to miss you so much..

— Karl-Anthony Towns (@KarlTowns) August 27, 2015
RIP Darryl Dawkins... Dr Dunk... Chocolate Thunder... one of THE nicest men... you will be missed. Prayers to his family, friends & fans

— Gabrielle Union (@itsgabrielleu) August 27, 2015
R.I.P Darryl Dawkins "Chocolate Thunder"

— Chad Johnson (@ochocinco) August 27, 2015
Rest in peace Darryl Dawkins. Wonderful memories of the 1980 Championships vs. Philadelphia. You had your own style. #ChocolateThunder

— Jeanie Buss (@JeanieBuss) August 27, 2015
Happy birthday, Chris Paul.
Today the NBA superstar turns 30 years old, although he's still schooling defenders like he's in his early 20s (sorry, Spurs). In honor of No. 3 hitting the big 3-0, here are three things you may not know about CP3.
1. He's a politician who actually keeps his word
Paul organized, promoted and co-hosted West Forsyth High School's 10-year class reunion in 2013. He did so not to flash his opulence or make exes jealous of his wife, but to dutifully fulfill one of his responsibilities as senior class president. That steadfast dedication likely played a role in Paul getting elected as NBPA union president.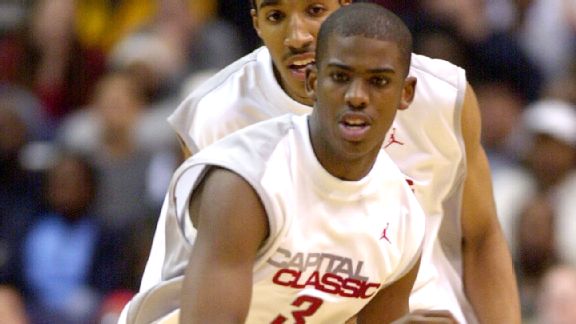 George Bridges/MCT/Getty Images
2. He rolls with the stars, but roots for one star
Paul and his super friends -- LeBron James, Dwyane Wade and Carmelo Anthony -- vacation together each summer, hitting up hot spots like Las Vegas. Like James, Paul is also a passionate Dallas Cowboys fan and can often be found at training camp in Oxnard, California, to assess Big D's title hopes.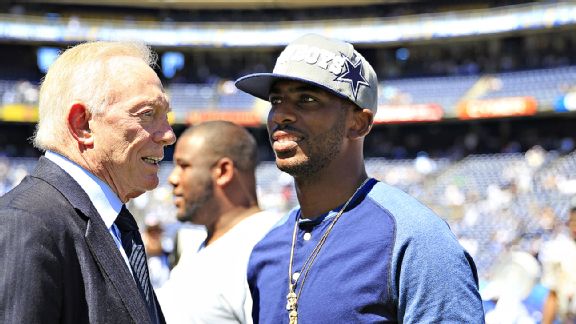 AP Photo/James D. Smith
3. He's a gracious host -- even to rivals
You might not be able to tell it by the way Curry embarrassed his elder counterpart with this ridiculous crossover last month or the animosity that has developed between their teams, but Paul and the newly minted league MVP are tight off the court. Curry credits Paul with helping him prepare for the transition to the NBA, as the two Carolina natives traveled around the Southeast to train. Paul took Curry under his wing as a rookie, even opening his home to his future rival to train and live with him.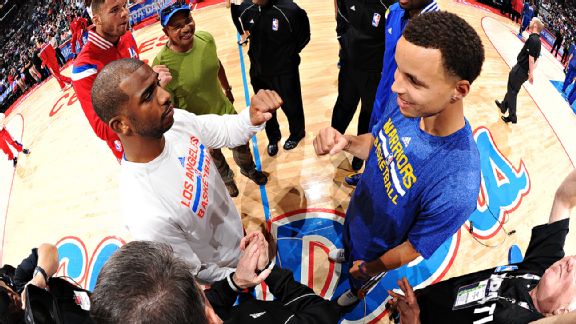 Andrew D. Bernstein/NBAE/Getty Images
As for Paul's birthday, we couldn't let it pass without offering a few gift suggestions for the man who has it all. While a healthy hamstring and a Game 2 win in Houston likely top his list, we have a couple of other suggestions:
More acting lessons: Let's be honest, those Cliff Paul commercials have run their course. We'd like to see CP3 branch out to other roles like a diminutive cop buddy flick alongside his buddy Kevin Hart.
New jewelry: We're thinking a couple of rings -- one for the Clippers, of course, as 2014-15 NBA champs, and the other for his beloved Cowboys as SB 50 winners.
The latter might be the only thing that can top last year's gift. Thanks, Kelly ... err, Tiffany.
It's been an eventful 24 hours for Chris Paul.
In Tuesday's loss, the Los Angeles Clippers guard got victimized by a sick Stephen Curry move, to which even CP3 tipped his figurative cap.
During Wednesday's win, Paul got into the following scuffle with Portland Trail Blazers center Chris Kaman, which started with a hit by Paul below the belt. Accidental? You be the judge.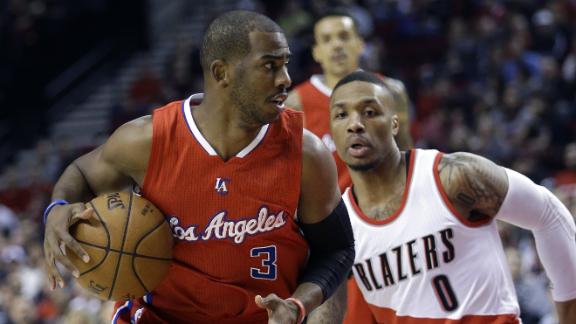 Kaman drew a flagrant foul for shoving Paul, which itself drew the attention of Glen "Big Baby" Davis. This led to a slight tangle-up with LaMarcus Aldridge, during which Davis, shall we say, embellished things just a bit.
After the game, Paul addressed the scuffle -- but didn't exactly think a whole lot of it:
This is going to be some Western Conference playoffs.