SportsNation Blog Archives

David Lee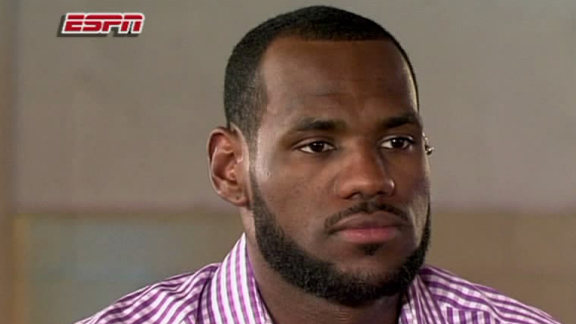 Five years ago today, LeBron James announced he was taking his talents to South Beach. But while his announcement garnered the most attention, he wasn't the only high-profile player to switch jerseys that summer. We revisit the other major "decisions" made that fateful summer, and which moves warrant a thumbs up -- or thumbs down.
Note: Dirk Nowitzki, Dwyane Wade, Joe Johnson and Yao Ming all re-signed with their respective clubs and therefore weren't included in the discussion.
• • •
Chris Bosh: From Toronto Raptors to Miami Heat
Thumbs up
Prior to "The Decision," Bosh swapped digits going from The 6 to the 305, incentivized by a "secret" agreement from LeBron to form a new Big 3 in Miami. The result: $110.1 million, one asinine welcome pep rally, five consecutive All-Star appearances, and not one, not two - well, we all know how that went.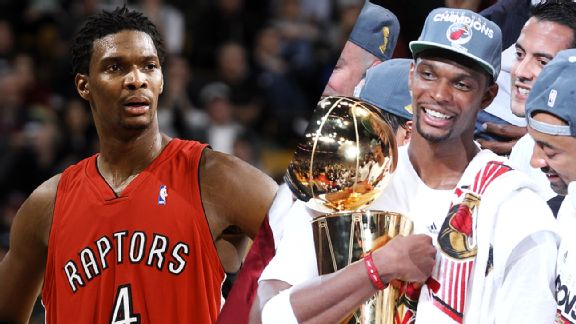 Getty Images, USA Today Sports
Amar'e Stoudemire: From Phoenix Suns to New York Knicks
Thumbs down
Concerns over his health led Amar'e to desert Phoenix for the Knicks' $100 million money grab. He was a Broadway hit while clinching three straight playoff berths, but fans turned on him (and the team) in a New York minute once injuries and a lack of chemistry with Carmelo Anthony made the franchise a punchline.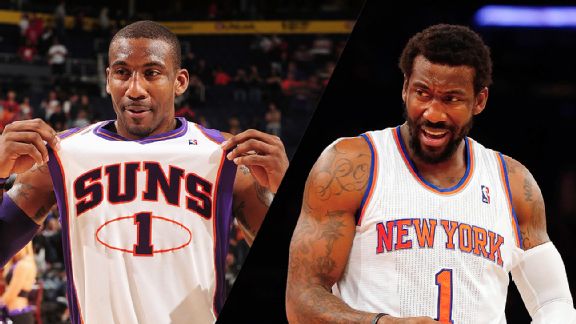 Getty Images
Carlos Boozer: From Utah Jazz to Chicago Bulls
Thumbs down
Boozer was productive in Chicago (averaging 15.5 points and 9.0 points per game), but the team could not overcome his horrible D, Derrick Rose's injuries or their Miami rivals to make his tenure a success. His Midwest move netted him close to $80 million, but resulted in an acrimonious divorce reminiscent of his exit from Utah.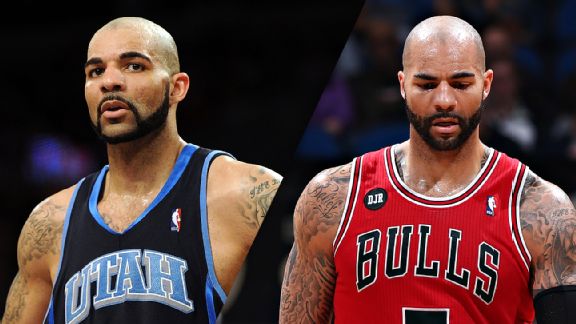 Getty Images
David Lee: From New York Knicks to Golden State Warriors
Thumbs up
Despite losing his spot in the rotation this year, Lee's decision to bolt Broadway was profitable both on and off the court. The stat-stuffing forward pocketed $80 million in a sign-and-trade deal that helped him escape the NBA's version of Alcatraz for greener (and championship gold) pastures.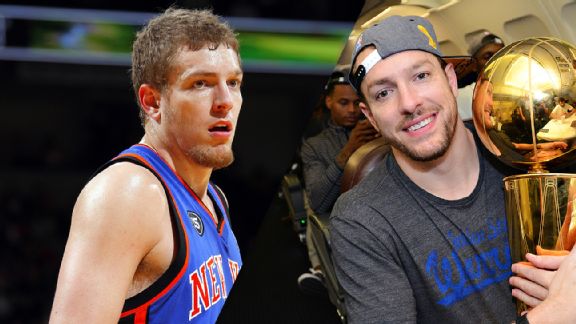 Getty Images
Shaquille O'Neal: From Cleveland Cavaliers to Boston Celtics
Thumbs up
At this juncture of his career, Shaq was in full title-chasing mode, willing to latch on to any squad with a glimmer of title hopes. That led to a forgettable, injury-riddled season on the court; but a wildly entertaining year off it, because, well, he's Shaq. Now can we get the "Shaq statue" a permanent home in Harvard Square?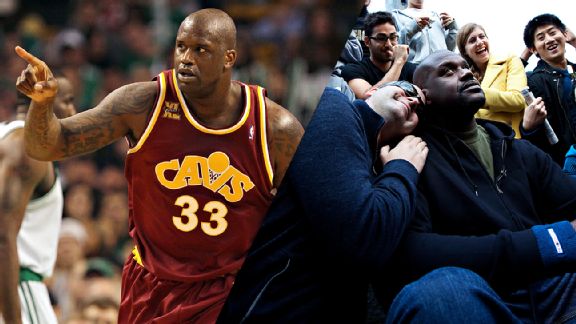 Getty Images
David Lee is a popular figure in the Bay Area.
He didn't play the biggest role in the Golden State Warriors' 2014-15 title run. But after his arrival in 2010, the forward was hugely important in restoring respectability to the moribund franchise. And hey, according to Steve Kerr he paid for the team's post-championship trip to Las Vegas.
So is it any wonder that, after news broke of his trade to the Boston Celtics, Lee was met with much love from teammates, including this heartwarming tweet from Stephen Curry? Wait a second, is Steph trolling the 32-year-old?
In honor of my boy @Dlee042 taking the next step in his career, this is how we started our relationship! Love you bro http://t.co/25UqWFtSJj

— Stephen Curry (@StephenCurry30) July 7, 2015
Yes, Curry included video of him blocking the 6-foot-9 forward when the latter was a member of the New York Knicks. The title of the video on YouTube? "Stephen Curry blocks David Lee and David Lee cries about it"!
That is ... fantastic. You know what they say: A lighthearted trolling is the sign of a strong friendship.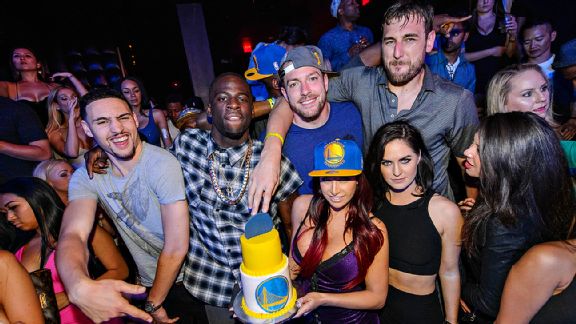 AP Photo/Al Powers
After their championship the Golden State Warriors, as you do, flew as a team to Las Vegas for a celebration.
They hit some big clubs, including Marquee (pictured above). "Chaperoned" by non-drinker Andre Iguodala, they had a good time, according to the NBA Finals MVP.
And, as revealed by coach Steve Kerr on Tuesday's The Lowe Post podcast, it was all courtesy of veteran David Lee.
"I thought it was great that the team went to Vegas together," Kerr said. "David Lee treated the whole team, by the way. He flew them out there. He put them up in hotels. It was an incredibly generous gesture by David."
Especially because Lee, an All-Star as recently as 2013, saw his minutes slashed drastically as the team he's been with since 2010-11 ascended to the top of the league. Lee played just 49 regular-season games, started four, and averaged 18.4 minutes, 7.9 points and 5.2 rebounds per game after posting 33.2, 18.2 and 9.3 a season ago. In the playoffs Lee sat out eight games, and averaged less than 10 minutes per in the four Finals contests he did appear in.
"That was sort of what David and I talked about throughout the season, when things were not going well," Kerr said. "And he kept telling me, 'I just want to win a championship. I've never done that. I want to win. This is frustrating but I want to be a part of it. And I thought he handled himself really well."
Lee reportedly might have played his last game for the Warriors. But that's not a bad way to go out.
Find The Lowe Post on the Grantland podcasts page.
Getty Images
Andrew Wiggins for Kevin Love?
The Cleveland Cavaliers officially signed Andrew Wiggins on Thursday, meaning he cannot be traded for 30 days. This gives the Minnesota Timberwolves at least that much time to decide whether to send star Kevin Love to Ohio (reportedly in a deal for the 2014 No. 1 overall pick, 2013 No. 1 overall pick Anthony Bennett and a future first-rounder). The Chicago Bulls also seem to have gotten into the mix (with Taj Gibson and Nikola Mirotic as part of their offer), and the Golden State Warriors (provided they trade Klay Thompson) long have been rumored. What will happen?