SportsNation Blog Archives

Green Bay Packers
The Thursday Night Football game between the Green Bay Packers and Detroit Lions, well, it had a finish.
Aaron Rodgers hit Richard Rodgers for a 61-yard Hail Mary touchdown with zeroes on the clock, one play after a controversial face mask penalty extended the game after time had expired.
Oh, there was some social media reaction from the sports and celebrity world. Adrian Peterson, whose Minnesota Vikings would have benefited greatly from a Packers loss, shared his thoughts (and corrected his heat-of-the-moment mistake):
Lol, i'm sorry but a thumb hitting the face mask isn't pass interference! Heck of a play =

— Adrian Peterson (@AdrianPeterson) December 4, 2015
I mean face-mask

— Adrian Peterson (@AdrianPeterson) December 4, 2015
= Why all the hate, a brother can't speak his mind?! Guess what?! I forgive & love you still!

— Adrian Peterson (@AdrianPeterson) December 4, 2015
A certain celebrity fan of the Green Bay Packers wasn't really bothered by the call:
I just lost my voice =š=›=š=1=š=›=1=1=1=1=1=1=1=1=1=M=J=O=O=O

— oliviamunn (@oliviamunn) December 4, 2015
Two former Wisconsin basketball teammates were at odds over the call: the Houston Rockets' Sam Dekker, a Wisconsiner and Packers fan, and the Charlotte Hornets' Frank Kaminsky, a Chicagoland native and Chicago Bears fan:
I lost hope for a sec. was before the flag for face mask https://t.co/cuwGnaLMlp

— Sam Dekker (@dekker) December 4, 2015
Yea... "Facemask" https://t.co/Mu5l5p0OxE

— Frank Kaminsky III (@FSKPart3) December 4, 2015
Just in case all the people tweeting at me want to come back from LaLa Land and join the real world https://t.co/u3WRaLwq0U

— Frank Kaminsky III (@FSKPart3) December 4, 2015
With all that being said I think Rodgers is the only QB that can make that last play. Unreal sequence.

— Frank Kaminsky III (@FSKPart3) December 4, 2015
Others also didn't agree with the call, whether or not they were happy about it:
Another poor call by the #nfl officials cost a team a game! I'm sorry @Lions! There was no face mask!! pic.twitter.com/5NTfmwisKc

— Heath Evans (@HeathEvans44) December 4, 2015
Definitely a phantom facemask. #GBvsDET

— Brendon Ayanbadejo (@brendon310) December 4, 2015
Wow that was ridiculous!!!!! Justice serve for that no call on the PI!!!! #GopackGo

— NickBarnett (@NickBarnett) December 4, 2015
Then there were the Lions fans:
Life of a Lions fan. #hailmary

— Jalen Rose (@JalenRose) December 4, 2015
Speechless #Lions

— Justin Verlander (@JustinVerlander) December 4, 2015
As a Lions fan this happens all the time. U get use to it after awhile......

— Jason Richardson (@jrich23) December 4, 2015
And let's not forget the other Packers fans and/or people who were just blown away by the whole thing:
Go Pack go!!

— Anthony Davis (@AntDavis23) December 4, 2015
The last two plays in that packers lions game ... Wow.. Just wow.. Thoughts?

— Wale-Roof Whisperer (@Wale) December 4, 2015
Haha what!? Wow...

— Derek Carr (@derekcarrqb) December 4, 2015
Wow!!!

— Justin Forsett (@JForsett) December 4, 2015
Wow!

— Skylar Diggins (@SkyDigg4) December 4, 2015
Craziest finish I've ever seen!!! #GBvsDET wow @AaronRodgers12 what a play!!!!!

— jarryd hayne (@JarrydHayne) December 4, 2015
It's no secret Aaron Rodgers hasn't thrown an interception at Lambeau Field in a long time ... a really long time.
So long, in fact, Rodgers doesn't even remember throwing it.
Chances are Minnesota Vikings safety Harrison Smith, who picked him off, remembers it clearly. But that is neither here nor there. Since that flea-flicker on Dec. 2, 2012, Rodgers has been busy setting NFL records.
He heads into Sunday's game against St. Louis having thrown 612 passes and 52 touchdowns in the 1,043 days since his last interception at Lambeau. That stretch accounts for 19 straight home games (including the playoffs).
So what was the world like in 2012, when some people were interpreting the Mayan calendar to mean the world was ending? Allow us to remind you:
LINSANITY Jeremy Lin rose to stardom as "Linsanity" took over the New York Knicks and the NBA. The New York Times dubbed him the team's "most popular player in a decade."
Nathaniel S. Butler/NBAE/Getty Images
RG3 Robert Griffin III led the Washington Redskins to an NFC East title and earned 2012 NFL Offensive Rookie of the Year honors.
Dilip Vishwanat/Getty Images
GANGNAM STYLE "Gangnam Style" was to 2012 as "Watch Me (Whip/Nae Nae)" is to 2015. The quirky dance craze set the record for most-viewed YouTube video at that time.
Tom Szczerbowski/Getty Images
MICHAEL PHELPS The American swimmer, in his third Olympics, won four gold medals at the London Games. What does one do with 18 total gold medals?
Al Bello/Getty Images
DWIGHT HOWARD Yep, this guy spent one season with the Lakers until Kobe Bryant sent him packing for Houston. Purely speculation, of course.
Ronald Martinez/Getty Images
JOHNNY MANZIEL Johnny Football became the first freshman to win the Heisman Trophy, and subsequently a bona fide member of Drake's posse. Notre Dame linebacker Manti Te'o finished a distant second. Te'o would be the center of a "catfish" controversy soon after.
Mike Zarrilli/Getty Images
MILEY CYRUS Miley Cyrus switched up her look drastically in 2012, ushering in a new era for the songstress. Hey, she's just being Miley ...
Getty Images
Statistically, two is not a trend. But we're calling it anyway:
2014 is the Year of the Jump-Kick.
First there was Antonio Brown of the Pittsburgh Steelers planting a foot on the face mask of Cleveland Browns punter Spencer Lanning (which, admittedly, drew a fine):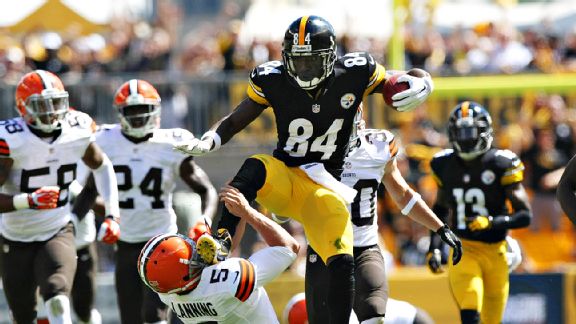 Jason Bridge/USA TODAY SportsSpencer Lanning found out what it feels like to be punted when he tried to tackle Antonio Brown.
On Sunday night, the Green Bay Packers' Jarrett Boykin (perhaps) one-upped Brown by getting a leg to the ball before Chicago Bears punter Pat O'Donnell could kick it: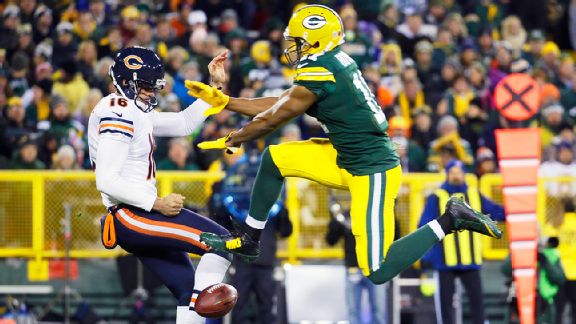 AP Images/Morry Gash