SportsNation Blog Archives

Derek Anderson
It seemed within the realm of probability that a quarterback with ties to the Arizona Cardinals would fall flat on his face this fall, but to be honest, our money was on "Dancing with the Stars" neophyte Kurt Warner. Instead, Matt Leinart came metaphorically crashing to terra firma by losing the starting job in Arizona before the end of August. That worked out pretty well the last time it happened in the desert, but Derek Anderson doesn't appear to be the second coming of Warner.
While the Cardinals ponder whether to keep the former first-round pick of send him packing, SportsNation blogger 3rdStoneFromTheSun says a fresh start won't help Leinart.
"Leinart was known as the pretty boy in college, a guy who some were trying to put in the category of future Hall of Famer Tom Brady as far as good looks combined with winning games. ... Unfortunately, like many Heisman winners, his game soon was shown to not have what it takes to be an effective NFL player, even in the modern where rules are heavily slanted to the quarterbacks favor. Some will say his party boy attitude early in his career derailed his progress, but the real reasons run deeper. ...

"Leinart wants a reason, and perhaps the truth will set him free. He was an overrated, overhyped college athlete surrounded by immensely talented teammates. The best comparison to him might be Todd Marinovich, a weak armed lefty drafted in the first round by the Los Angeles Raiders in the 1991 draft." -- Check out 3rdStoneFromTheSun's blog
Dave (AZ)
what do you make of this QB situation in Arizona?
Scouts Inc.'s Gary Horton
You've had so long to look at this guy. He's not an unknown. You've been around Matt Leinart for 3-4 years now. The reasons that we think he was benched was his demeanor, body language, command of the huddle, etc. These are all things that the coaches have been around for years. So, why now? Even though he had a statistically strong game this weekend.
Whisenhunt said he doesn't judge a QB by stats. This might just be a clash of personalities. You have a coach that comes from the Pittsburgh mentality and a QB from L.A. and Hollywood. That might be oversimplifying, but I don't know how you can turn this thing upside down two weeks from the opener. If I'm in Arizona right now, I have no idea what to do at the QB position. I don't believe in Derek Anderson over the long term. But I get the feeling that the coaches aren't sold on Leinart. They better hope to run the football and not ask the QB to win the game right now.
I will say one last time, if you weren't comfortable with Leinart, why didn't you make that determination a long time ago? Full transcript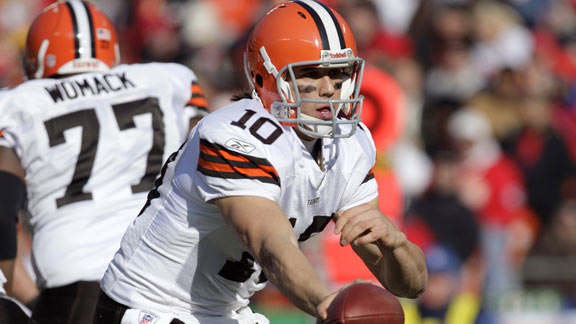 Not many people can pull off a neck beard and successfully play quarterback in the National Football League. Actually, let's reword that: Not many people can pull off a neck beard, period. As Dr. Aaron Perlut (a friend of SportsNation) would put it, beards are compromises for those not committed enough to wearing a mustache.
Obviously, Dr. Perlut has never met Kyle Orton. He's been able to do both quite well in the past year, heading a surprisingly competitive Broncos squad and rocking a thick and extensive beard. The Broncos don't seem to be totally confident in him, however, as they've acquired clean-shaven Brady Quinn as a backup plan. Sure, Orton is starting now, but how long will that last? For certain, he can sympathize with Marion Barber (soul patch), Flozell Adams (mustache/beard combo) and Matt Leinart (stubble). One day, you've got a starting position and a full beard -- the next, nothing. At least Orton can take solace in the fact that SportsNation sees him as the starter for the majority of the Broncos' games this season. Is that the right choice?
"

Look Orton wasn't the total problem with this team, his numbers speaks for themselves...had the running game been a lil better and the D played a lil better no one would have questioned Orton ability...I think his arm decent to throw downfield had McDaniels allowed him too (see Redskins game to Marshall). Quinn is only an upgrade of Simms who stunk and looked terrified to be out there.

"

-- lbmore33
"

Do it. Jones starting, Barber closing. ...don't forget to use Choice.

"

-- blueliner2k3
"

Flozell is a cheap-shot tackle who only gets by on his garbage tricks. He cannot handle the better ends in the league. You will not win with his blocking.

"

-- sauce1977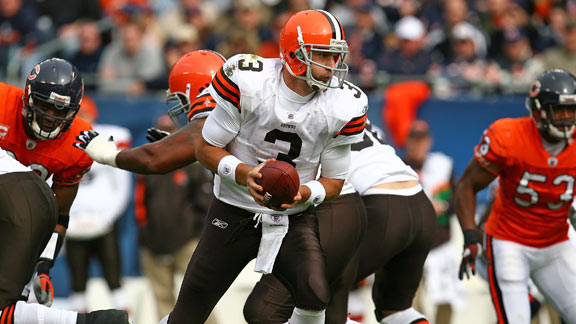 Derek Anderson didn't hesitate to burn bridges while leaving Cleveland. Then again, in a place where the rivers used to catch on fire, people are used to that sort of thing. After the Browns released him, Anderson labeled Cleveland fans "ruthless" and said he couldn't wait to come back through town (he's since apologized). The Cardinals don't play in Cleveland next season, but would Anderson fit throwing to Larry Fitzgerald? That's one question we've got for you, with some insights provided by ESPN's NFL bloggers.
Chad (Luke AFB, AZ)
Whats your take on the Browns picking up Wallace? Do you really think he will give Quinn a fighting chance for the starting job?
James Walker

The trade tells me Holmgren is going to put in principles of his West Coast system. The team has yet to admit that publicly. As far as a QB competition, Holmgren is trying to avoid it this year. So Quinn will either be traded or the team will make a predetermined choice on who starts before training camp. Full transcript
Griff (MN a.k.a. Southern Canada)
Bill Williamson just reported that the Vikings are showing interest in L.T. That said, which of the FA RBs, in your opinion, would be the best fit for the Vikings?
Kevin Seifert

If he's healthy, Brian Westbrook might be the most ideal fit. But the concussion situation is awfully worrisome. Full transcript
Dave (Columbus)
Do you think Cleveland should dump Quinn and start over at QB? With Quinn being a semi-local kid, there's always going to be a QB controversy among fans while he's there.
Lomas Brown

I think they should dump the QB that they can get the most value for. Look to go in a different direction. I haven't seen anything out of Quinn or Anderson, even though they're young, to make me think they are going to be franchise QBs. Full transcript
Pending decisions from guys like Jimmy Clausen and Jake Locker, it remains to be seen exactly how plentiful the potential first-round quarterbacks will be in next spring's draft. But it seems safe to say it will have more to offer than the class of signal callers that came out of the 2007 draft.
Derek Anderson needed four games to complete a total of 29 passes, and it's only now that 2007 draftee Brady Quinn apparently gets another shot. JaMarcus Russell can't stop throwing interceptions and some of Trent Edwards' teammates are eager to bring in Michael Vick. Is there still hope for any of these guys, or is Kevin Kolb the class' only hope for redemption?
"

Welcome to the side show that is the Cleveland Browns. Trust me Browns fans, I know it seems bad, but it is only going to get worse. Mangini is clueless - are you sick of the "consistent" talk yet? Get him out of there before you lose next season as well. - A Jet fan

"

-- choochmmm9
Mike (Akron)
Hey Mel, if you were head of scouting for the Browns and you had 11 draft picks in the upcoming draft, how would you fix this team? Where would you start first?
Mel Kiper
First you have to assess the QB situation. Hopefully Brady Quinn will start the remaining of the season. You have 8 games left. See what you have in Quinn. You know what you have in Anderson. You have to see what Quinn has. He's been called too strong, too powerful to be an accurate consistent thrower. He needs a chance to prove that wrong. They need to develop some WRs. They need help on the defensive side of the ball. With the picks, you try to mortgage them for more. I'm a fan of moving down and getting more. They also need an heir apparent to Jamaal Lewis. Obviously, these young receivers, they need to develop the ones they drafted last year. Secondary help. Front seven help. The biggest thing this organization has to figure out is if Brady Quinn is the QB moving forward. The only way to find out is to play him. Full transcript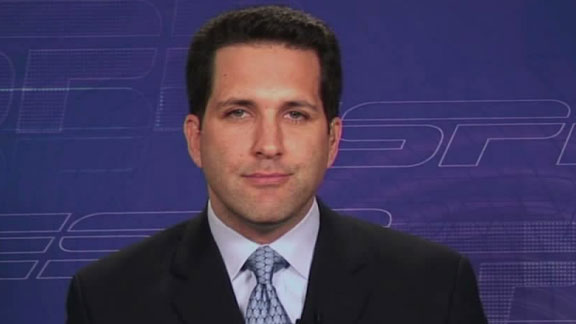 The Colts won a slugfest at home against the 49ers, and the Saints held on against the Falcons on Monday Night Football. But as the league's two undefeated teams battle for the top spot in everyone's rankings, the real drama of the moment seems to come from the league's cellar. Namely, what do the Browns have to do to earn the No. 32 ranking?
Cleveland fired its general manager Monday, less than a year into his tenure, and may have given him a hand exiting the building. Derek Anderson, the quarterback they benched their first-round pick in order to play, completed six passes to his teammates and two to the opponents in the last game -- and it wasn't even close to his worst performance of the season. The Saints' defense has scored more touchdowns than the Browns' offense. And the owner is meeting with disgruntled fans in hopes of avoiding a visible protest.
Other than that, things are just dandy. And yet as seen below, the Browns haven't managed to occupy the last spot in SportsNation's Power Rankings at any point this season. Maybe Florida Tuskers running back Tatum Bell isn't so crazy.