SportsNation Blog Archives

Vladimir Guerrero
So much for a chance for Robinson Cano to boost his MVP candidacy with some free airtime (granted, it's not like people who play for the Yankees hurt for exposure). The Home Run Derby wanted Robinson Cano, and Cano wanted to take part in the Home Run Derby.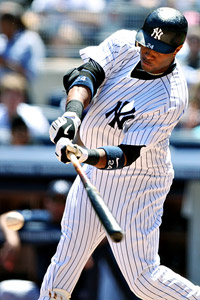 There was only one small problem. The team that pays Cano wasn't interested. Citing a back injury hampering their second baseman, the Bronx Bombers pulled Cano from the hitting contest. And at least one fan thinks that's a dive worthy of a yellow card.
"Joe Girardi better not manage the game, he might get hit with a foul ball and not be available to manage the Yankees for the second half. And Jeter better not play, he might pull his hamstring and be out for 2-4 weeks, too much risk. And A-Rod better not play, he might bounce a foul ball off his toe and we might not have him for the rest of July and part of August.

"In fact, we should just cancel the whole All-Star Game because there might be an earthqu -- wait, better yet -- a giant meteor MIGHT fall out of the sky and hit the stadium, crushing all players, coaches, officials, stadium workers, and fans!" -- SN commenter mfriedmeyer
Pete (San Francisco)
Who are your AL and NL MVP's at the half-way-point of the season? I know we still have half a season to play, but if you were forced to choose someone from each league to be an MVP at this point in the season, who would it be?
Joe Morgan
In the AL, I would pick Robinson Cano. His team has the best record in the league and he's their leader, their star player. He's been their most productive and consistent player on their team. The NL is a little toughter. I would have to give it to 2-3 guys: David Wright, Troy Glaus, Pujols. Then I'd have to give Scott Rolen and Joey Votto a nod. I don't think it's as clear cut in the NL as it is in the AL. Full transcript.
Dan (Detroit, mi)
Is Miguel Cabrera the best hitter in MLB today?
Jerry Crasnick
Dan, Even though Albert Pujols isn't having quite an Albert Pujols-type of year, it's hard to pick anybody over him. Still, Cabrera is having an amazing year. He's got to be right in the MVP mix in the AL. Full transcript.
Sid Bream, Aaron Boone and Dave Roberts will attest that it's not always the biggest names who make the plays that get teams to the World Series. But it doesn't hurt to have the big guns on your side. The bad news is SportsNation's picks for the NL MVP (Albert Pujols), AL MVP (Joe Mauer), NL Cy Young (Tim Lincecum) and AL CY Young (Zack Greinke) are all home watching on television. At least we've still got one of the Molina brothers.
Colin Cowherd and Michelle Beadle are looking for your rankings on the best remaining players for Thursday's "SportsNation" (ESPN2. 4 p.m. and midnight ET), but voters have already made it known who they would least want to face with the game on the line.
Remember back when CC Sabathia was a postseason question mark, and Alex Rodriguez was the postseason answer you knew you didn't want? In other words, remember last week? Now people can't get enough of the Yankees' latest primetime playoff performers.
Sabathia had allowed 22 earned runs and 22 walks in his first 25 postseason innings. But after a strong outing against the Twins in the division series, he now edges out Philadelphia's Cliff Lee as SportsNation's first choice to start a must-win game.
And after driving in 17 runs in his first 39 postseason games, A-Rod drove in six in three games against the Twins. But with the game on the line in the ninth inning, would you rather have Rodriguez at the plate than Derek Jeter?
"

This is the right move. With the 3 off days it only makes CC pitch on short rest once that is game 4, and it makes the bullpen deeper. Starters only need to go 6 innings. Joba 7th, Hughes 8th, Mo 9th game over.

"

-- con1030
"

Jeter in the regular season: .317/.388./459. Jeter in the post season: .311/.380/.477. So no, Jeter isn't "clutch", he's just a damn good player.

"

-- yanks23242