SportsNation Blog Archives

Johnny Damon
At this rate, Doug Mientkiewicz, Dave Roberts and Bill Mueller must be anxiously waiting by the phone. Last week, it was questions about whether the Red Sox might do the unimaginable and bring Manny Ramirez back to Fenway Park. Now the Red Sox really are trying to do the only slightly more imaginable by bringing Johnny Damon back to Boston.
Even if Damon opts to waive his no-trade clause and forget the ill will that accompanied his move to the Yankees after the 2005 season, he may not be enough to resurrect the Red Sox. But what about the other former "Idiot" who may soon hit the waiver market? Ramirez hasnt played much this season, but SportsNation seems to think he could be the difference between first and second place for the Rays.
Tito (Brooklyn)
Do you think the Boston Red Sox will make the playoffs if Johnny Damon returns to that team?
Joe Morgan
He can help them because they have too many injuries in their outfield. ... I think it's a very difficult decision for Johnny Damon to go back to Boston. He wasn't happy when he left there. He didn't want to leave and he couldn't get the contract he wanted. It would be very difficult for him to go back there and help them win the pennant when they felt like they didn't need him the last time. But I think it could be a good move for him. Detroit is not going to make the playoffs. He has a chance for one last hurrah in Boston. But we are human beings and sometimes when our pride is hurt, it's tough for us to put that aside and go back. Full transcript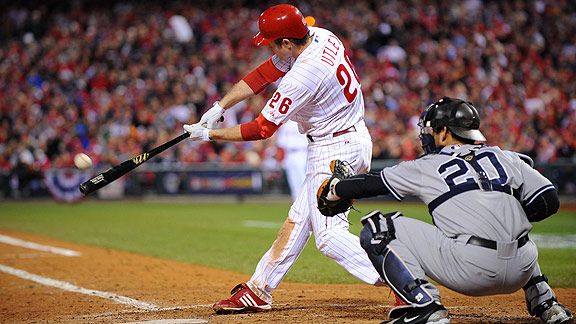 On Tuesday (when Phillies fans and Yankees haters could still picture the Bronx Bombers without a 2009 World Series title), a majority of SportsNation overwhelmingly picked Chase Utley as MVP of the World Series.
Yet with the Yankees taking home the title of world champs, was it only fitting that a New York player (Hideki Matsui) win the award? Or should Utley's numbers (most notably, his five home runs this series) have made him the 2009 World Series MVP? Discuss and vote below!

"

Matsui is the MVP. He single-handily [won] today's game and finished the series with 3 homers, 8 RBIs, .615 average. Sorry Mariano not this year.

"

-- Jake-Macauley
Remember back when CC Sabathia was a postseason question mark, and Alex Rodriguez was the postseason answer you knew you didn't want? In other words, remember last week? Now people can't get enough of the Yankees' latest primetime playoff performers.
Sabathia had allowed 22 earned runs and 22 walks in his first 25 postseason innings. But after a strong outing against the Twins in the division series, he now edges out Philadelphia's Cliff Lee as SportsNation's first choice to start a must-win game.
And after driving in 17 runs in his first 39 postseason games, A-Rod drove in six in three games against the Twins. But with the game on the line in the ninth inning, would you rather have Rodriguez at the plate than Derek Jeter?
"

This is the right move. With the 3 off days it only makes CC pitch on short rest once that is game 4, and it makes the bullpen deeper. Starters only need to go 6 innings. Joba 7th, Hughes 8th, Mo 9th game over.

"

-- con1030
"

Jeter in the regular season: .317/.388./459. Jeter in the post season: .311/.380/.477. So no, Jeter isn't "clutch", he's just a damn good player.

"

-- yanks23242