SportsNation Blog Archives

Hanley Ramirez
The Ozzie Guillen era in Miami hasn't started off ideally, with the Marlins forced into one of their twice-a-decade talent fire sales. Hanley Ramirez is just the latest star to be traded, as he was sent off to the Dodgers in a four-player trade Wednesday morning. Ramirez's production hasn't quite lived up to his big contract this season, but for an offense-strapped team like the Dodgers, he could be just what's needed.
---
Is Hanley elite?
Hanley Ramirez has fallen out of the "best player in baseball" discussion, but he could experience a rebirth in Los Angeles.

---
Are the Dodgers contenders?
The Dodgers are 2½ games behind the Giants for the NL West lead, and are doing so with an offense that is heavily reliant on Matt Kemp.

---
Ethier or Ramirez?
Speaking of Kemp, he's the only current Dodgers regular with an OPS above .850 -- only Andre even comes close.

The Miami Marlins already have one of the best shortstops in baseball, but it looks like they'll enter 2012 with one extra. The Marlins have agreed to a six-year, $106 million contract with longtime Met Jose Reyes, who will supplant the incumbent Hanley Ramirez at shortstop. Ramirez will move to either third base (most likely) or center field, which would give the Marlins one of the best left sides of the infield in baseball. If their reported interest in Albert Pujols comes to fruition, however, they might end up sporting one of the best infields (period) of all time, and a Big Three to rival that other Miami team.
"They overpaid for Reyes because he'll never have the season he had last season again." -- SN commenter TommyNJ
"Although I'm a Marlins fan, I highly doubt that Pujos is going to leave the Cardinals. I would be very excited to have him on our team, but I would also be sad that he couldn't finish out his career in St. Louis. " -- SN commenter sejope87
---
Was the contract fair?
Reyes had an astoundingly productive 2011 season, but the contract will take him through a few of his decline years.

---
Who's more valuable?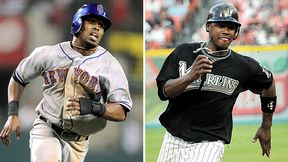 Ramirez has been a better hitter than Reyes over the course of their careers, but his move to third could mean that his bat is no longer a unique asset.

---
Will Pujols sign?
Albert Pujols has a number of suitors, but at this point, the Cardinals and Marlins seem to be the two front-runners.

The Yankees have no problem with Robinson Cano playing in the All-Star Game Tuesday night, but they wouldn't let him compete in Monday's Home Run Derby (ESPN, 8 p.m. ET). Kind of says something about which one is more intense, no?
The days of Pete Rose running over Ray Fosse in the All-Star Game are long gone, even with home-field advantage in the World Series on the line, but it's tough for players to dial down the effort in the hitting contest without incurring some nationally-televised embarrassment. From Mark McGwire bypassing the Green Monster to Bobby Abreu launching 41 home runs in the 2005 event and Josh Hamilton blasting 28 in a single round two years ago, Monday has arguably been the more memorable part of the All-Star festivities in recent years.
"

Sounds like a boring lineup. It will resemble the derby a few years ago in SF when Vladdie won it by only hitting like 8 home runs.

"

-- StanfordCardinal22007
"

Votto should be in it. He's leading the NL in HR's for crying out loud!

"

-- CBFOO