SportsNation Blog Archives

Cole Hamels
Phillies pitcher Cole Hamels will serve a five-game suspension for intentionally throwing at Nationals left fielder Bryce Harper. Does Hamels deserve to be punished for his actions?
---
Good intention?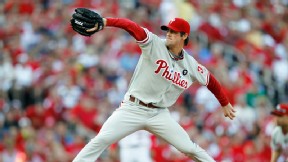 Cole Hamels used an old school way of welcoming 19-year old rookie Bryce Harper to Major League Baseball by purposely throwing at him.

Fans' take on Cole's suspension:
rustyburg: "Haha...5 game suspension for Cole...that's MLB knowing they had to do something, but doing nothing at the same time. 5 games essentially means the Phils push back Hamels next start one day."
Jaysfan724: "Suspension was deserved, only gets his start pushed back one day...no big deal all around, that's baseball, lets move on. "
evilgom: "I can't believe he's suspended for admitting it. So zimmerman gets away with it because he didn't admit? What a great way to teach our children. Go MLB."
RG3s Socks cannot be banned: "i dont think he was suspended for hitting him on purpose. he was suspended because of his stupidity"
tempdaddy05: "Lesson learned for anyone who wants to play in the MLB. The truth gets you suspended and lying puts in you in record books."



Join the conversation or respond by signing in or creating a profile and blogging.
It's official: Roy Oswalt will no longer have to try to win games with a team that's putting up a .299 OBP. Oswalt waived his no-trade clause, clearing the way for him to join the Philadelphia Phillies (currently in a knockdown, drag-out pennant race).
Oswalt's been one of the finest pitchers in the majors for much of his career, although he's rarely gotten the attention he deserves. Recent years have dragged on Oswalt's winning percentage -- his 12 losses this season actually lead the league -- but he still gives up few hits and keeps the ball in the park. He's joining Roy Halladay and Cole Hamels in the rotation, giving the Phillies an intimidating trio of aces (especially in a short playoff series). Could he be the missing piece Philadelphia needs to make the playoffs?
"

He signed his deal when things were good and as soon as things start going bad he wants out. Typical athlete. I don't blame the Astros for trading him, rebuilding has been a long time coming for that team, but I love when guys sign a deal and when things start to go bad they want out.

"

-- brewerfan54
"

We are only 3.5 out with Utley, Rollins, Victorino, Happ and Polanco all out for parts of this year. That's 4 starters, all of whom are former all-stars, and the rookie-of-the-year runner up and our No. 3 starter. So yeah the Phillies of the first half are not the team that went to back to back WS. But by the end of August, everyone will be healthy and now we have the best front three in baseball. Phils-Yanks again in the series, sorry but there is no debate that the Phils are tops in the NL talentwise and with Oswalt and health, goodnight and thanks for trying Atlanta. I will miss Happ, but you can't pass on one of the best pitchers in the game.

"

-- cjmfour
A few years ago, the big story with the Phillies was the fact that they were the first-ever professional franchise to lose 10,000 games. Now, they may become the first back-to-back World Series winners in the new century.
Last night's NLCS Game 5 provided still more evidence that Philadelphia may be the most balanced team in baseball. With a lineup that features contributions out of nearly every player (even though Ryan Howard went hitless, Jayson Werth, Shane Victorino, and Pedro Feliz all homered), some shutdown starting pitchers, and a suddenly resurgent bullpen, the Phillies are sitting pretty. Surprised, SportsNation? Going by your judgments back in early July, late July, and even just prior to the series, you probably should be. Now, the only thing left for the Phillies to do is wait for the winner of the Angels-Yankees series, which SportsNation thinks won't take too long -- much like seemingly every other series this postseason.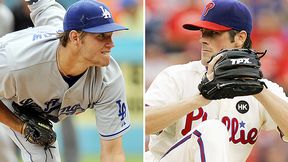 Is Clayton Kershaw the "Pushing Daisies" of starting pitchers in baseball's playoffs? Critics rave about the guy, breaking out Sandy Koufax comparisons, but how many people in the wider world actually watched an episode of Kershaw's season?
The 21-year-old lefty, who was born seven months before Kirk Gibson had his signature moment against the A's in the World Series, gets the ball in Game 1 against the Phillies. When the playoffs started, SportsNation ranked Kershaw behind all three Phillies who will start the first three games of this series -- Cole Hamels, Pedro Martinez and Cliff Lee. And on the eve of the NLCS, 71 percent would still rather go with Hamels.
Jason (LA)
Jayson, which lefty do you think has the brighter future, Clayton Kershaw or David Price? Kershaw does not get as much pub as Price but is dominating with just 2 pitches, thoughts?
Jayson Stark

I think I'd still take Price. But right now, Kershaw is the more advanced pitcher. Maybe the NL/AL issue skews this discussion. But Kershaw has been absolutely unhittable in about 10 starts this year. And Price still has a lot to figure out about changing speeds and locating his fastball before he becomes the big winner everyone still expects him to be. Full transcript.
Mike (LA)
Tell me who you think the Dodgers might target this winter to throw in the mix with Kershaw, Billingsley, Mcdonald, Kuroda? We could use an ace? Lackey via free agency or maybe a trade?
Keith Law

If Kershaw isn't an ace, who is? He'll be a top five starter in the NL next year. Full transcript.