SportsNation Blog Archives

Brandon Marshall
Ndamukong Suh's crushing sack of Jay Cutler, which briefly sidelined the Bears' quarterback in Chicago's win over the Lions Monday night, was ruled a legal play upon review by the NFL. Suh reportedly won't be fined, but Cutler's teammate Brandon Marshall believes differently. Marshall said on Twitter and ESPN's "First Take" that he thought the hit, in which Suh drove Cutler into the turf with his elbow on Cutler's helmet, was "dirty." Is Marshall right? Or is Suh's reputation, based on his aggressive hits and previous fines, putting a different spin on the play? Discuss and vote!
scampb01: "I am not a fan of either team so my opinion is not biased. I DO NOT LIKE SUH! He had one goal on that take down of Cutler and it was to injure him. There was no need for the 'trip' motion or the 'leg sweep' as Marshall calls it. That was Suh clearly trying to make sure Cutler had no protection as he body slammed him to the ground. Suh already had a firm hold of him to take him down. No need for it man, no need."
Your_A_Clown: "I get the fact that it was legal, no one is arguing that. But dude, really you need to sweep a quarterbacks leg and then drive his head into the ground? Bruised ribs suck, i would hope if cutler needs extra time that they would put in Campbell against a slumping carolina team at soilder. Give him the necessary time to gear up for a rough road ahead after Tennessee."
bodegabudd: "I like Cutler. I like Suh. What was he supposed to do? Two-hand touch him? Pull his flag? Gently set him on the turf? This is still football. Should Suh send him flowers?"
gravydidntdoit: "That was the most violent,"perfectly legal play", I've ever seen."
kdevries57: "Suh is one heck of a player no question. He is nasty, mean and will injure anyone in his way. That play reminded me of Charles Martin's WWF takedown of Jim McMahon, difference of course is Martin's takedown was done after the whistle and Suhs was in the heat of the moment and was a fierce legal play. Suh is like frankenstein in strength and intelligence."
gbum213: "How can you get a roughing the passer penalty on a legal sack??? No helmet to helmet, no horse collar, no facemask...if anything, this play gives credence to Suh when he says he doesn't play dirty, even though I don't necessarily agree with that."


Join the conversation or respond by signing in or creating a profile and blogging.
Bears wide receiver Brandon Marshall won't face charges due to an incident in a nightclub in New York. Will Marshall be a distraction for the Bears?
markvacc1i: "If you have a track record of acting a fool in the past, then it is expected you will act a fool in the present and future."
cutlermartz: "Marshall put up 1200 yards in Miami. MIAMI! Not only do defenses have to worry about him, but they also have to worry about Jeffery, Bennet in the slot who catches everything, and Hesters speed. Bringing in Marshall will make every other WR better"
White Sox South Side: "Mom always said.....'Nothing good ever happens after midnight.'"
tebowski666: "Future headline. "'Ticking time Bomb catches 4 TD's in win over Pack.'"
goonerdp: "Now the trade for Marshall for just two 3rd round picks is looking liking a brilliant steal even more."
drunkbull19: "I'm gonna go out on a limb and say that Da Bears will be the 2nd best offense (behind the Pack) in the NFC North this year."



Join the conversation or respond by signing in or creating a profile and blogging.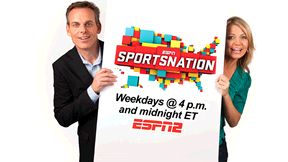 Today on "SportsNation," Colin and Michelle debate whether Phil Jackson's comments about Kevin Durant getting preferential treatment were disrespectful.
Then, on Walk the Plank, Colin dresses up like a pirate, and we find out what percentage of SportsNation says the Steelers should part ways with Big Ben. All that, plus we'll expose the biggest liars in sports on the BS Meter, you rank the best wide receivers in the NFL, and video of a 3-year-old snowboarding legend.
We air at 4 p.m. ET on ESPN2 today!
Note: Broadcast voting results are as of this afternoon (ET).
On Wednesday, Jackson told reporters that Durant gets preferential treatment from refs. Durant responded by saying the comments were disrespectful.

Randy Moss may no longer be the best wide receiver in the AFC East after the Broncos traded Brandon Marshall to the Miami Dolphins earlier this week.

The seventh-seeded Spurs will face Dallas in the opening round of the playoffs. J.A. Adande says they're the scariest team in the playoffs. Do you agree?





What is "SportsNation" TV, and how do you make your voice heard? Read about the new ESPN show that features fan opinions with calls, tweets, polls, rankers and more.