SportsNation Blog Archives

Kellen Clemens
Mark Sanchez will reportedly be the Jets' starting quarterback when the regular season opens, making him part of a lineage that includes Bubby Brister and Browning Nagle.
Actually, it may be exactly that lineage new coach Rex Ryan is hoping to escape in turning to his hotshot rookie. Chad Pennington certainly had his moments, and Vinny Testaverde put together some winning seasons, but Canton isn't going to come calling for either. SportsNation isn't convinced that Sanchez is ready to be a star right now -- voters recently ranked him behind Jason Campbell, Brady Quinn, Kyle Orton and others in the outlook for 2009. But as SportsNation commenter 96Orange puts it, when the other option is former Oregon Duck Kellen Clemens, what's the downside here?
"There is no learning curve on the bench, especially when there isn't a star ahead of you. If you think he'll develop into a top tier QB, you'll need him to start playing and start learning. Eli had Kurt Warner, Aaron Rodgers had Farve ... Sanchez isn't going to learn much by watching Clemens ... maybe if Pennington was still around, but otherwise ... play the game." -- 96Orange
"

This guy should have nightmares of Ray Lewis. Sanchez is another Brady Quinn. Jets 6-10

"

-- phinishstrong
"

I am quite proud of the Ravens D but still, Sanchez doesn't look comfortable. Looks like he has no idea what he's seeing sometimes and it seems like the Jets are gambling with what could be a fairly successful season. Not that Clemens is a savior by any stretch, but he's not nearly as likely to throw Pick 6's on back to back drives. Ray simply dropped what would have been another TD.

"

-- Jon_Young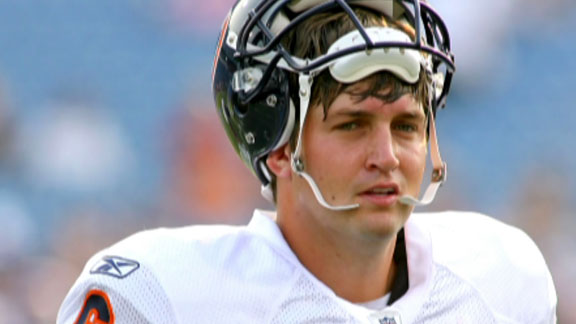 The NFL preseason isn't exactly the height of excitement. But when fewer than one out of five voters claim they don't watch any of it, and 40 percent of SportsNation is more interested in it than baseball's pennant races, well, it's difficult to ignore. At least the first full weekend of games offered some quarterback debuts to make way too much out of.
The Good: Mark Sanchez didn't get the start in the Jets' first preseason game, but he wasted little time completing a 48-yard pass when he did get on the field and will start the team's next game. Matthew Stafford survived his first game behind the Lions' line and even threw a touchdown pass (we grade on a curve when it comes to the Lions).
The Bad: Josh Freeman's numbers suggest he'll miss seeing Iowa State on the schedule, although Byron Leftwich wasn't any more prolific for the Bucs.
The Ugly: It's never good when the savior is cautioning people not to panic, as Jay Cutler had to after throwing a pick on an unmemorable day against the Bills (some would say it's also not good when Trent Edwards shows you up).
"

I actually think both Sanchez and Stafford will do well this year. They both seem to have "moxy", and are not afraid to try and fail.

"

-- teamjordan_2345
"

Childress im thinking you need some thicker glasses. Jackson once again looked right into the headlights and froze just like those northern deer. The guy you traded for shined with a hurt ankle. Keeping what performance in perspective. Jackson is not an NFL QB. The only reason this guy had any solid perfomances is because he was facing 8 and 9 man fronts to stop AP.

"

-- vikings42011
Tags:

Minnesota Vikings, Detroit Lions, New York Jets, Matthew Stafford, Mark Sanchez, Kellen Clemens, Tarvaris Jackson, Sage Rosenfels
It's one thing to look good throwing passes in seven-on-seven drills or posing in the pocket while wearing a red jersey (we see you, Matt Stafford). Any quarterback can look good in a red jersey -- well, maybe not Jared Lorenzen.
The real test for a quarterback trying to earn a starting job comes when the whistle blows for real and defensive linemen are trying to do things to him that would make Brock Lesnar wince. And you thought preseason games were a waste of money. Well, actually, you're right about that, but they do play a role in settling quarterback duels.
While the opening exhibition game between the Titans and Bills didn't offer much in the way of quarterback drama (no matter what Vince Young thinks), the first full weekend of games will be a different story. One of the biggest auditions comes with Brady Quinn, Derek Anderson and the Browns visiting Lambeau Field. SportsNation ranked Quinn No. 2 when it came to quarterbacks battling for jobs, behind only Oakland's Jeff Garcia. The bad news for the former Golden Domer is voters also ranked Anderson No. 3.
Hey, look at that. A post about quarterbacks that didn't mention Brett Favre or Michael Vick ... until now. Our bad.
"

I was never a huge Sanchez fan until he started coming into the restauraunt that I worked at as a night job. He is the most respectful and mature kid out of any football player I have seen come out of college in years. Im not just saying that because I have met him a few times. Im saying that because anyone who is in his shoes now a days seems to get soooooo big headed and lose focus of why they are where they are. I did not get this vibe from Sanchez at all.

"

-- jryanfrink
"

Rosenfels is HANDS DOWN better than T Jackson. If Childress will swallow his ego and let him start the Viks will win the division, if not then I feel Green Bay will win the division. Cutler is a spoiled baby and it will take him two years (at least) to become a man in the NFC North.

"

-- 3hypocycloids4cusps
Tags:

Minnesota Vikings, Detroit Lions, New York Jets, Cleveland Browns, Brady Quinn, Derek Anderson, Matthew Stafford, Daunte Culpepper, Mark Sanchez, Kellen Clemens, Tarvaris Jackson, Sage Rosenfels