SportsNation Blog Archives

Matt Leinart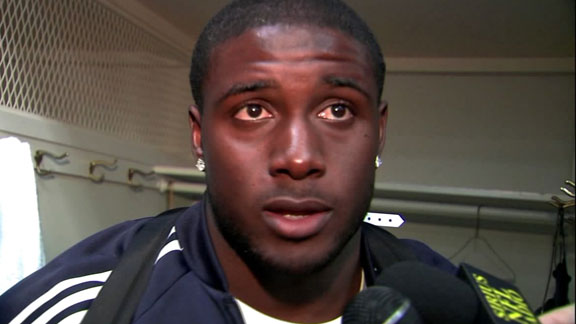 Will the New Orleans Saints ever wish they could vacate their 2006 first-round pick?
Giving back the Heisman Trophy he won by dominating college football for USC in the fall of 2005 almost assuredly wounded Reggie Bush's pride, but the leg injury he sustained in a Week 2 win against the 49ers is of slightly greater concern when it comes to his immediate future. Bush has a Super Bowl ring with the Saints and has produced highlights, but as recently as last week, only 20 percent of SportsNation considered him an NFL star.
Of course, take away the ring, and you could say the same of Jay Cutler and Vince Young, two other big names from the 2006 draft (or Matt Leinart, minus the highlights part). With Cutler off to a quick start for the Bears, is he the best bet of the hyped quartet to thrive?
SprungOnSports (Long Island)
What's the most important think you took from the big Bears win?
ESPN Chicago's Jeff Dickerson

That Martz can win games for this team. And Cutler played his best game ever...in my opinion. Full transcript
It seemed within the realm of probability that a quarterback with ties to the Arizona Cardinals would fall flat on his face this fall, but to be honest, our money was on "Dancing with the Stars" neophyte Kurt Warner. Instead, Matt Leinart came metaphorically crashing to terra firma by losing the starting job in Arizona before the end of August. That worked out pretty well the last time it happened in the desert, but Derek Anderson doesn't appear to be the second coming of Warner.
While the Cardinals ponder whether to keep the former first-round pick of send him packing, SportsNation blogger 3rdStoneFromTheSun says a fresh start won't help Leinart.
"Leinart was known as the pretty boy in college, a guy who some were trying to put in the category of future Hall of Famer Tom Brady as far as good looks combined with winning games. ... Unfortunately, like many Heisman winners, his game soon was shown to not have what it takes to be an effective NFL player, even in the modern where rules are heavily slanted to the quarterbacks favor. Some will say his party boy attitude early in his career derailed his progress, but the real reasons run deeper. ...

"Leinart wants a reason, and perhaps the truth will set him free. He was an overrated, overhyped college athlete surrounded by immensely talented teammates. The best comparison to him might be Todd Marinovich, a weak armed lefty drafted in the first round by the Los Angeles Raiders in the 1991 draft." -- Check out 3rdStoneFromTheSun's blog
Dave (AZ)
what do you make of this QB situation in Arizona?
Scouts Inc.'s Gary Horton
You've had so long to look at this guy. He's not an unknown. You've been around Matt Leinart for 3-4 years now. The reasons that we think he was benched was his demeanor, body language, command of the huddle, etc. These are all things that the coaches have been around for years. So, why now? Even though he had a statistically strong game this weekend.
Whisenhunt said he doesn't judge a QB by stats. This might just be a clash of personalities. You have a coach that comes from the Pittsburgh mentality and a QB from L.A. and Hollywood. That might be oversimplifying, but I don't know how you can turn this thing upside down two weeks from the opener. If I'm in Arizona right now, I have no idea what to do at the QB position. I don't believe in Derek Anderson over the long term. But I get the feeling that the coaches aren't sold on Leinart. They better hope to run the football and not ask the QB to win the game right now.
I will say one last time, if you weren't comfortable with Leinart, why didn't you make that determination a long time ago? Full transcript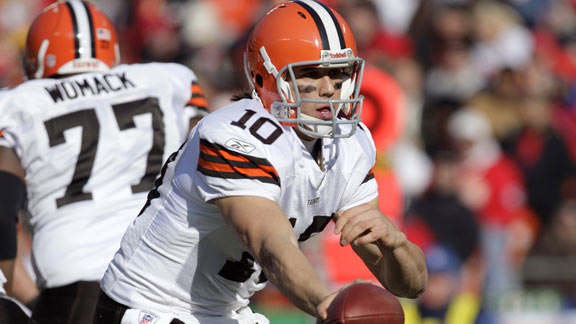 Not many people can pull off a neck beard and successfully play quarterback in the National Football League. Actually, let's reword that: Not many people can pull off a neck beard, period. As Dr. Aaron Perlut (a friend of SportsNation) would put it, beards are compromises for those not committed enough to wearing a mustache.
Obviously, Dr. Perlut has never met Kyle Orton. He's been able to do both quite well in the past year, heading a surprisingly competitive Broncos squad and rocking a thick and extensive beard. The Broncos don't seem to be totally confident in him, however, as they've acquired clean-shaven Brady Quinn as a backup plan. Sure, Orton is starting now, but how long will that last? For certain, he can sympathize with Marion Barber (soul patch), Flozell Adams (mustache/beard combo) and Matt Leinart (stubble). One day, you've got a starting position and a full beard -- the next, nothing. At least Orton can take solace in the fact that SportsNation sees him as the starter for the majority of the Broncos' games this season. Is that the right choice?
"

Look Orton wasn't the total problem with this team, his numbers speaks for themselves...had the running game been a lil better and the D played a lil better no one would have questioned Orton ability...I think his arm decent to throw downfield had McDaniels allowed him too (see Redskins game to Marshall). Quinn is only an upgrade of Simms who stunk and looked terrified to be out there.

"

-- lbmore33
"

Do it. Jones starting, Barber closing. ...don't forget to use Choice.

"

-- blueliner2k3
"

Flozell is a cheap-shot tackle who only gets by on his garbage tricks. He cannot handle the better ends in the league. You will not win with his blocking.

"

-- sauce1977
Tags:

Arizona Cardinals, Dallas Cowboys, Denver Broncos, Derek Anderson, Matt Leinart, Flozell Adams, Marion Barber, Felix Jones, Brady Quinn, Kyle Orton