SportsNation Blog Archives

Carolina Panthers
It was a rather eventful Sunday at MetLife Stadium, with the Carolina Panthers jumping to a 35-7 lead against the New York Giants, only to allow 28 straight points . . . then kick a winning field goal as time expired.
But despite the visiting team securing a 14-0 record, the big headline was the battle between Giants receiver Odell Beckham Jr. and Panthers cornerback Josh Norman. The players went back-and-forth all game, with Beckham being flagged three times for unsportsmanlike conduct but surprisingly escaping ejection.
If you were watching, you surely had some reactions. So did the media, current and former NFL players, the man who plays a famous fictional TV newscaster, and a model/actress.
OBJ is channeling his inner savage. I love it

— Tyrann Mathieu (@Mathieu_Era) December 20, 2015
OBJ is embarrassing himself right now.

— Jordan Spieth (@JordanSpieth) December 20, 2015
Grow up, Odell Beckham Jr.

— Brooklyn Decker (@BrooklynDecker) December 20, 2015
Odell trippn

— Candace Parker (@Candace_Parker) December 20, 2015
Odell must get thrown out of the gm. That's b.s

— shannon sharpe (@ShannonSharpe) December 20, 2015
If the Giants' Beckham, Jr. and Carolina's Norman were playing hockey, they'd have gone by now. #NFL

— Jeff Daniels (@Jeff_Daniels) December 20, 2015
You can't stop the sass you can only hope to contain it. -OBJ

— Charlamagne Tha God (@cthagod) December 20, 2015
Old school football Odell and Norman.. But we have to understand the game has changed.. pic.twitter.com/gTXJMjZVPZ

— Donald Driver (@Donald_Driver80) December 20, 2015
I haven't seen beef between two players like this since @DeionSanders and Andre Rison. @OBJ_3 @J_No24. I Love it

— T.J. Ward (@BossWard43) December 20, 2015
Stop complaining yall We're getting a ultimate fight between Odell and Josh for free! #Truth @nflnetwork

— Deion Sanders (@DeionSanders) December 20, 2015
When u make plays like @OBJ_3 we forget about all the crazy stuff he did b4. #Truth

— Deion Sanders (@DeionSanders) December 20, 2015
Think @danawhite needs to schedule Josh Norman and OBJ as his next UFC pay per view event.

— Jemele Hill (@jemelehill) December 20, 2015
Remind @OBJ_3 Im not on the sideline anymore. If he gets in another fight, itll take a min 2get there from my couch pic.twitter.com/nEZnmoDF4O

— Steve Weatherford (@Weatherford5) December 20, 2015
If the NFL really cares about player safety obj will be suspended.

— Ron Jaworski (@jawsespn) December 20, 2015
After today's antics OBJ should be suspended a minimum of one game!

— mark schlereth (@markschlereth) December 20, 2015
calling it now: it'll be years before beckham lives this game down. congrats, my man: you're next up on america's top diva receiver.

— El Flaco (@bomani_jones) December 20, 2015
And, after the game:
WWWRT @WorIdStarComedy: pic.twitter.com/mILhDLpe7S

— *Joshua R. Norman (@J_No24) December 20, 2015
Photo by Al Bello/Getty Images
Peanut butter and jelly. Milk and cookies. Cam Newton and dabbing.
The Carolina Panthers quarterback has been having an MVP-caliber season, and thus we've been seeing a lot of end zone celebrations from him. But none has been more prominent than "The Dab" (inspired by Migos' song "Look at my Dab").
So it was only fitting that SuperCam and his Panthers teammates would celebrate the first 13-win season in franchise history with a tasteful squad dab. Except one squad member didn't feel like dabbing Sunday.
Streeter Lecka/Getty Images
Take a closer look at Greg Olsen in the back:
Streeter Lecka/Getty Images
Closer: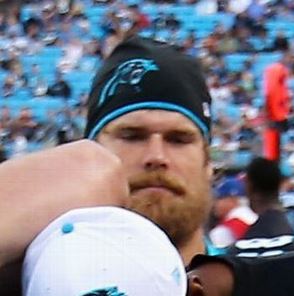 Streeter Lecka/Getty Images
As the Internet went wild for the photo shared on the Panthers' social media platforms, many people noticed non-dabbing Greg. Which prompted him to rectify the situation with the tweet below:
I may not dab but my son does @CameronNewton @Panthers pic.twitter.com/ppTXauTAGu

— Greg Olsen (@gregolsen88) December 13, 2015
All the feels. Greg Olsen wins at Twitter, and his son is an adorable human.
Carolina throttled Washington on Sunday to improve to 10-0. But the real beatdown might have occurred off the field.
The Panthers' social media team engaged in a one-sided battle with Washington on Twitter, making for an even more demoralizing day for anyone with #HTTR (hail to the Redskins) in their bio.
It started after the Redskins account took a jab at the Panthers by declaring, "Carolina is Redskins country," which was met by this zinger:
@Redskins Good luck with getting a trademark on that =

— Carolina Panthers (@Panthers) November 22, 2015
Give the Redskins credit; they didn't back down.
@Panthers shouldn't be too hard after tomorrow.

— Washington Redskins (@Redskins) November 22, 2015
But, man, would they regret it. Quarterback Cam Newton and his five-touchdown day made sure of that.
Panthers 44, Redskins 16.
And, of course, the Panthers weren't about to let that earlier bit of trash talk slide.
You like THAT #PantherNation? Carolina improves to 10-0 with a trademark victory over Washington! #KeepPounding pic.twitter.com/NOEsXsHgf7

— Carolina Panthers (@Panthers) November 22, 2015
Sorry, Kirk Cousins, but we do like that tweet.
Throw in the towel, this one's a wrap. Hopefully the Dallas Cowboys, Carolina's next opponent, know better than to poke the Panthers.
The 5-0 Carolina Panthers are one of the NFL's five undefeated teams, so you can't blame their fans for feeling a little cocky prideful.
That includes Panthers super fan and reigning NBA MVP Stephen Curry, who used the Panthers' Week 6 victory over the Seahawks to troll NBA rival and Seattle native Nate Robinson:
Before you go calling Curry a bandwagon fan, know this: He grew up in Charlotte, is tight with Panthers QB Cam Newton and was a special guest of the team in Week 2 to beat their signature "Keep pounding" drum.
#KeepPounding pic.twitter.com/9D1YUITOVy

— Carolina Panthers (@Panthers) September 20, 2015
Oh, and his signature shoe reflected his Panthers passion:
A FIRST LOOK AT THE UNDER ARMOUR CURRY ONE LOW "PANTHERS" pic.twitter.com/jClqmVydQI

— @£s¢ (@inthepaint6) June 5, 2015
But give it to Robinson: He took the troll in stride, and didn't hide from being put on blast. Instead, he called out his team (and coach) for their subpar play before offering an intriguing solution to their struggles.
Hey, when your team beats your friend's team -- and is undefeated -- you hold all the bragging rights in any football discussion. Of course, if Robinson wants to pull out the NFL trump card, he could always bring up Super Bowl wins -- but that may lead to an NBA MVP conversation he probably wouldn't enjoy.
AP Photo/Denis Poroy
NFL Week 2 questions
The NFL's second week has come and gone, and both Washingtons made big news. The D.C. version saw its team lose quarterback Robert Griffin III to an ankle injury -- but win in big fashion anyway behind Kirk Cousins. The team from the state of Washington, meanwhile, was stunned in a 30-21 loss to the Chargers, with cornerback Richard Sherman being called out by San Diego players. What do you make of the week's major storylines?