SportsNation Blog Archives

Jered Weaver
His older brother almost had one back in the day, but Jered Weaver's no-hitter wasn't broken up in the late innings by a fly ball to right field like Jeff Weaver's was in 2002. Weaver's no-hitter is the second so far this season, trumped only by Philip Humber's perfect game. Humber's result might have been rarer, but Weaver's future seems brighter -- he's the Angels' ace and much more likely to follow up on his success. Is he a truly elite pitcher?
---
Weaver's rank?
Weaver's stats this season: 4-0, 1.61 ERA, 0.78 WHIP, 45 strikeouts, and one no-hitter.

---
Surprise result?
For once, the big story in Los Angeles wasn't how Albert Pujols has yet to hit a ball out of the park.

---
Playoffs for Angels?
The Angels are 10-15, which doesn't put them out of the playoff race yet, but it'll be tough to overcome the Rangers in their own division.

Can Jered Weaver silence AL hitters and Scott Boras? Can we get this guy to take a look at the economy? A Boras client, Weaver is reportedly set to sign a five-year, $85 million extension with the Angels. But if the club's long-term future looks bright, the short-term outlook is less clear. Despite bouncing back from a funk with four wins in a row, the Angels are four games out in the AL West. Rank 'Em: Your MLB Power Rankings.
"Great signing, works well for both parties (although I'm sure he could have squeaked a few more million from some other pitching-starved club had he tested the FA waters), and what I like most is the class and style both parties showed in working this out midseason." -- SN commenter Jaminus Sweetimus
---
Was there a hometown discount?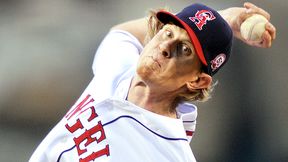 A local kid who went to Long Beach State, Weaver could have tested free agency after next season. Did he cut the Angels a break by taking this extension?

---
Jered Weaver or Clayton Kershaw?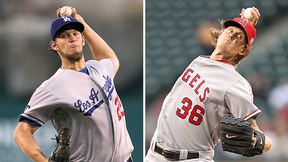 Weaver is riding high, but he's also 28 years old. Would Clayton Kershaw, 23, be a safer investment with a 3.01 ERA in 109 career starts for the Dodgers?

A pitching duel between Justin Verlander and Jered Weaver proved also to be an etiquette lesson en route to a win for the Tigers. First came Weaver getting ticked off and tossed out after he felt Magglio Ordonez and Carlos Guillen admired home runs, drama that almost overshadowed Verlander flirting with a no-hitter despite Erick Aybar's attempt to break it up with a late bunt. Can someone break out the unwritten rulebook again?
"In the top of the eighth, Aybar bunted to show up Verlander because of what happened the previous inning, and that was bush league. Some people say he was just tryin to get on, but IMO that was just backing up Weaver -- you DON'T BUNT to end a no-hitter after six innings. Everyone knows that." -- SN commenter spoiler9999
---
Was Magglio Ordonez out of line?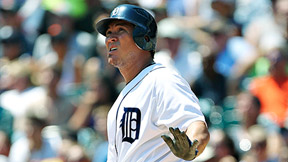 Ordonez claimed innocence in standing at the plate after hitting his third-inning homer, suggesting he was waiting to see whether the ball would stay fair.

---
Was Carlos Guillen out of line?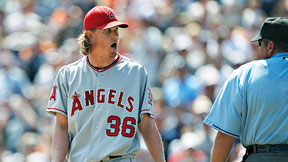 There isn't much debate about Guillen's intentions in staring down Weaver after hitting his seventh-inning homer. But after Weaver barked at his teammate earlier, was Guillen within his rights?

---
Was Erick Aybar out of line?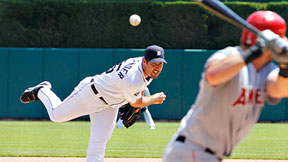 After Weaver was ejected for throwing at the batter who followed Guillen in the seventh, Aybar led off the top of the eighth with a bunt, reaching on Verlander's error and eventually scoring.

---
Which pitcher had grounds for complaint?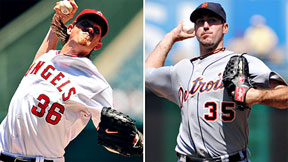 Verlander suggested that bunting to break up a no-hitter is "bush league," while Weaver's words, even pixilated in the video above, make his feeling on home runs clear.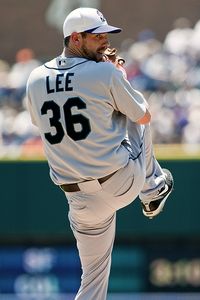 Cliff Lee hasn't had much difficulty polishing his Cy Young credentials against hitters in recent seasons. General managers, on the other hands, have mastered the art of keeping awards out of his hands.
Lee won the AL Cy Young in 2008 but any chance for a repeat in 2009 was derailed when the Indians traded him across leagues to the Phillies. Another offseason swap landed him back in the AL, but will a strong first half only serve to spark yet another trade? Or might Lee mount a Cy Young season from the depths of last place?
"If you guys think you're going to get him easily than you're kidding yourselves. This isn't Bill Bavasi running the team anymore, we are not giving up players like Choo and Cabrera for nobodies anymore. I would almost rather just keep Lee, get the two draft picks at the end of the year and watch Z do what he does best which is drafting great talent." -- SN commenter CGhereICome
Mike W (Chicago)
Lets start this off with Cliff Lee. What are the odds he goes to Cincinnati for a playoff push and what would it take to get him?
Jerry Crasnick
Mike, I find the Reds to be a very interesting stealth Cliff Lee candidate. There's something special going on with that team, Walt Jocketty has a history of making deals like this, and the owner, Bob Castellini, is a very motivated guy. But Edinson Volquez's comeback clearly complicates matters. I think they'd like to give Volquez another couple of weeks before they jump in with both feet on Lee. Full transcript.