SportsNation Blog Archives

Brandon Inge
Terry and Tito Francona need not apply. Tony Gwynn and Tony Gwynn Jr. can also save the application fee. No extra credit for the third generation, so the Bells are out.
And after last night's barren performance, Brandon Inge can bring Babe Ruth back and have the Sultan of Swat adopt him, and he's still not getting another go.
Fathers playing catch with sons is an American theme. But fathers and sons crushing the heck out of the ball is smaller, less universal club. One in which Prince Fielder emphatically staked his surname's membership in Monday's Home Run Derby. Sure, it wasn't Josh Hamilton blasting off or Bobby Abreu hitting 40-plus dingers, but Fielder gave us what we wanted -- a guy swinging with enough force to put Tiger Woods to shame and occasionally hitting the ball more than 500 feet.
He also did it far more consistently than his dad, Cecil, ever did in three appearances in the Home Run Derby. But whatever their current relations, how would the Fielders fare against two other families with almost 1,000 home runs between the generations? Since we're cruelly denied a chance to vote for Jose and Danny Tartabull, we're voting Griffey.
"

The derby last year was 20x more interesting than last night. Last year the whole derby was filled with energy and the stadium was going crazy. I been to a Cardinals game and I do like the atmosphere there but the whole derby last night was borderline boring to watch. I also didn't like how they spent the whole night kissing up to Pujols I understand it's his home park but still it came off as staged and annoying.

"

-- _nysportsfan_
"

Yea, you won the home run derby, now do something important and reconcile with your Dad and show everybody your a real man, Cecil should have been there with to give the derby a little drama and positive feel. You can hit a ball far but can you do something hard like forgive someone. Man, the young fans could use a story like that. Shame on the powers that be for putting inge in there, it was a mockery enough with the doping.

"

-- rent-a-ron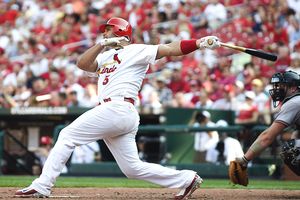 It's Nelson Cruz, Brandon Inge, Adrian Gonzalez and the greatest show in sports! All right, so part of the lineup for this year's Home Run Derby has almost as much star power as a Syfy Channel original movie (although on the plus side, much, much better special effects). But as long as guys like Prince Fielder and Ryan Howard are around, the field isn't completely barren beyond hometown hero Albert Pujols.
In fact, more people are picking someone else to win the Home Run Derby than are picking someone other than Tiger Woods to win the British Open.
And like the NBA's dunk contest, minus the props, it's the fun of the moment that makes the event. If you can name the last five winners of the event, you may have an unhealthy obsession with Miguel Tejada. It's all about hitting a lot of balls a long way. And as long as somebody challenges Pujols, and Carlos Pena doesn't try to draw a walk, we'll be fine.
"

I have to admit, I'm actually very excited to see what Joe Mauer does. Save for Ken Griffey Jr. ,I'm not sure there's a better looking swing in all of baseball. I don't think he'll win (not with those guys on the NL roster), but I think he'll do better than most might think for a "non-power hitter."

"

-- rodeojones000
"

So Awsome to see Inge getting whats been due to him for years. I hope he takes the whole thing.

"

-- AjP_
Five teams woke up Monday with at least 42 wins to their credit. One of them definitely won't make the playoffs. Don't worry, Tigers fans; we're not harshing your buzz just yet (although, come to think of it, 36 home runs from Brandon Inge and Curtis Granderson ... seriously?).
Instead, the math points to the AL East, where the Red Sox lead, the Yankees and Rays are rolling once again and the Blue Jays aren't exactly falling off the pace. So in the wake of the AL's domination of interleague play, how many of baseball's best teams reside in the same division?