SportsNation Blog Archives

Rajon Rondo
September 21, 2015
Sep
21
Brandon Armstrong does spot-on impressions of NBA players, but that's not all. Another game of Armstrong's is impersonating "those guys" you see in pick-up hoops.
His target Monday: point guards who never, ever, ever ever ever, seem to shoot.
It's perfect: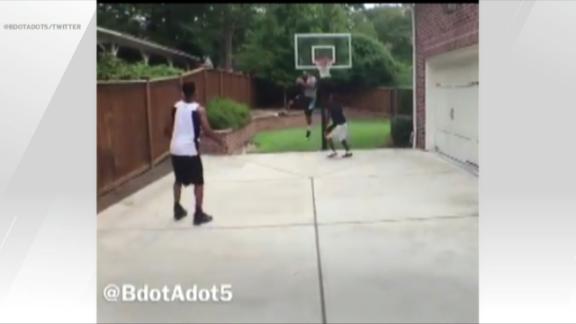 Now, this might remind you of certain NBA players, too. When sharing the post on Twitter, Armstrong dropped the name of a certain Sacramento Kings ball-handler who once won a ring with the Boston Celtics (and, oh yeah, whose name is in the headline of this post).
That one PG who NEVER shoots the ball aka @RajonRondo = w/ @That_Guyy23 @Doitlikederrick #NotTheOfficialRondoBeLike pic.twitter.com/YrCiXpwH2j

— B.A. (@BdotAdot5) September 21, 2015
Note, though, this isn't his official impersonation of Rondo. After all, he didn't do this.
Boston sports stars came together in the aftermath of the Boston Marathon bombings to try to help their city. Rajon Rondo showed his support in the Celtics' final regular-season game with a unique pair of "Boston Strong" shoes:
April 17, 2014
Rondo's shoes have the initials of victims of the marathon on them, along with the date of the attack. This might be Rondo's final game in a Celtics uniform, but it's clear the city still holds a special place in his heart.
Rajon Rondo wearing shoes to honor victims of the Boston Marathon bombing. Will donate to the One Fund afterwards. pic.twitter.com/AbBAXkihu8

— Abby Chin (@tvabby) April 16, 2014
Rajon Rondo's return
The Celtics are experiencing your typical rebuilding season, but the weakness of the Eastern Conference means they also aren't particularly far out of playoff contention. They could get a boost very soon, as Rajon Rondo will return on Friday night against the Lakers. Rondo tore his ACL about a year ago and is expected to play for about 20 minutes in his debut. And if you believe GM Danny Ainge's assessment, he's looked like his old self in practice. Rondo's name has come up in trade talks from time to time, but Celtics fans will no doubt be happy to see their best player healthy and active again.