SportsNation Blog Archives

LaMarcus Aldridge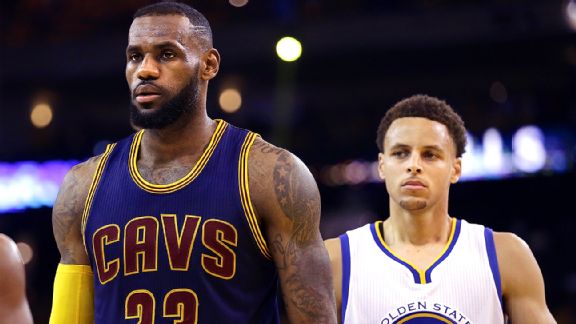 AP Photo/Ben Margot
Recently we brought you the top 10 players, as rated by the latest "NBA 2K" game.
The ratings for "NBA Live 16" also are here -- and they're quite a bit different.
Here's the top 10 (and ties):
1. LeBron James (97)
2. Kevin Durant (96)
T-3. Anthony Davis (95)
T-3. Marc Gasol (95)
T-3. Blake Griffin (95)
T-3. James Harden (95)
T-3. Chris Paul (95)
T-8. LaMarcus Aldridge (94)
T-8. DeMarcus Cousins (94)
T-8. Stephen Curry (94)
T-8. Russell Westbrook (94)
That's right: LeBron James (no surprise) is No. 1, 2014 NBA MVP Kevin Durant is No. 2, and a handful of talented stars across positions come in tied for third.
Meanwhile, the reigning NBA MVP is tied for eighth -- definitely an eye-opening number for a player many consider the best in the league. Then again, perhaps "NBA Live" is drawing upon more than just last season for its ratings; few before 2014-15 had Curry in that top-player-overall conversation.
September 23, 2015
Sep
23
The ratings for "NBA 2K16" are out, and -- unlike in "Madden" -- nobody in the league was given a 99.
In fact, the highest rating was a 94, given to a player whose name long has been synonymous with "best in the NBA."
The 10 overall ratings in #NBA2K16. What do you think? Let the debates begin. pic.twitter.com/qGyUIHajzA

— NBA 2K 2K16 (@NBA2K) September 22, 2015
That's right. Even Stephen Curry's MVP season -- which gave him a four-point jump over his score a year ago -- couldn't push him past LeBron James, although the latter dropped four points (partly due to, as Bleacher Report explains, a new way of calculating rankings).
James Harden's players' choice MVP campaign got him a four-point boost, as did the continued scary-goodness of Anthony Davis, but they still couldn't take down The King. Kevin Durant's injury, meanwhile, likely was the reason for his fall from second place and a 95 rating a year ago. (Interesting note: The three non-LeBron top-four players are on the cover.)
There were a couple of surprise inclusions on the list. Carmelo Anthony was 20th in player efficiency rating, 49th in real plus-minus and 81st in wins above replacement last season, yet checks in at No. 8. LaMarcus Aldridge (11th/25th/22nd) was also an eyebrow-raiser at tied for eighth/No. 10.
Not that either is bad, far from it, But still, no love for the best player on Aldridge's team?
It's been an eventful 24 hours for Chris Paul.
In Tuesday's loss, the Los Angeles Clippers guard got victimized by a sick Stephen Curry move, to which even CP3 tipped his figurative cap.
During Wednesday's win, Paul got into the following scuffle with Portland Trail Blazers center Chris Kaman, which started with a hit by Paul below the belt. Accidental? You be the judge.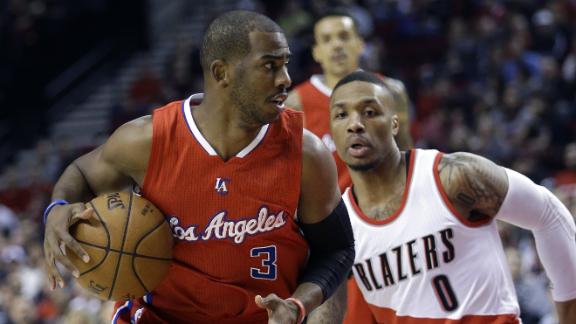 Kaman drew a flagrant foul for shoving Paul, which itself drew the attention of Glen "Big Baby" Davis. This led to a slight tangle-up with LaMarcus Aldridge, during which Davis, shall we say, embellished things just a bit.
After the game, Paul addressed the scuffle -- but didn't exactly think a whole lot of it:
This is going to be some Western Conference playoffs.