SportsNation Blog Archives

Buffalo Bills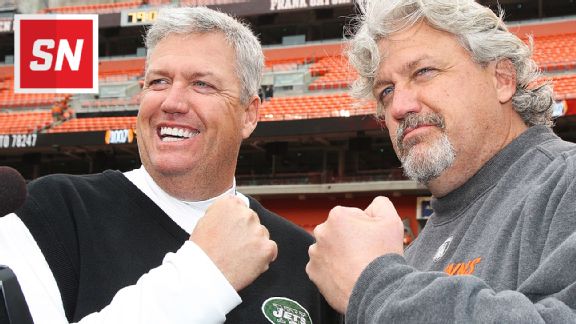 Al Pereira/New York Jets/Getty Images
We know twin brothers Rex Ryan and Rob Ryan are characters.
But this story from The Buffalo News takes it to another level.
The setting: Southwestern Oklahoma State, where the now-Buffalo Bills and former New York Jets head coach and New Orleans Saints defensive coordinator were both playing football.
The situation: Rob had a date, and he wanted Rex to be his wingman.
We'll let The Buffalo News' Tim Graham and the Ryan brothers take it from here:
Rex wasn't down for the mission because he'd already met Micki, the woman he would marry.
Rob: "I was a solo rider and had a babe on the line. But she had a friend. I said, 'You know, come on. Be a team player.'"
Rex: "I said, 'Dude, I'm staying at home today.'"
Rob: "So after a few hundred beers I said, 'You need to help out.' He didn't, so I was pissed and got in a wrestling match with him. I think he was a lot more sober than I was."
Rex: "I was bigger and was just going to throw his ass down. But he reversed me and got on top. So we went at it. We ended up outside, and here he comes."
Rob: "I ran after him, and he had a right hand waiting for me. I never saw it coming. Still haven't seen it."
Rex: "I got him good, and it was over. I felt terrible. I couldn't believe I hit my brother like that."
Rex was furious and, as keeper of the car key, drove off to clear his head. Tatters of a bloody shirt hung off him.
"I get pulled over by a cop. He sees me and doesn't know what he's got," Rex said with a gleaming-white smile. "I said, 'I just got in a fight with my brother. You can take me back there, and he'll explain it.'
"They take me to jail and then called my brother. He said, 'Nah, leave him in there.' "
Rob's ankle was broken during the wrestling portion of the match, and his nose broken during the boxing portion. When they arrived in New Orleans for Super Bowl week, Rob's ankle was in a cast. "We both had black eyes," Rob said. Buddy [Ryan, their father, who was days away from leading the Chicago Bears' defense in the team's Super Bowl XX win] wasn't amused.
Now, we had heard the brawl story before. But not, to our knowledge, at this level of detail.
In short: Just more evidence of Ryans being Ryans.
Read the rest of the Ryan brothers profile in The Buffalo News.