SportsNation Blog Archives

Harvard Crimson
It seems Harvard no longer needs to rely on the above chant familiar to fans of any school with high SAT scores and low win totals. No. 25 Harvard travels to play No. 9 Connecticut tonight (ESPN2, 7 p.m. ET) as a ranked team, the first time that has been the case for the Ivy League school. Crimson coach Tommy Amaker played for a program that mixes academics with wins at Duke, but is his team for real?
"Don't get me wrong, Harvard is the best team in the Ivy League. But seriously guys, this team should absolutely not be ranked in the Top 25. They're winning, yes, but by single digits over weak teams like Seattle, Vermont, UCF, Holy Cross." -- SN commenter whittbt
"Big game for UCONN. Needs to be a win and a win by a lot to convince the rest of the NCAA that they are for real. So far they haven't really accomplished anything and this is their challenge." -- SN commenter RedBirdsFan11
---
Is Harvard the new Butler?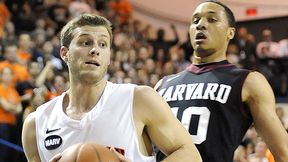 Princeton has been a factor in March many times. Cornell made it to the Sweet 16 recently. Is Harvard capable of making a run?

---
Do you know your Crimson?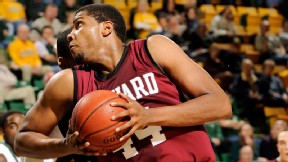 Keith Wright (above) leads Harvard in scoring at 11.4 points per game, and Kyle Casey (10.9 ppg) and Laurent Rivard (10.1 ppg) are close behind. Brandyn Curry leads in assists and steals.

---
The best limb on Coach K's tree?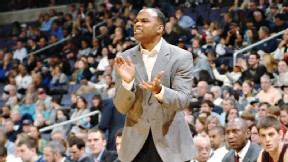 Tommy Amaker met with mixed results at Seton Hall and Michigan, but he's built Harvard into a winner since arriving in Cambridge.

---
Thursday's biggest surprise?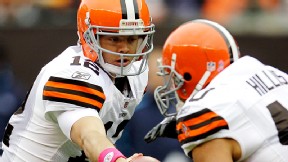 Harvard is ranked in the Top 25. It's debatable if the Browns are one of the 25 best teams in a league with 32 of them.

---
The best of the mid-major crop?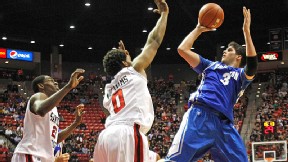 Myron Medcalf's Mid-Major Report ranks Creighton at the top of the class right now, but will it stick around?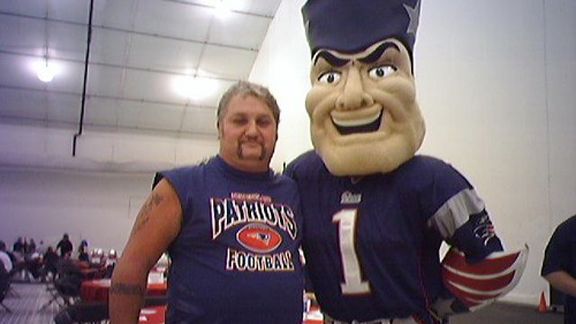 Do you have something to say about sports? Then say it! From the start of the NBA and NHL seasons to Bill Belichick analysis, Top 25 lists and whatever else crosses your idle mind, ESPN blogs gives you the space to share your opinion and analysis.
Engage other fans by commenting on stories, blogging and uploading photos. Your contributions to the community could be featured on SportsNation.
Below are entries from New England sports fans just like you. To respond, sign in or create a profile and start posting.
Fan blogs
Trying to be OK with it:
"It was just sad to see the Red Sox swept out like that. Especially when Papelbon blew it for us in the last inning. It's disappointing to watch or listen or get caught up for 162 games and have your season taken out from underneath ya, with what seemed like way too quick. Also, to have to do it with your colleague sitting next to ya as a Yankee fan, practically laughing his spit right in your face. I took it with class and am praying the Yankees go down. What are ya going to do? I will still be a fan next year." -- azorean milli
Pats running up the score? Whaaat?:
"That term was invented by the sportscasters from the record-breaking, undefeated '07 Pats just doing their job. When you pull Brady after such a dousing vs. the Titans, or anyone for that matter, it's not running up the score. When you go for it on a fourth down no matter what the score, it's called effort and practice in real life. Stop whining!" -- JeffBW
Photo galleries
Say cheese, Boston! Have a great photo of yourself cheering at a Celtics game or posing in your best Bruins sweater? Post it to your profile and share it with other fans.
Message boards
Can't talk enough about your teams? ESPN message boards are the place for you.
Pros: Bruins | Celtics | Patriots | Red Sox
Colleges: Boston College | Boston U | Harvard | UMass
Widgets
ESPN Widgets are portable applications that you can place on Facebook, Myspace, your iGoogle home page and many of the other most popular sites on the Internet. Stay up-to-date with breaking stories and the latest scores and stats on your favorite teams.
Pros: Bruins | Celtics | Patriots | Red Sox
Colleges: Boston College | Boston U | Harvard | UMass
Sports Passport
Chronicle all the sports venues and events you've attended (good and bad). We make it easy by providing a calendar with the games. You add the notes and pictures and rate the experience. Start tracking your games.