SportsNation Blog Archives

Oklahoma Sooners
College basketball's No. 1 and No. 7 teams take the court on Big Monday! All right, so top-ranked Kentucky (vs. Oklahoma, ESPN, 9 p.m. ET) and seventh-ranked West Virginia (at Connecticut, ESPN, 7 p.m. ET) aren't taking the court against each other, if you want to get precise about these things, but why let that stop you from tuning in? Are you really that interested in the free skate in ice dancing?
The most drama probably resides in Storrs, Conn., where the Huskies' grip on the NCAA tournament bubble as the Mountaineers come to town brings to mind the signature big red orbs in ABC's "Wipeout" series. Doug Gottlieb addresses their prospects in the video above, but how would the picture look with another big win tonight?
John (Utah)
Hi Fran, what do you think it takes for Uconn to make the tourney?
Fran Fraschilla

Wins! They have some quote-unquote opportunity games against teams that are ranked. For example, a win against West Virginia on Monday night would look great on their tourney resume. They are very dangerous because their big three are as good as any in the Big East. And of course, their Hall of Fame coach is back. Something tells me they will play their way into the field of 65. Full transcript
Lance (Baltimore)
If Kansas and Kentucky played today who would you pick to win? I would pick Kansas to win in a thrilling close contest.
Mark Schlabach

I'd go with Kansas' experience in March. Collins and Aldrich could match Wall and Cousins. Definitely a potential championship game. Full transcript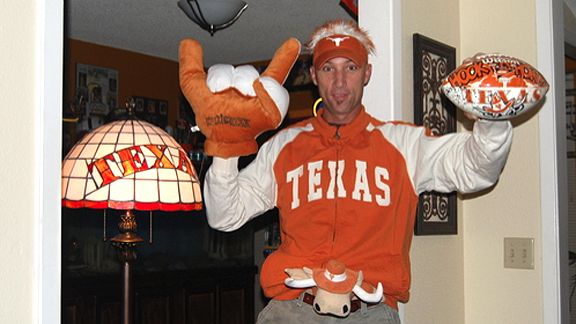 Do you have something to say about sports? Then say it! From NBA and NHL season previews to Jerry Jones rants, Top 25 lists and whatever else crosses your idle mind, ESPN gives you the space to say what you need to say.
Engage other fans by commenting on stories, blogging on your profile and uploading photos. Your contributions to the community could be featured on SportsNation.
Below are some examples of Dallas sports fans just like you.
Fan blogs
Rest and relaxation:
"Anybody actually wondering why Texas is ranked above Alabama needs simply look at the same schedule that you might use to bolster your argument: no voter in their right mind is going to risk putting Bama over Texas when the Tide will probably be quelled at either Ole Miss, LSU, or for sure against Florida in a title game." -- AustinBrando
The one-point season
"OU has consistently choked on the big stage in recent years. The only saving grace is in the fact Stoops has been able to get OU into these big games. However, that means nothing if we only deliver a disappointing egg every time we get to the big game." -- espnb12s
Photo galleries
Say cheese, Dallas! Have a great photo of yourself cheering at a 'Boys game or posing at your tailgate? Post it to your profile and share it with other fans.
Message boards
Can't talk enough about your teams? ESPN message boards are the place for you.
Pros: Cowboys | Mavericks | Rangers | Stars
Colleges: Oklahoma | Oklahoma State | TCU | Texas | Texas A&M | Texas Tech | UTA
Widgets
ESPN Widgets are portable applications that you can place on Facebook, Myspace, your iGoogle home page and many of the other most popular sites on the Internet. Stay up-to-date with breaking stories and the latest scores and stats on your favorite teams.
Pros: Rangers
Colleges: Big 12 football | Mountain West football | Big 12 men's basketball | Mountain West men's basketball | Southland Conference men's basketball
Sports Passport
Chronicle all the sports venues and events you've attended (good and bad). We make it easy by providing a calendar with the games. You add the notes and pictures and rate the experience. Start tracking your games
While the Washington Nationals prepare for a summer of exchanging pleasantries with Scott Boras (because summer in a city built on a swamp isn't excruciating enough as it is), SportsNation gets to talk to the potential No. 1 pick who really has the power to bring change. Former Oklahoma star and possible future Clippers star Blake Griffin stops by to chat at 3:30 p.m. ET.
Although it's not set in stone quite yet, everyone expects the explosive post player to come off the board first in the NBA draft. That includes mock drafts from SportsNation bloggers dedalotw2003 (who also has an intriguing trade at No. 2) and bball4life578 (who also has a trade at No. 2 ... what does everyone have against Memphis?). Chat with Blake at 3:30!