SportsNation Blog Archives

Texas Tech Red Raiders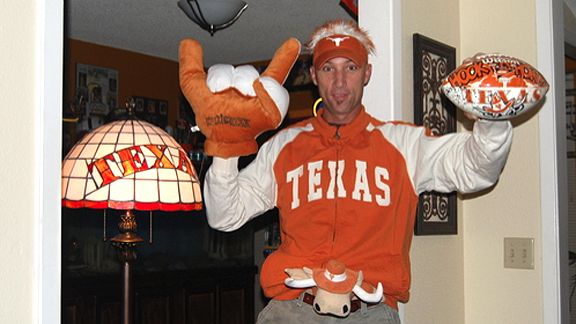 Do you have something to say about sports? Then say it! From NBA and NHL season previews to Jerry Jones rants, Top 25 lists and whatever else crosses your idle mind, ESPN gives you the space to say what you need to say.
Engage other fans by commenting on stories, blogging on your profile and uploading photos. Your contributions to the community could be featured on SportsNation.
Below are some examples of Dallas sports fans just like you.
Fan blogs
Rest and relaxation:
"Anybody actually wondering why Texas is ranked above Alabama needs simply look at the same schedule that you might use to bolster your argument: no voter in their right mind is going to risk putting Bama over Texas when the Tide will probably be quelled at either Ole Miss, LSU, or for sure against Florida in a title game." -- AustinBrando
The one-point season
"OU has consistently choked on the big stage in recent years. The only saving grace is in the fact Stoops has been able to get OU into these big games. However, that means nothing if we only deliver a disappointing egg every time we get to the big game." -- espnb12s
Photo galleries
Say cheese, Dallas! Have a great photo of yourself cheering at a 'Boys game or posing at your tailgate? Post it to your profile and share it with other fans.
Message boards
Can't talk enough about your teams? ESPN message boards are the place for you.
Pros: Cowboys | Mavericks | Rangers | Stars
Colleges: Oklahoma | Oklahoma State | TCU | Texas | Texas A&M | Texas Tech | UTA
Widgets
ESPN Widgets are portable applications that you can place on Facebook, Myspace, your iGoogle home page and many of the other most popular sites on the Internet. Stay up-to-date with breaking stories and the latest scores and stats on your favorite teams.
Pros: Rangers
Colleges: Big 12 football | Mountain West football | Big 12 men's basketball | Mountain West men's basketball | Southland Conference men's basketball
Sports Passport
Chronicle all the sports venues and events you've attended (good and bad). We make it easy by providing a calendar with the games. You add the notes and pictures and rate the experience. Start tracking your games