SportsNation Blog Archives

JR Smith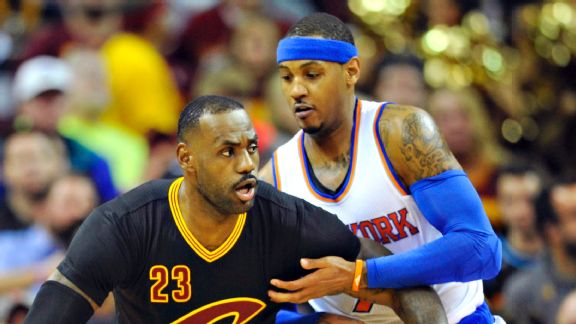 David Richard/USA TODAY Sports
Carmelo Anthony started to get a little wistful Wednesday morning while talking about ex-teammates Iman Shumpert and J.R. Smith.
"It seems like LeBron [James] took all my family from me," he said hours before the Knicks-Cavs game.
It was a funny line in a light-hearted moment from Anthony.
But he has a genuine bond with Shumpert and Smith, who were traded to James' Cavaliers last January.
Anthony watched both players -- and his buddy LeBron -- with the pride of an older brother during the NBA Finals last season.
"It was more kind of [like] seeing your family out there than anything," he said. "I didn't watch it kind of from a competitive standpoint. I watched two guys -- J.R., I've known him, I've been with him for almost 10 years; Shump is a guy who came in and was kind of a little brother to me; and of course LeBron, who I've been with, kind of connected to since high school. So to see all three of those guys competing at that level, it was more watching my family out there."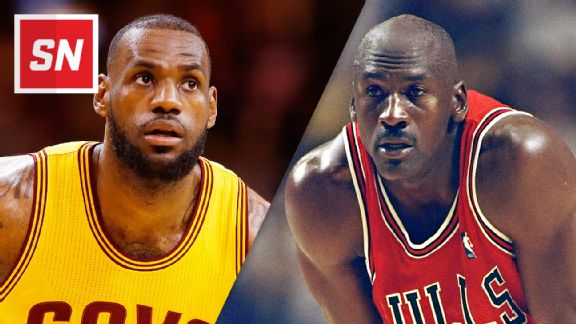 Getty Images
Ah, the Michael Jordan versus [insert modern star here] debate. As much as many (most?) people might like to see it retired, or at least diminished, it's not going away anytime soon.
Case-in-point: Kendrick Perkins and J.R. Smith, Cleveland Cavaliers players fresh off watching LeBron James' gutsy performance in a Game 3 overtime win over the Atlanta Hawks, brought up MJ in the context of their four-time-MVP, two-time-champion teammate.
Perkins, as told to Northeast Ohio Media Group: "The only thing that he's missing is a couple more championships, and then it's a wrap. Right now, we have arguably the best player to ever play the game. I'm just saying, man. I'm not taking anything away from Jordan, but all [James is] missing is titles. A couple of more titles, and that's it."
And Smith, as told to the same publication: "That's one hell of a debate. Honestly, in my opinion, if it's not Jordan, then it's him. It used to be no question. It was a landslide. It was Jordan. Now, you have to consider my boy."
Smith's comments are more measured; if you don't consider James one of the greatest players of all time, you're just a hater.
But Perkins? He's kind of, sort of saying LeBron is better ... if only he had Jordan's six rings.
Some might channel Jason Segel and respond that six rings is THE ONLY ARGUMENT I NEED, KENDRICK!
We prefer a more nuanced view, though nearly every unit of measurement favors MJ as No. 1.
Still, there's time left in LeBron's career, so you never know ...
J.R. Smith might not have led the Cleveland Cavaliers in scoring Wednesday night; LeBron James dropped 31 as the Cavs beat the Atlanta Hawks 97-89 in Eastern Conference finals Game 1.
But the 3-point specialist -- who has literally said his motto is "When in doubt, shoot the ball" -- caught the eye with his 28-point outburst that included 8-of-12 shooting from distance.
Naturally, a lot of people watching at home -- some of them who have an equally indiscriminate approach to shooting -- loved it:
JR hoopin

— Nick Young (@NickSwagyPYoung) May 21, 2015
JR Swishhhhhhhhh=%=%

— Chandler Parsons (@ChandlerParsons) May 21, 2015
JR =@

— Trey Burke (@TreyBurke) May 21, 2015
Swish on 1 rt now

— Baron Davis (@Baron_Davis) May 21, 2015
Damn JR...... This man is on fire!!!!!!!!!

— Dez Bryant (@DezBryant) May 21, 2015
JR SMITH unconscious from 3!! =%=%=%=%

— Mark Ingram (@MarkIngram22) May 21, 2015
JR Smith in full blackout mode right now

— Jordan Spieth (@JordanSpieth) May 21, 2015
JR Smith shootin like the coach put in a cheat code =

— Waka Flocka Flame (@WakaFlockabsm) May 21, 2015
JR SMITH NO JABRONI BUBBA

— The Iron Sheik (@the_ironsheik) May 21, 2015
Not everyone liked it, though.
JR Smith is hogging the =%

— Atlanta Hawks (@ATLHawks) May 21, 2015
Game 2 of the J.R. Smith Experience (and rest of the Eastern Conference finals) is Friday.
We might have some new NBA playoffs bulletin-board material! At least, if the Cleveland Cavaliers and Washington Wizards meet in the Eastern Conference finals.
It comes from Game 4 between the Wizards and the Atlanta Hawks, in which Washington star John Wall sat out with a wrist injury, and wore this number: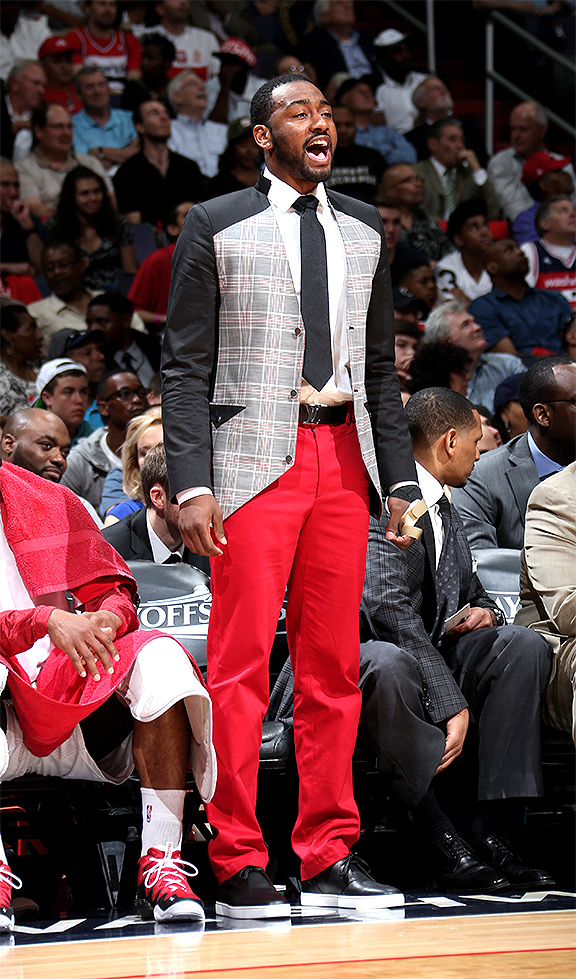 Ned Dishman/NBAE/Getty Images
Loud, yes. But hey, it's the NBA, where we've come to expect such a thing. Bold is beautiful, so live and let live -- oh wait.
#JWall your suit tho! #Turrrbile #WorstThenCrCharlesDraftSuit

— JR Smith (@TheRealJRSmith) May 11, 2015
What was he thinking? https://t.co/bu2jUwrrx9

— JR Smith (@TheRealJRSmith) May 11, 2015
Insert blushing, bulging-eyed emoji here.
Now, we're no fashion experts. So we're just going to leave this here and let you decide whether the Cavs sharpshooter has any room to speak.
Thanks ladies! RT @CavalierGirls: Congrats @TheRealJRSmith looking good sir! #AllStarAllStyle pic.twitter.com/WXJRPIZIm5

— JR Smith (@TheRealJRSmith) February 15, 2015
H/T For the Win
The Cleveland Cavaliers' J.R. Smith shoots 3-pointers. Often effectively, sometimes indiscriminately, but not always exclusively ... until Sunday, when all three of those factors converged for the most J.R. Smith game of all time.
In a 99-94 win over the Chicago Bulls, Smith had the following box score: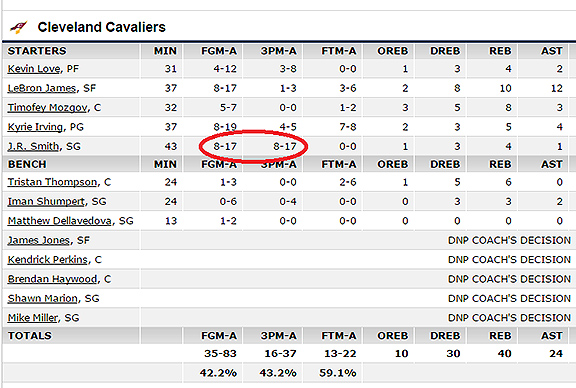 ESPN
Yes, that's 17 3-point attempts without shooting a 2. And that's an NBA record:
J.R. Smith has attempted 17 3-point shots, 0 2-pointers - an NBA record for most 3-pointers w/o a 2 (#Elias). (He's made 8.)

— ESPN Stats & Info (@ESPNStatsInfo) April 5, 2015
The previous record, according to Elias, was 13, done three times before (Ryan Anderson in 2012-13, Voshon Lenard in 1996-97 and Mookie Blaylock in 1995-96).
Smith also contributed to LeBron James' first triple-double in more than a year, knocking down five 3s from James passes.
Oh, and one of Smith's eight 3-point makes was this halftime buzzer-beater from 40 feet:
In short: Cleveland is probably happy it acquired Smith from the New York Knicks this season.