SportsNation Blog Archives

UCF Knights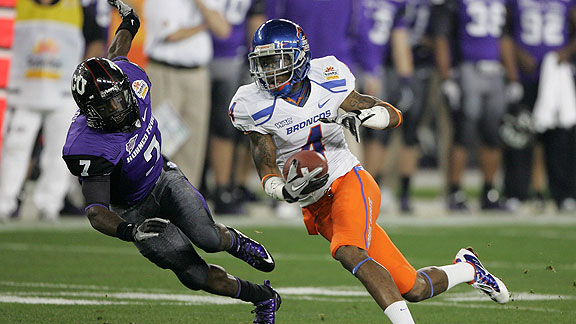 A lot of college football fans will tell you their two favorite teams are their team and whoever plays their rival that Saturday. But it sure feels like Boise State is gaining ground on the latter part of that equation.
There are a lot of things working in Boise State's favor as it builds a nationwide network of fans. The Broncos play at least five games on ESPN or ESPN2 this season, all on weekday nights when college football fans are craving something to tide them over until Saturday. And since it's safe to say the BCS isn't America's most popular institution, it only makes sense to support the team whose diverse playbook has helped poke holes in the system's flaws. Plus, let's be honest, who doesn't love them some blue turf?
So as long as they aren't playing your team, is Boise State America's team?
Brian (Greensboro)
Ivan, pretend that Boise State is any BCS conference this year...where do you rank them? Is it still third (AP), fifth (Coaches) or something else?
Ivan Maisel
I understand your point. But Boise State has won two Fiesta Bowls in the last four years. They have 20-plus starters returning from an undefeated team. I don't think anyone need apologize for ranking the Broncos high. And if they lose, we'll be wrong and we'll all move on. Full transcript
Jeremy (Corvallis)
How do you think Boise would do in the PAC-10? It's much easier to get up for 1 (max. 2) games per year, compared to having to show up every week (except against Wazzu).
Pac-10 blogger Ted Miller
Hard to say: Boise is a good team, and it is particularly good at preparing for big games. But as you say, playing a quality foe just about every week is something the Broncos have not done. I do think this year's Boise State team would finish in the top-third of the Pac-10, perhaps even win the conference. Full transcript