SportsNation Blog Archives

Evgeni Malkin
In the NBA, "gone fishin'" is a bad thing.
In hockey, it's a conduit for awesomeness. Case-in-point: the maritime adventures of Pittsburgh Penguins star center Evgeni Malkin, who recently took to the sea and snagged a pair of quite sizable fish:
Then Malkin decided to go diving ...
... where he found WHOA WATCH OUT EVGENI IT'S HUGE!!!!
Turns out that's just a whale shark, which is not a known danger to humans. In truth, this isn't even close Malkin's must frightening run-in with a Shark.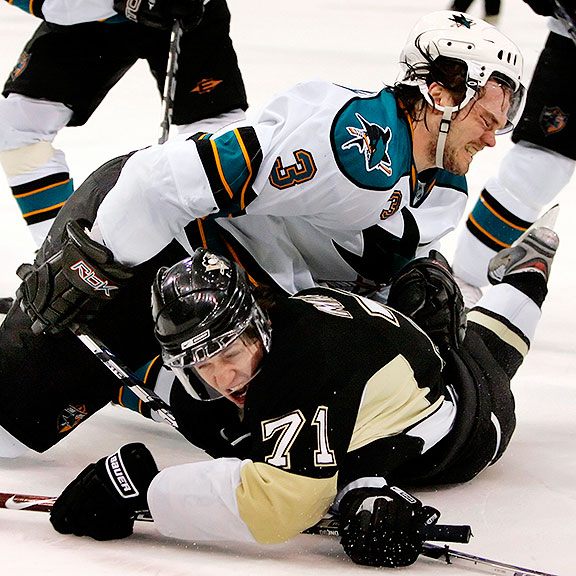 AP Photo/Gene J. Puskar
And hey, at least Malkin didn't actually ride the whale shark like this guy.
The NHL regular season kicks off tonight, but we have to wait until Jan. 21 to get our first showdown between Sidney Crosby and Alex Ovechkin (in either a brilliant marketing stroke that will build anticipation to untold levels or the worst bit of scheduling this side of the Emmys). By a 71-29 percent margin, SportsNation feels the league would be better served by Ovechkin evening the championship score than by Crosby winning his second title. Regardless, the individual duel will rage on.
SportsNation blogger NYandMU likes Ovechkin and the Capitals to win the Eastern Conference, but the highest individual honors go to someone else entirely.
No. 4 Pittsburgh Penguins: Here is the thing with the Penguins, they did win the Cup last year, but they are not at their elite level in the regular season. They should be in the fight for the division until the end, but they might lose out to Philly (probably winning the regular season series of course). Not much analysis is needed on them, but Malkin is the best player in the NHL, sorry Sid. -- Read the full post.
"

The Penguins are gonna run the East for a long long time considering the best two players in the world (Crosby and Malkin) are 22 and 23 respectively. Not to mention Staal is the youngest at 21. In the four/five years they have been in the league they have won 2 Prince of Whales trophies, 2 Hart Trophies (even though Malkin has been nominated the last three years but somehow loses to Ovechkin), a Conn Smythe, Rookie of the year X2, X2 Art Ross trophies, and a little thing called the Stanley Cup.

"

-- SteelMafia43
"

the only thing alexander ovechkin is good for.....fantasy hockey

"

-- pitthaus
Ricky Rubio is just one of many. No, not potential point guards for the Timberwolves, although that's also true, come to think of it. Rubio, whenever he gets to the United States on a full-time basis, will be just one of many European athletes starring in North American professional sports leagues.
Everywhere you look, there's a guy with good taste in food, a certain worldly "je ne sais quoi" and jeans that are just a little too tight. Heck, Kobe Bryant makes more sense in Italian these days than Delonte West does in English most of the time.
Where once there was the occasional Swede on skates, there are now Europeans everywhere you look (not applicable to residents of Arkansas). Well, almost everywhere. Scotland's Lawrence Tynes isn't exactly leading an EU assault on the NFL.
"

This was such an incredibly stupid draft pick by Minnesota, just horrific. Did they not do their homework at all? This kid is locked into Europe for two more years, because of that buyout. Moreover, the adjustment period of going from Spanish ball to the NBA will probably take another three years. So this horrible team that cannot sell tickets, drafts a guy that will not really pay off at all (if he even does) for five years. Stupid organization!

"

-- TorreroX
"

Rubio should take a lesson from American athletes. He should go play for Joventut, complain about a nagging injury, put out an embarrassing Youtube video, become a locker-room cancer, and generally become a pain in the ####. Next thing you know they be paying him to leave!

"

-- karltkoch
Earlier this week, Tony Kornheiser joked on "PTI" that Sidney Crosby ought to pull up to Alex Ovechkin's house and honk away until his rival came out to admire the Stanley Cup. The only problem is Ovechkin could now answer the door with his arms full of Hart Trophies.
A week after the Penguins stunned the Red Wings in Detroit, NHL luminaries gathered in Las Vegas (Las Vegas?) to hand out the season's other hardware. Winners included Columbus goalie Steve Mason as top rookie, Boston's Zdeno Chara as biggest human on skates (and best defenseman) and fellow Beantown resident Tim Thomas as top goalie.
They also included Ovechkin, who became the first player since Dominik Hasek more than a decade ago to win the Hart Trophy in back-to-back years as the league's MVP. And in SportsNation's eyes, winning the top individual honor twice by the age of 23 is more impressive than captaining the Stanley Cup champions at 21.
"

Malkin is the best player in the game today when you take everything into consideration (Crosby 2nd, Ovechkin 3rd). Ovechkin is the best offensive player in the NHL and I love how he hits and plays physical, but he can't play a stitch of defense. Crosby is a great player and can play all around, but his defense is just solid at best and his finishing skills need work. Malkin needs work on his finishing as well, but is ahead of Sid in that regard and he has really stepped up his defensive efforts over the past 2 years - especially the past 4 months.

"

-- skas412
"

If it were an award for point scoring- there wouldn't be voting. If it were an award for not turning it over- there wouldn't be voting. If it were an award for shooting percentage, shots taken, or assists- there wouldn't be voting. It is a SUBJECTIVE award based on perceived value to a players own team. In theory, a player could win the award without scoring a single goal- so don't throw individual stats out to compare.

"

-- vweaver69