SportsNation Blog Archives

Tom Brady
By
SN Staff
| Tory Barron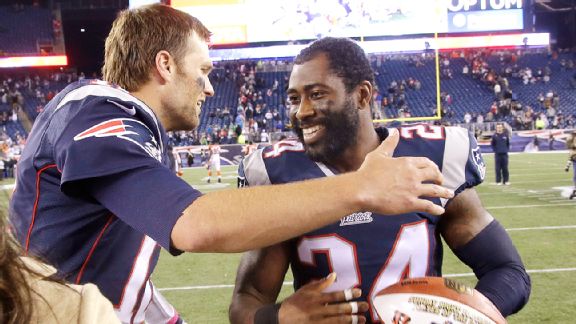 AP Photo/Stephan Savoia
Darrelle Revis might have won a Super Bowl ring with New England Patriots, but that doesn't mean he's displaying undying devotion to his now-former team (he's back with the their archrivals, the New York Jets, after a two-season hiatus, one spent with the Patriots).
Specifically, he has no sympathy for Tom Brady. Revis spoke to Manish Mehta of the New York Daily News, suggesting the franchise's history of rule-breaking likely played a part in Brady's punishment:
"Everybody's blowing it [Deflategate] up because it is Tom Brady. I understand that. But if [the NFL] feels he did the crime or he did something and they want to penalize them, then that's that. [The Patriots] have a history of doing stuff. You can't hide that. ... Tom was there when they did that stuff in the past. ... Stuff repeatedly happened through the years. You got Spygate, you got this and that and everything else."
Spoken like a true Jet (or at least someone who has wiped his hands of his former team). Revis certainly has no responsibility to defend the Patriots, but it does make us anticipate the two matchups between the storied foes this coming season even more than usual.
(H/T New York Daily News)
The punishment is here. For the Deflategate scandal, the NFL is suspending Tom Brady four games, while fining the New England Patriots $1 million and docking them two draft picks (a first-rounder in 2016, a fourth-rounder in 2017).
Naturally, NFL players current and former had some thoughts.
His teammates were not happy:
THIS IS ABSOLUTELY RIDICULOUS!!! SMH =! #PATSNATION STAND UP!!!!!

— LeGarrette Blount (@LG_Blount) May 11, 2015
=!

— Chandler Jones (@Chan95Jones) May 11, 2015
.....=

— Dont'a Hightower (@zeus30hightower) May 11, 2015
Wow

— Chimdi Chekwa (@ChimChek) May 11, 2015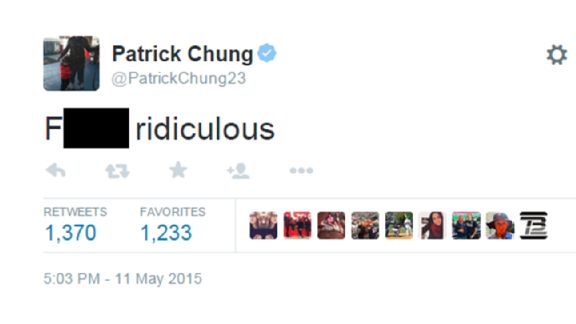 @PatrickChung23/Twitter
Others reacted with a mixture of surprise and outrage:
May 11, 2015
Ouch

— Marcus Gilbert (@MarcusGilbert88) May 11, 2015
Did not see that one coming a milli and 4 games=

— Jameel McClain (@JameelMcClain) May 11, 2015
I honestly feel bad for Tom Brady!! I know first hand the type of competitor he is & how much work he puts in... Came down too hard on him!

— DonteHitner (@DonteWhitner) May 11, 2015
To win four Super Bowl is outstanding. I know Tom Brady is a great competitor and leader. I feel sorry for him and patriots nation!

— Jerry Rice (@JerryRice) May 11, 2015
Tom Brady suspended 4 games.... That's just ridiculous. They are comparing it to steroid use. Preposterous! What are your thoughts?

— Steve Weatherford (@Weatherford5) May 11, 2015
If the NFL is so worried about the integrity of the game then the league should issue all balls for all games. #DeflateGate #BaseballDoesIt

— Antonio Garay (@antoniogaray71) May 11, 2015
T. Brady suspended 4 games for violating integrity of the #NFL. T.Pryor suspended 5 games in NFL for Tattoos while in college. AMAZING!

— Charlie Batch (@CharlieBatch16) May 11, 2015
Apparently "probably" deflating footballs is worse than DV...? https://t.co/oQdgh7tzVI

— Brady Quinn (@3rd_Goal) May 11, 2015
4 games?? What a joke! Tom Brady's getting the same suspension as PED users... Crime does not match the punishment #lostmorerespectfortheNFL

— Jake ballard (@TheJakeBallard) May 11, 2015
While some felt it was the right call, or at least the cost of doing business:
Well done @NFL ..........#DeflateGate

— Patrick Peterson (@RealPeterson21) May 11, 2015
It's a good thing the @nfl suspended Tom Brady now everyone knows that NOBODY is above the system #NFL #FairGame

— Shawne Merriman (@shawnemerriman) May 11, 2015
I think the suspension is warranted, they came down hard on the organization though. #Deflategate

— Sean Weatherspoon (@SeanWSpoon56) May 11, 2015
The Patriots are habitual rule breakers, and that's why they win championships.

— Phillip Buchanon (@PhillipBuchanon) May 11, 2015
They lose a million dollars, which is nothing to an NFL franchise, and a first round draft pick but they still got a championship haha..

— Phillip Buchanon (@PhillipBuchanon) May 11, 2015
You have to the love the patriots . They do anything to win a Super Bowl . #mytypeofteam=

— DARNELL DOCKETT (@ddockett) May 11, 2015
Our own Damien Woody? Fresh off a debate on our airwaves with former teammate and ESPN colleague Tedy Bruschi, the ex-Patriot simply posted this:
May 11, 2015
Red Sox fans mock Alex Rodriguez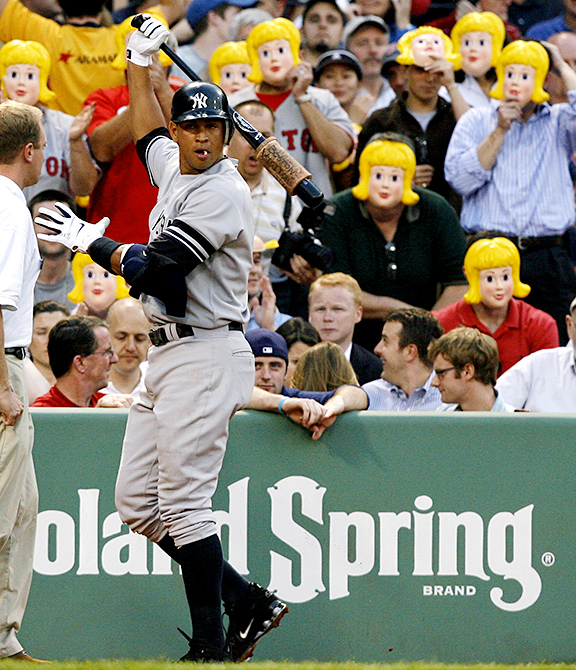 Linda Cataffo/Getty Images
Boston Red Sox fans taunt New York Yankees' Alex Rodriguez by wearing masks of a blonde woman as he stands on deck in the second inning of a game at Fenway Park. Earlier that week, Rodriguez had been spotted at a club with a blonde, not his wife, setting off allegations about his extramarital activities. The Yankees, however, beat their long-time rival 9-5.
Gum cup on the helmet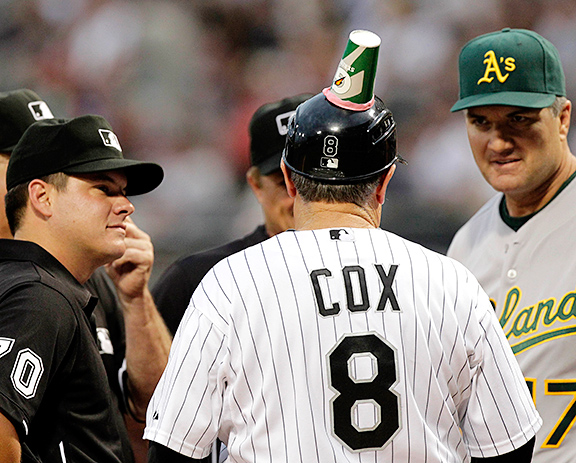 AP Photo/Charles Rex Arbogast
Chicago White Sox third base coach Jeff Cox has no clue this prank has been pulled on him with a cup stuck to his helmet with gum as he delivers the starting line up before a baseball game in Chicago. Watching, and slightly amused, at his left is third base umpire D.J. Reyburn.
Tom Brady and his GQ photo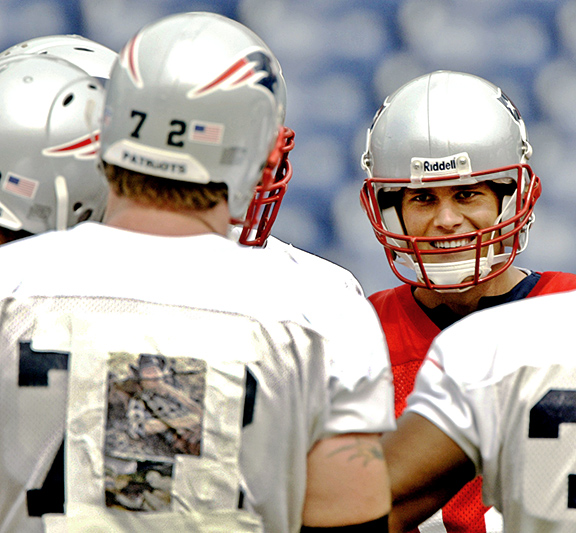 AP Photo/Stephan Savoia
New England Patriots quarterback Tom Brady calls a play in the huddle during normal Tuesday practice at Patriots summer camp in Foxboro. And to poke fun of the QB, offensive lineman Matt Light tapes a page of Brady's GQ photo shoot to the back of his jersey, left. Let's be honest though, Brady is married to a super model and has four rings, so were pretty confident he was able to brush this one off, even if the magazine spread was a little bizarre.
Green Guys and the penalty box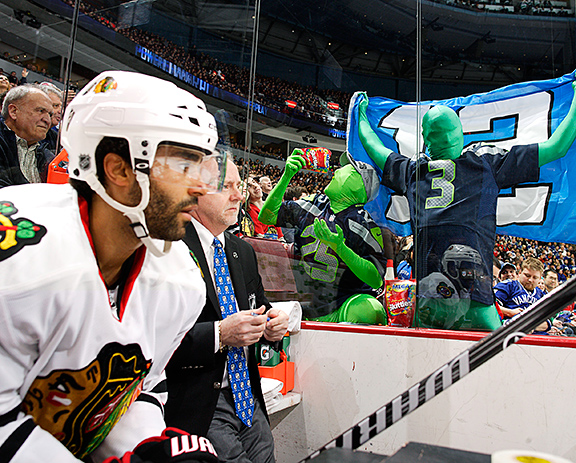 Jeff Vinnick/NHLI/Getty Images
The Green Men, two Vancouver fans, taunt Johnny Oduya #27 of the Chicago Blackhawks who took a penalty against the Vancouver Canucks during their NHL game in Vancouver. Oduya doesn't seem to be phased, probably because Chicago got the win, 5-2.
Eric Thames and some bubble gum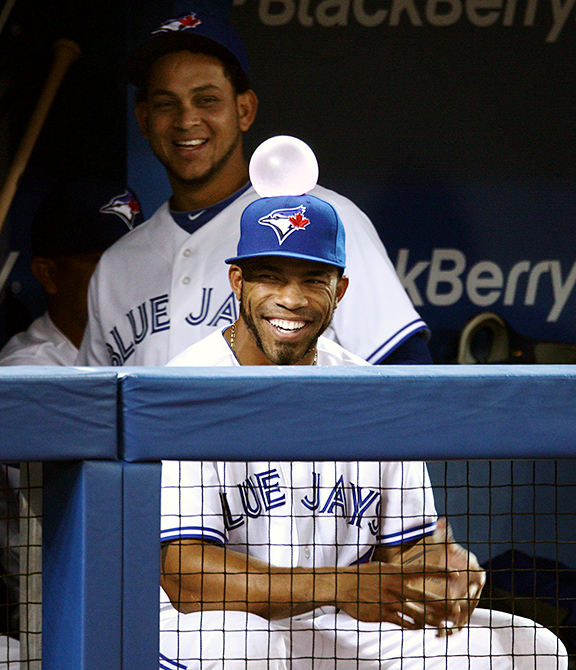 Tom Szczerbowski/USA TODAY Sports
Toronto Blue Jays outfielder Eric Thames reacts to the impressive bubble of chewing gum placed perfectly on his ball cap by teammate Henderson Alvarez during a ball game against the Baltimore Orioles. Thames was able to laugh it off and the Blue Jays were able to get the win, 9-2.
Matt Harvey and the old 'ball tied to a string'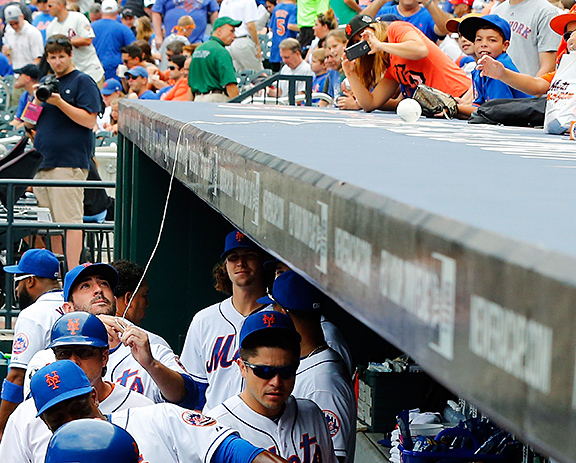 Jim McIsaac/Getty Images
Matt Harvey of the New York Mets teases fans with a ball tied to a string before a game against the San Francisco Giants at Citi Field. Yes, it's a little mean but also brilliant.
Kings Mascot trolls ref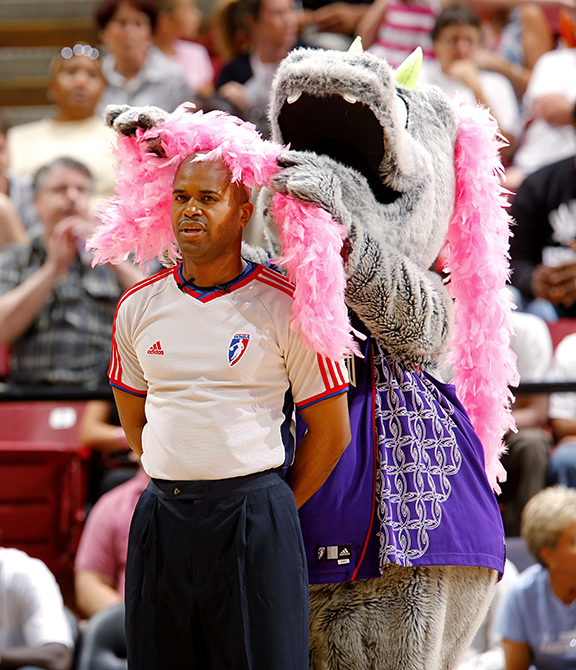 Rocky Widner/NBAE/Getty Images
The Sacramento Kings mascot Monty goofs around during a game between the Seattle Storm and the Sacramento Monarchs. What are sports if you can't have a little fun? It looks like this ref didn't find it as cute.
Phanatic Popcorn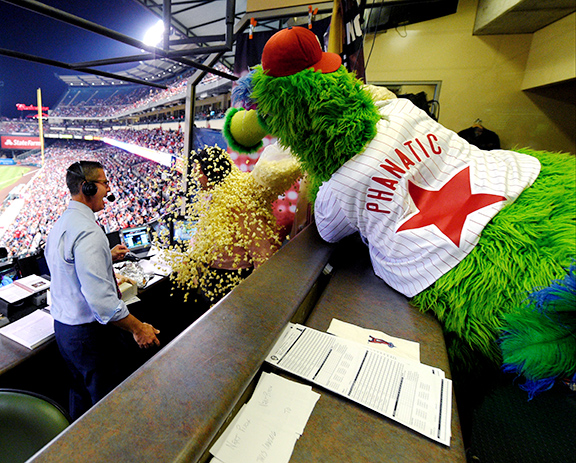 Matt Brown/Getty Images
Phillie Phanatic loves his humor and everyone loves attention on their birthday, right? The Phanatic wished Mark Gubicza a happy birthday with a lot of popcorn as booth-buddy Victor Rojas watched during a broadcast of the Philadelphia Phillies and Los Angeles Angels game.
Lowrie Pie Face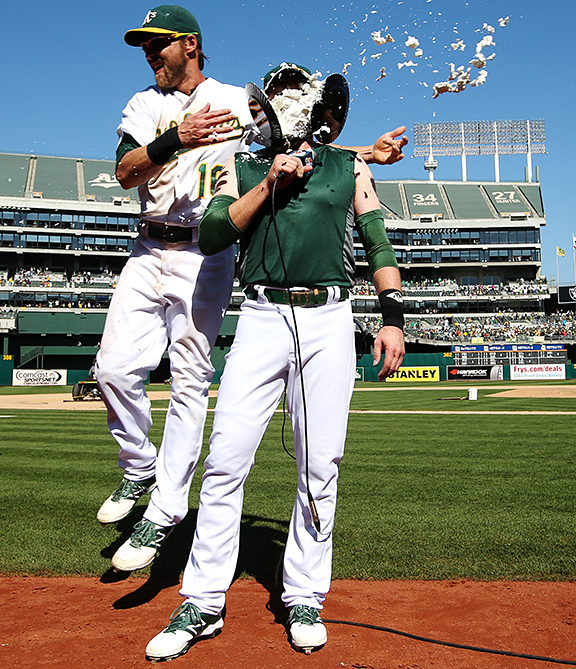 Brad Mangin/Getty Images
Not one pie, but TWO pies to the face for A's Jed Lowrie from teammate Josh Reddick while doing an interview on the field after Lowrie drove in the winning run with a single in the bottom of the 9th inning against the Houston Astros.
Popcorn Car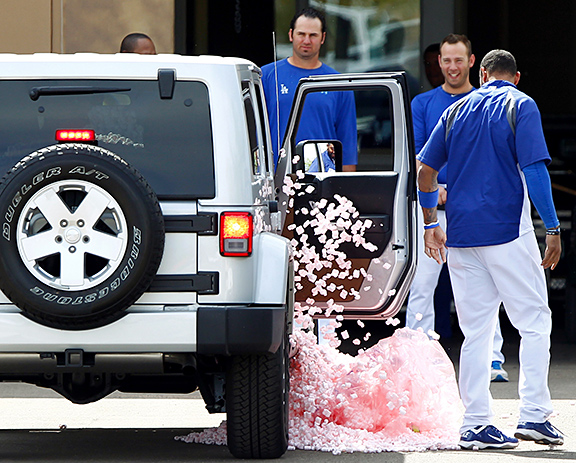 Debby Wong/USA TODAY Sports
We wouldn't want to be the teammate who got a front seat full of popcorn from Matt Kemp before the game against the Chicago Cubs. Wonder if he's still finding those little packing peanuts in his car.