SportsNation Blog Archives

Richard Seymour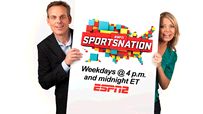 Michelle Beadle and Colin Cowherd are listed as probable on the "SportsNation" TV injured list. Go ahead and start them on your fantasy team this week.
Argue the hot topics of the day and vote on the biggest stories from the world of sports. The show airs on ESPNEWS at 4 p.m. and ESPN2 at midnight ET.
Note: Broadcast voting results as of this afternoon (ET).
Who has the better fist pump?
Does Rafael Nadal, king of clay and thorn in Roger Federer's side, or Tiger Woods, rival of Ernie Els, have the better celebratory gesture?
How many games will the Cowboys win this season?
More than nine? Fewer than nine? Nine exactly? Emmitt Smith pegs the team at seven wins if the coach and QB don't improve.
Is Memphis a good fit for Allen Iverson?
A.I., using that newfangled Twitter service, said Wednesday that he's going to play for the Grizzlies. One fan predicted a team that averages zero assists.
Will Brett Favre start 16 regular-season games?
The Vikings were quick to toss their other QBs under the bus for him, and he's only one game from a tie for the NFL's longest games played streak.
Which team will win the Titans-Steelers game?
LenDale White is unapologetic for stomping on the Terrible Towel last season, which has Steelers fans frothing at the mouth.
What is "SportsNation" TV, and how do you make your voice heard? Read about the new ESPN show that features fan opinions with calls, tweets, polls, rankers and more.