SportsNation Blog Archives

Louisiana-Monroe Warhawks
Louisiana-Monroe did it again -- almost. For the second week in a row, the Warhawks of the Sun Belt Conference came back from a fourth-quarter deficit -- on the road, in an SEC opponent's stadium -- to force overtime. But the magic that helped ULM upset then-No. 8 Arkansas last week ran out Saturday against Auburn, as the Tigers held on for the win. Does ULM deserve credit for nearly pulling off back-to-back stunners? Do this season's early upsets tell us anything about the state of college football?
---
Double trouble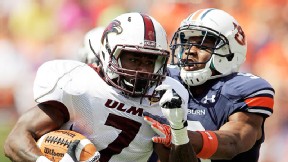 Jyruss Edwards and Louisiana-Monroe of the Sun Belt pulled off one upset and nearly made it two. Are the Warhawks worthy of respect?

---
Cinderella reunion tour
MAC and Sun Belt teams aren't supposed to stroll into Big Ten and SEC stadiums and win. Someone forgot to tell Ohio U. and UML. Is the talent gap narrowing? Or is the recent run of upsets a coincidence?

---
Tigers' tale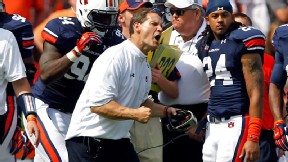 A deflected field goal in OT saved Auburn from an 0-3 start. Time for a sigh of relief? Not with LSU coming to town next week.

Tags:

NCF, Auburn Tigers, Arkansas Razorbacks, Louisiana Monroe Warhawks, Louisiana-Monroe Warhawks
Maybe Arkansas was looking ahead to No. 1 Alabama. Maybe losing quarterback Tyler Wilson to injury meant more to the Razorbacks than they realized. And maybe Louisiana-Monroe just played their hearts out. The Warhawks stormed back from a 28-7 deficit and stunned No. 8 Arkansas 31-28 in overtime. The upset was one of several in Week 2, as Wisconsin and Nebraska both fell and FCS-level Sacramento State stunned Colorado. Did the Warhawks pull off the biggest shocker of the day?
YoungFullMetal: " Either ULM is a LOT better than anybody could have imagined or Arkansas is nowhere near as good as the pollsters though. Please, for the love of God abolish the Preseason polls."
BeaverYabor: "Well I know one thing: I'm selling my ticket to the ULM game next week. I was already considering it with the 0-2 start and the threat of 0-3 is too dangerous. I've never seen the Tigers lose in Jordan-Hare and I need to keep my record intact.."
wruhsk5: "557 to 376 total yards. People, this wasn't an upset. The better team actually won. Watch out for ULM this season. For real."
Hogfan6796: "Well.............. (Sigh)......... Hogs we have got to decide weather were going to push on or roll over I give ULM so much credit they played a hell of a game but as fans we must push onward Bama is coming I really don't know how we will do but I just hope we don't go down in flames ...more"



Join the conversation or respond by signing in or creating a profile and blogging.