SportsNation Blog Archives

Anthony Hargrove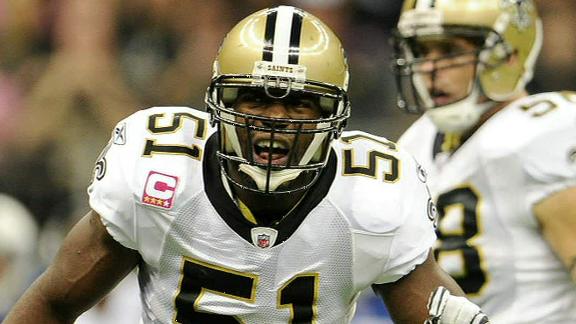 An appeals arbitration panel has overturned the suspensions of four players involved in the Saints' bounty scandal. Jonathan Vilma and Will Smith of the Saints, Scott Fujita of the Browns and free agent Anthony Hargrove all can play immediately. Was this the right decision?
Twitter reaction

Victory is mine!!!! -stewie griffin

— Jonathan Vilma (@JonVilma51) September 7, 2012

Thank you to everyone involved in the process of this solution.. And everyone who supported us through this whole ordeal. #whodat

— Will Smith (@iWillSmith) September 7, 2012

Congratulations to our players and the Saints organization. A 3 judge panel UNANIMOUSLY overturned the bounty suspensions for players.

— Drew Brees (@drewbrees) September 7, 2012

The best news I've heard all year @jonvilma51 and @iwillsmith have been vindicated #Whodat

— Jimmy Graham (@TheJimmyGraham) September 7, 2012

I don't know all the facts with the bounty case, but I think this shows how important it is to have a checks and balance system in place..

— Brandon Marshall (@BMarshall) September 7, 2012

Fan reaction

kwelch1962: "This is the beginning of the end for the NFL. This decision will open the floodgates for former players to sue the league for head injuries. Their attorneys will be able to say "See, the NFL doesn't even protect their players from other players." The NFL will be bankrupt in 5 years."
Miss Cleo Returns: "Note to NFL: It helps to have evidence when making accusations."
Richie5166: "Well,, if those guys got their rulings reversed,,what about Sean Payton? He should be able to coach then, right?"
Jennellise: "This is what happens when you are judge / jury / and executioner. It's David 1 and Goliath 0. Again"
BrentAHall1: "Goodell went all in and lost. And the clock starts ticking on his tenure in office."
msacks: "I'm about as anti-violence as an NFL fan can get, and have been disgusted by the undisputed facts that have come out. But I have to say, I've always blamed the coaches on this and not the players. When the coaches are organizing it, it shouldn't be up to the players to say no or be responsible. Williams and Payton, and probably Vitt, deserve to be suspended. None of the players do."
JWL444: "The NFLPA is a total joke. It must be nice to argue both sides of the fence. While supporting 1000 NFL players (most just looking for a money grab) over player safety, they argue supporting players that were trying to injure other players."
eswany33: "This is ridiculous they should have just served the suspension and accepted the punishment for what they did."
9dmost: "Are these dudes even game ready? And if so they are hardly prepared mentally."
Fans1000: "If you like tough football, you like this decision. If you like soft football teams and soft football players, then you hate this decision. I like tough football and that's why I love this decision."

Join the conversation or respond by signing in or creating a profile and blogging.