SportsNation Blog Archives

Cleveland Browns
Statistically, two is not a trend. But we're calling it anyway:
2014 is the Year of the Jump-Kick.
First there was Antonio Brown of the Pittsburgh Steelers planting a foot on the face mask of Cleveland Browns punter Spencer Lanning (which, admittedly, drew a fine):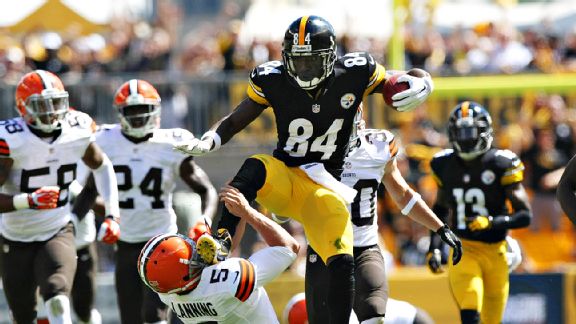 Jason Bridge/USA TODAY SportsSpencer Lanning found out what it feels like to be punted when he tried to tackle Antonio Brown.
On Sunday night, the Green Bay Packers' Jarrett Boykin (perhaps) one-upped Brown by getting a leg to the ball before Chicago Bears punter Pat O'Donnell could kick it: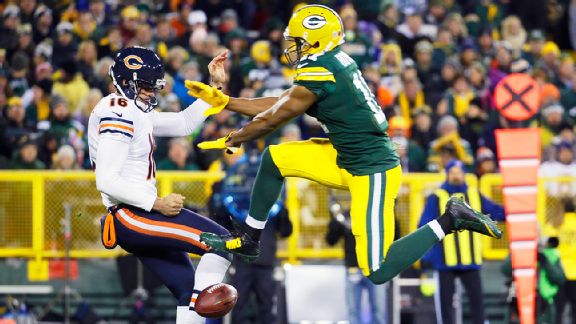 AP Images/Morry Gash
It's hard out there if you're a fan of the Cleveland Browns. Your team has been in the competitive wilderness for years, your history is full of disappointment and despair, and your team's potential franchise quarterback still hasn't done anything of note in his NFL career. Two fans at the Browns-Titans match on Sunday (which Cleveland won!) made their feelings apparent by creative usage of custom jerseys:
@AshleyChaseTV pic.twitter.com/HZ82Pge21q

— david jones (@dcj98) October 5, 2014
Ouch. We're especially impressed at the fact that they chose the custom jersey medium for this message. It's not exactly marble or canvas, but we feel this elevates it from a simple joke to actual art.
AP Photo/Denis Poroy
NFL Week 2 questions
The NFL's second week has come and gone, and both Washingtons made big news. The D.C. version saw its team lose quarterback Robert Griffin III to an ankle injury -- but win in big fashion anyway behind Kirk Cousins. The team from the state of Washington, meanwhile, was stunned in a 30-21 loss to the Chargers, with cornerback Richard Sherman being called out by San Diego players. What do you make of the week's major storylines?
Thoughts on NFL's opening week?

The NFL is back! On the first Sunday, some teams (San Francisco 49ers, Denver Broncos) won as expected, others (New Orleans Saints, New England Patriots) suffered surprising defeats, and a few more (Dallas Cowboys, Kansas City Chiefs) were downright demoralized. On Monday, the Detroit Lions grabbed the headlines by routing the New York Giants. What's your take on some of the major questions from Week 1 action?