SportsNation Blog Archives

James Harrison
---
Does stubbornness equal selfishness?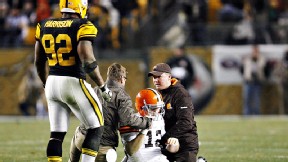 As James Harrison makes clear above, he isn't going to change his style despite a one-game suspension for a hit on Colt McCoy. If it takes him out of the lineup, is that selfish?

---
Could Harrison change his ways?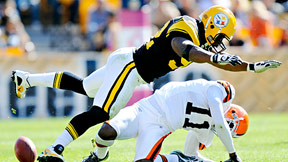 Harrison told Jerome Bettis he can't change his style, having tried before only to limit his own effectiveness.

---
The NFL's most infamous defender?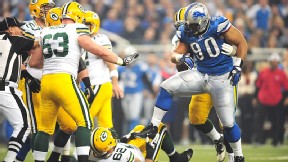 Like Tim Tebow racing up the fourth-quarter comeback charts, Ndamukong Suh is making quick work of the NFL discipline charts. But is Harrison the king of questionable play?

---
A costly loss for a team trying to win?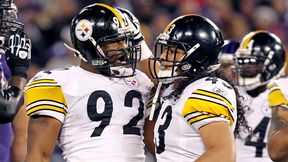 The Steelers are tied for the AFC's best record but would be the fourth seed at the moment. Is home-field advantage more important to them than Monday's opponent?

It wasn't pretty, and it was painful for their quarterback, but the Steelers got the win they needed against the Browns. Ben Roethlisberger returned from a high ankle sprain to make sure his team had enough points to win, but will James Harrison be leaving the lineup? Harrison delivered a helmet-to-helmet hit on Cleveland QB Colt McCoy, and it's not exactly his first brush with the NFL law. Should Roger Goodell suspend Harrison?
"As a fan of neither team, I just do not understand Harrison's mentality. The ball was gone and he still goes helmet to helmet. I am starting to wonder if it is a Cleveland thing. He just does not play this way against most of the other teams." -- SN commenter Painkillers1967
---
Time to sit down James Harrison?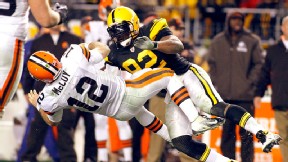 You can see the video of Harrison's hit here and listen to NFL Network's Deion Sanders make a case that Harrison wasn't at fault.

---
Your take on Harrison's value?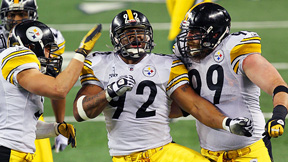 Harrison plays with passion and is a key cog in the Steelers' defense. But does his intensity run a little too hot for comfort?

---
What about the other quarterback?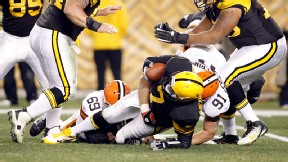 Colt McCoy wasn't the only quarterback worse for wear after Thursday's game. Ben Roethlisberger returned after a high ankle sprain.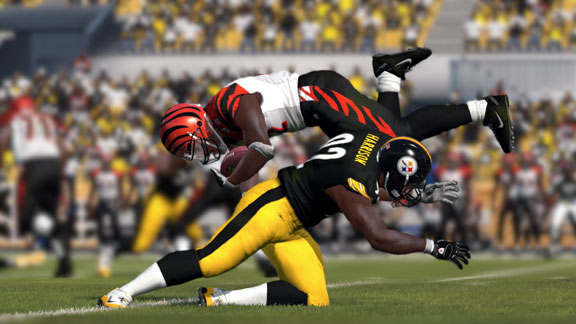 Madden ratings are often the most contentious topics in sports video games. Should Michael Vick have a 99 in agility? Which wide receiver gets top marks for speed? Is my team's linebacker tougher than your team's? All week long, SportsNation is ranking the players with the top marks at each position. Today, we're taking a look at the best linebackers in Madden 2012. James Harrison, DeMarcus Ware, and Patrick Willis all have 98 ratings, but are they Madden's best? Cast your vote now!
"Patrick Willis should def be the best linebacker in this game. He's the cornerstone of the 49ers and he's just getting into his prime. Dude should be a 99 overall" -- SN commenter CardiacCats85
"Demarcus Ware = Overrated. He is a pass rushing specialist that's all. James Harrison is better then him. Ware just got hyped for his pass rushing ability." -- SN commenter Lions20AkP
"How is Clay Matthews not higher than a 95? Should be 98 instead." -- SN commenter AELawrence80
Tags:

NFL, James Harrison, Demarcus Ware, Patrick Willis, Jon Beason, Clay Matthews