SportsNation Blog Archives

Thomas Jones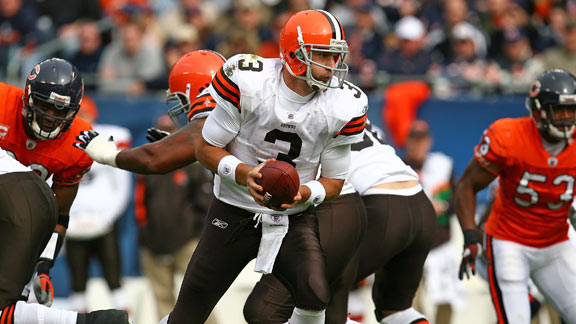 Derek Anderson didn't hesitate to burn bridges while leaving Cleveland. Then again, in a place where the rivers used to catch on fire, people are used to that sort of thing. After the Browns released him, Anderson labeled Cleveland fans "ruthless" and said he couldn't wait to come back through town (he's since apologized). The Cardinals don't play in Cleveland next season, but would Anderson fit throwing to Larry Fitzgerald? That's one question we've got for you, with some insights provided by ESPN's NFL bloggers.
Chad (Luke AFB, AZ)
Whats your take on the Browns picking up Wallace? Do you really think he will give Quinn a fighting chance for the starting job?
James Walker

The trade tells me Holmgren is going to put in principles of his West Coast system. The team has yet to admit that publicly. As far as a QB competition, Holmgren is trying to avoid it this year. So Quinn will either be traded or the team will make a predetermined choice on who starts before training camp. Full transcript
Griff (MN a.k.a. Southern Canada)
Bill Williamson just reported that the Vikings are showing interest in L.T. That said, which of the FA RBs, in your opinion, would be the best fit for the Vikings?
Kevin Seifert

If he's healthy, Brian Westbrook might be the most ideal fit. But the concussion situation is awfully worrisome. Full transcript
Dave (Columbus)
Do you think Cleveland should dump Quinn and start over at QB? With Quinn being a semi-local kid, there's always going to be a QB controversy among fans while he's there.
Lomas Brown

I think they should dump the QB that they can get the most value for. Look to go in a different direction. I haven't seen anything out of Quinn or Anderson, even though they're young, to make me think they are going to be franchise QBs. Full transcript
Should we offer a moment of silence for fantasy football owners coming to the realization that Saints safety Darren Sharper has scored more touchdowns this season than Steven Jackson, Brandon Jacobs or Anquan Boldin?
The Saints are just outside the top 10 in total defense at the moment, which is kind of remarkable when you think about how often their opponents have the whole field to work with after yet another Saints touchdown and yet another Saints kickoff. Sharper may not be the sole reason for the success, given that he shares the field with guys like Charles Grant and Jonathan Vilma, but as a newcomer with a league-best six interceptions and three touchdowns, he's becoming the face of it.
When push comes to shove, 67 percent of SportsNation prefers a great defense to a great offense. But are you ready to give a guy like Sharper MVP consideration?
There's little doubt who the best running back in football is these days; he's the guy that has more states than Minnesota native Walter Mondale carried in 1984 voting for the Vikings to win the NFC North despite Brett Favre's decision to stay retired.
As long as you have Adrian Peterson, you have a chance. Then again, that's not altogether different from how people felt about Larry Johnson as the 2007 NFL season approached.
You remember Johnson, the guy who rushed for 1,789 yards on a record 416 carries in 2006, a year after topping 1,700 yards with 20 touchdowns in a breakout campaign. Back in June, 2007, voters said he was the second-best back in the game (granted, Secretariat's margin of victory in the Belmont was a photo finish in comparison to LaDainian Tomlinson's lead) and clearly the Chiefs' most indispensable player.
Now it's 2009 and despite better than 800 yards last season, Johnson can't get a sniff when it comes to the backs "SportsNation" (4 p.m. ET, ESPN2) is asking voters to rank for Thursday's show. Just more proof that success can be fleeting at one of the NFL's most physically demanding positions. Be forewarned, Vikings fans.
"

wonder where RBs that had a goodly amount of carries combined with a goodly amount of receptions fit in in all this? For example: Matt Forte had 316 carries last year, far below the 370 curse mark, but also caught 63 passes...combined touches 379, so he's over the limit. May not mean anything at all, but I expect to see a drop off in his production this year simply because teams will scheme to shut him down more, IMO.

"

-- The Mini Ditkas
"

L.T. will duplicate his numbers from last season, and I can tell you now.. I spent too much time watching him log around 50 yards with zero scores to rest easy. Time to find a new horse for my squad.

"

-- noodlerii