SportsNation Blog Archives

Dallas Braden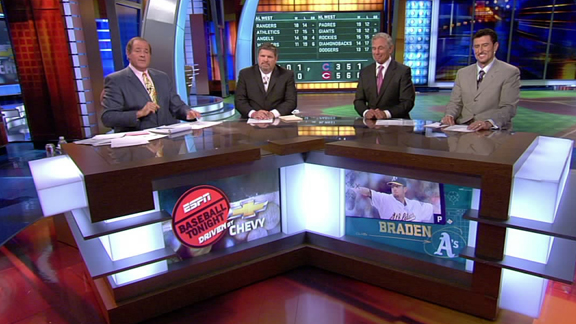 In the fifth inning of Dallas Braden's perfect game, Rays superstar Evan Longoria did a curious thing: He bunted.
This would be worthy of singling out in normal circumstances (Longoria is one of the best hitters in the league despite not yet being 25 years old), but this was obviously an exceptional occasion. Longoria might have violated one of baseball's unwritten rules: Never bunt in an attempt to break up a perfect game or no-hitter. Braden is a well-known arbiter of baseball's curious code, but he didn't have a problem with it. He might have been singing a different tune if Longoria's bunt hadn't rolled foul, but we've no way of knowing that.
SportsNation believes bunting in that situation is, at the very least, a greater no-no than cutting across the pitcher's mound, but there's a lot of nuance there. John Kruk said on "Mike & Mike" that bunting is A-OK, regardless of the situation. When should a player defer to history?
"

as far as bunting to break up a no-hitter, a lot depends on the situation.....if it is a close game and a team is trying to get some base runners to get a couple of runs, then it is justified. However, if the team is getting smoked at the batters are bunting with the specific intent of breaking up the no-no, then that is a cheap shot attempt at ruining what could be a historic game.

"

-- huffyt13
"

Bunting to break up a no-hit bid is situational. If your team is being no-hit, but you're tied or down by a small margin, why shouldn't you bunt to try to get on base and make something happen? If it's an 8-0 in the ninth, then it's unlikely a bunt hit is going to spark a comeback. Hit the baseball or sit down.

"

-- mrentfro
Dallas Braden is now one of 18 players to share the company of Lee Richmond in one of baseball's most select clubs, which is saying something when you consider Richmond, born in 1857, was probably already throwing a baseball when Robert E. Lee surrendered at Appomattox Court House. What we're saying is perfect games are pretty rare, even if we have seen two in the last 10 months.
There are plenty of subplots with Braden's gem. Is he now famous for something other than calling out Alex Rodriguez for stepping on his mound? Did the Rays' Evan Longoria break an even more important unwritten rule by laying down a bunt in the game? (Last week, SportsNation said bunting in a no-no is fine. But this morning? Not so much.)
But beyond all that, we're wondering what individual feat would be the ultimate to watch in person? A pitcher throwing a perfect game? A running back rushing for 300 yards? A pro golfer acing a hole? Is there anything you'd rather see in person than perfection?
"

I LOVE seeing no-no's, perfect games, 4 home run games, cycles, and the such being done. They are so rare and such a joy to see. Seeing the feat done is one thing, but seeing the athlete's unadulterated joy is a whole different level of fun.

"

-- breeze20
"

12,000 peeps watched the game, but prolly 50K are already claiming they were there and that number will swell to 150K in five years.

"

-- stevarino2009