SportsNation Blog Archives

JaMarcus Russell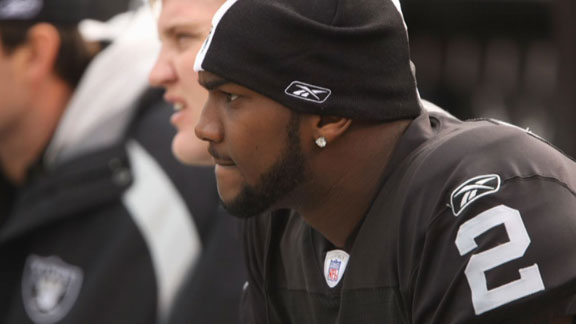 Stephen Hawking has a new series exploring some of the great mysteries of the universe, like the possibility of time travel and the likelihood of alien life. But if Hawking is so smart, we'd like to see him tackle this puzzler. What would happen if Courtney Brown tried to get around Tony Mandarich to rush JaMarcus Russell before he could throw the ball to Charles Rogers in front of Bruce Pickens? Our guess is the sheer weight of improbability would cause the entire universe to collapse in on itself. Or there would be a flag for illegal motion.
Cementing his place in our little thought experiment, Russell was released Thursday by the Raiders, ending a brief and inglorious run with the team that made him the No. 1 overall pick in 2007. But as bad as Russell was -- and he was awful -- was he bad enough to be the best at failing? Rank the top quarterback busts.
jeremy (Va)
Is Campbell such a solid talent at QB that it warrents cutting Russel after dumping so much money into him?
Football Scientist K.C. Joyner
In a word, yes. Campbell's metrics last year were quite good even with all of the turmoil surrounding that team. He's the kind of player who can perform even when things are unsettled, so fitting into Oakland should be no problem for him. Full transcript
Pending decisions from guys like Jimmy Clausen and Jake Locker, it remains to be seen exactly how plentiful the potential first-round quarterbacks will be in next spring's draft. But it seems safe to say it will have more to offer than the class of signal callers that came out of the 2007 draft.
Derek Anderson needed four games to complete a total of 29 passes, and it's only now that 2007 draftee Brady Quinn apparently gets another shot. JaMarcus Russell can't stop throwing interceptions and some of Trent Edwards' teammates are eager to bring in Michael Vick. Is there still hope for any of these guys, or is Kevin Kolb the class' only hope for redemption?
"

Welcome to the side show that is the Cleveland Browns. Trust me Browns fans, I know it seems bad, but it is only going to get worse. Mangini is clueless - are you sick of the "consistent" talk yet? Get him out of there before you lose next season as well. - A Jet fan

"

-- choochmmm9
Mike (Akron)
Hey Mel, if you were head of scouting for the Browns and you had 11 draft picks in the upcoming draft, how would you fix this team? Where would you start first?
Mel Kiper
First you have to assess the QB situation. Hopefully Brady Quinn will start the remaining of the season. You have 8 games left. See what you have in Quinn. You know what you have in Anderson. You have to see what Quinn has. He's been called too strong, too powerful to be an accurate consistent thrower. He needs a chance to prove that wrong. They need to develop some WRs. They need help on the defensive side of the ball. With the picks, you try to mortgage them for more. I'm a fan of moving down and getting more. They also need an heir apparent to Jamaal Lewis. Obviously, these young receivers, they need to develop the ones they drafted last year. Secondary help. Front seven help. The biggest thing this organization has to figure out is if Brady Quinn is the QB moving forward. The only way to find out is to play him. Full transcript
Some quarterback battles are worthy of Bruce Lee. Others more closely resemble Larry, Moe and Curly. But through it all, we're talking about summer entertainment. And when the other option is figuring out which punter a team will go with, we'll go with the contrived quarterback drama, thank you very much.
Browns coach Eric Mangini says he doesn't have a timetable for naming a starting quarterback. And the truth of the matter is that it probably doesn't really matter whether Mangini decides to start Derek Anderson or follows SportsNation's advice and goes with Brady Quinn when the Browns open the regular season at home against the Vikings (and their own quarterback to be named later).
Pick the right guy and maybe the Browns go 8-8. Pick the wrong guy and maybe they go 4-12 again. By December, people on the shores of Lake Erie may all be talking about Colt McCoy or Sam Bradford anyway.
But at least the Browns are choosing from two seemingly viable options, if only compared to how voters feel about the battles in Minnesota (Tarvaris Jackson and Sage Rosenfels) and San Francisco (Alex Smith and Shaun Hill).
"

Mangini will be under alot of presser. I think he goes w/ Quinn, because Mangini will get less grief is he doesn't work out compared to going with Anderson.

"

-- justsandmann
"

has this ever worked? waiting until the last minute to decide on a starting qb? they must have their reasons, but if i was a browns fan. i would want this figured out and soon..

"

-- jaredlawson