SportsNation Blog Archives

John Beck
The Rex Grossman era, such as it was, appears to be over in Washington. Coach Mike Shanahan has decided to start John Beck in place of Grossman. The 30-year-old Beck is a career journeyman, but Grossman seems to have reverted to his reckless gunslinging ways. With the Redskins at 3-2 and still in contention for the NFC East title, it may not be the right time to wait for Grossman to figure it out all over again.
More polls: Are the Redskins playoff-bound with Beck? Is Grossman done?
---
Right decision?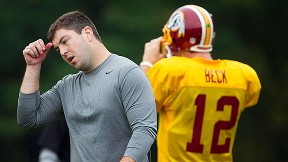 Rex Grossman played admirably for the first few games of this season, but his Total QBR has plummeted in recent weeks.