SportsNation Blog Archives

Dwight Freeney
Everyone loves a good conspiracy theory. The latest comes from Chargers linebacker Dwight Freeney, who says NFL owners decided not to spend too much money on free agents this year. Does Freeney have a point, or was there another reason for lower contracts? Leave your thoughts below.
ChiefIlliniwek4Life: Is this the part where we ignore the fact that the two richest contracts in NFL history were signed this offseason? Yes, I realize they weren't FAs, but don't tell me owners aren't spending.

The Braintrust: Maybe somebody looked at the correlation between free agent overspending and perpetual losing.

bsee65: Bah, Freeney's getting older, and owners are getting smarter about sinking big money into stars heading for the back end of their careers. Those guys only get money if they are loyal icons who bring positive energy and don't create headaches. Doesn't sound like a description of Freeney if you ask me.

My Team Can Beat Up Your Team: Please, the teams would never collude. Except, you know, when they did so in unilaterally setting a cap and restricting wages in an uncapped year just a couple years ago. featured, mobile

paradiseexpress: I think the rookie wage scale has more to do with this than anything. So much smarter to build through the draft than to sign high priced free agents.
The Houston Texans have never beaten the Indianapolis Colts twice in a season, primarily owing to the fact that the Colts have been rather good during the entirety of the Texans' existence. With a win over Indianapolis in their first game, Houston looked to change that sad fact last night.
It was not to be, however, as the old patterns repeated themselves: Peyton Manning threw a few touchdowns, Dwight Freeney made a key sack, and Matt Schaub threw a damaging interception. The Texans couldn't overcome their varied mistakes. The Colts are obviously going to win the AFC South now.
Or are they?
We're sorry for being so dramatic -- Halloween is over and done with, we know. The truth is that the AFC South isn't as clear-cut as it's been in years past. The Colts are at the head of the pack, for sure, but it's almost a three-way tie for that top spot. Tennessee has an equal number of wins, but one more loss, and if Houston had managed to pull it off last night, its position and Indianapolis' would have been reversed. It's all up for grabs in the AFC South. Which team will prevail?
"

Peyton = Greatest QB to ever play the game. Nuff said, end of story, period, done deal, chalk it up, tell a friend. It's a privilege to watch him play.

"

-- xrobologyx
"

The play calling for the Texans, last night was horrendous!! Arian Foster was averaging almost 7 yards per carry and yet he only got the ball 15 times. Run the ball! Kubiak, you're thinking too hard.

"

-- htownrprsntr
*Other than the guy in all the commercials, obviously
It's only Monday, which means the only Super Bowl availability we're really stressing about at the moment is TV Azteca's Inez Gomez Mont, but it's clear what the dominant story of Super Bowl week in Miami will be. And honestly, who doesn't want to spend the next six days talking about Dwight Freeney's ankle and hyperbaric chambers? Or perhaps given that it's the Super Bowl, a hyperbolic chamber would be more appropriate.
ESPN NFL bloggers Paul Kuharsky and Pat Yasinskas peg the pass rush as a deciding factor in Sunday's game. And while Freeney had fewer tackles this season than teammates Jamie Silva and Eric Foster, whose names you probably won't be hearing this week, but you could make a case the pass rusher is not only the team's most valuable defensive player but its most valuable player not named Manning.
"

This is annoying, Freeney doesn't make this Defense, it's a team effort. Why is this getting so much coverage, there aren't more important things to talk about?

"

-- Hawkey1337
"

Does that mean the Colts should have rested their starters until the SuperBowl?

"

-- Duhard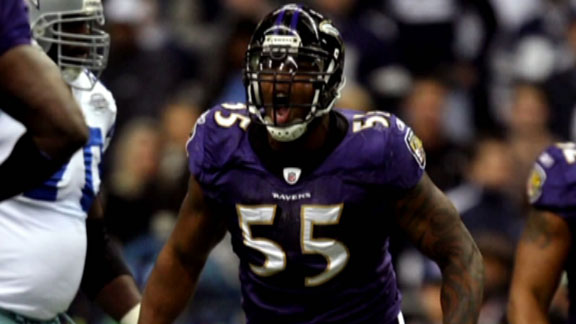 If you're going to sign a guy to a six-year, $63 million contract, do it the day after a team gave the same contract to a quarterback who never started a game in college.
A moral of limited use in your everyday life? Perhaps, but that's apparently the lesson SportsNation is offering in the wake of the Ravens' keeping pass-rusher extraordinaire Terrell Suggs in the fold for the next six seasons (hypothetically, at least, given the nature of NFL contracts; let's just say voters aren't sure he'll be around in 2015).
But if the 'Nation thinks Suggs is a safer investment than Matt Cassel, does it mean he's one of the best pass-rushers in the NFL? Because if that's the only qualification, Citibank might be one of the NFL's best pass-rushers.
"

D. Ware is smiling from ear to ear right now. He should send Suggs a thank you card.

"

-- Ashy-Larry
"

That's a lot of pressure to perform. You know the more you earn the more the company and people expect from you, except if you're a CEO of a company that deals with mortgages, stocks, or any other financial institution.

"

-- sfirx