SportsNation Blog Archives

David Garrard
Tim Tebow may be gone, but that doesn't mean the Jets' quarterback situation is settled. General manager John Idzik said that there's going to be an open competition for the QB spot, including everyone from struggling incumbent Mark Sanchez to backup Matt Simms. Whether the quarterback who starts the season will be the same person who finishes it is another question, but the Jets are keeping what options they have open on all fronts.
PCassidy2010: "'All 5 QB's will compete for the starting job,' said no team headed in the right direction, ever."
JDan15: "If you have 5 QB's I would argue that you don't have one QB."
JohnMosbyGuy: "The sad reality is that Greg McElroy is the best QB in NY right now. "
ScubaSteve884: "If Geno starts right away, the Jets don't know what they're doing...Oh, wait."
wvu1980joel: "Open competition at QB should always be the starting point, for every team. Is anyone guaranteed a position? They shouldn't be. Greatness in the previous season doesn't earn you a free ticket in the upcoming season."
Branko.NMI.Sipina: "As sad as this is, it is necessary. I would be shocked if Geno starts from day 1. But as an organization, competition should bring out the best in all QBs."
Join the conversation or respond by signing in or creating a profile and blogging.
At least the Jaguars didn't let David Garrard actually put on his uniform Sunday before cutting him. Just two days before the start of the regular season, and five days before their opener against the Titans, the Jaguars surprised many by releasing Garrard and handing the starting job to Luke McCown. Does Garrard have a brighter future than Jack Del Rio?
"This really just reflects on the organizational ineptitude of the franchise. Preseason and camp reps lost to a guy who is released for nothing, whilst a high pick watches. Garrard hasn't been great, but hey, it's not like Jacksonville has been set elsewhere." -- SN commenter ben212352
"I mean, Garrard wasn't the future or anything for Jacksonville, but at this point and time, he gave Jacksonville the best chance at winning right now. So this is pretty poor move by the management of the Jaguars organization." -- SN commenter Moneyduck2008
---
What would you have done?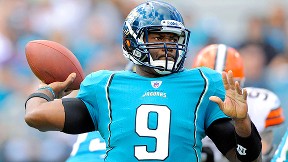 The Jaguars owed Garrard $9 million this year and apparently felt that money could be put to better use elsewhere. Like moving boxes, perhaps.

---
Jack Del Rio or David Garrard?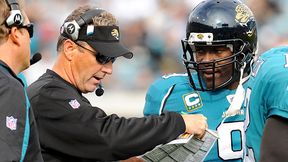 Del Rio seems to have a permanent place on the hot seat, but is his former quarterback a better bet for employment a year from now?

---
Is Blaine Gabbert the future?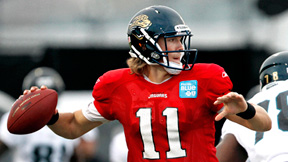 Luke McCown gets the starting job for now in Jacksonville, but is the future in sure hands with first-round pick Blaine Gabbert (above).

---
Is this just the first domino?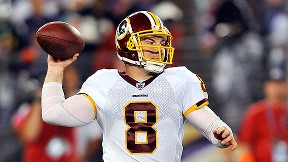 The timing may make it difficult for Garrard to win any starting jobs, but is he better than Rex Grossman or some of the starters currently in possession of that label?