SportsNation Blog Archives

Pro Bowl
Lakers GM Mitch Kupchak says he's not interested in trading Dwight Howard. But as the team and the All-Star center continue to struggle, sources tell ESPN.com's Chris Broussard that the Lakers might be forced to trade the All-Star, despite the team's hopes of signing him to a long-term deal. Will the Lakers trade Howard? Is he part of their future?
---
Star-crossed season
There have been questions about whether Howard fits in with the Lakers and Kobe Bryant. Will Howard still be a part of Showtime when the trade deadline passes?

---
Picking a direction
Usually, when the players and the coach don't mesh, it's the coach who's sent packing. But the Lakers made a big financial investment in Mike D'Antoni. What's his future in L.A.?

---
Overcoming resistance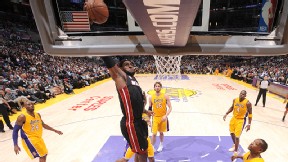 Kupchak said he would like to see the kind of effort from the Lakers that LeBron James showed in the Heat's win at Staples on Jan. 17. Is lack of motivation what's holding the Lakers back?