SportsNation Blog Archives

West Virginia Mountaineers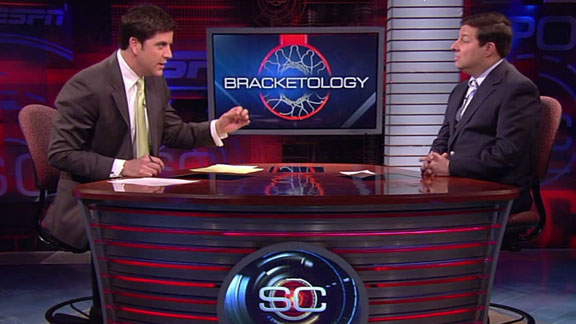 If this was the final week of competition before football bowl season, any discussion of a fifth-place team in the Big East would include names like Meinke Car Care Bowl, PapaJohns.com Bowl or St. Petersburg Bowl. Good times.
Thankfully it's March, which means Rick Pitino's so-so Cardinals have as much as the better part of a week on one of the biggest stages in the sport to vault themselves into national prominence and championship sleeper status. Notre Dame didn't even want a low-level bowl bid by the time its football season wrapped up, but the Fighting Irish will be playing like crazy for the chance to be at least No. 64 when the NCAA tournament comes out.
What we're saying is the Big East tournament is a pretty good gig. And with games on ESPN 360, it beats the heck out of real work. The big dogs (sorry, UConn) don't play until tomorrow, but which team has the best shot to knock off Syracuse?
Timothy (Morgantown)
Assume for a moment that WVU wins the Big East tourney... If that were to happen, then what else would the Mountaineers need to happen in order to move up to a #1 seed in the Big Dance?
Andy Katz

It's an interesting scenario. But the problem is that save the Villanova win it's not like WVA finished without any hiccups, losing to Pitt and Connecticut. I know the Mountaineers beat Ohio State but they did lose to Purdue. WVA is also the No. 3 seed in the Big East. I don't see it. Full transcript
David (CT)
Joe, here's the question that has captivated the country. If Uconn wins 3 are they back in?
Joe Lunardi

Well, David, it may have captivated one state. I think the rest of the country was tired of seeing UConn in my brackets. Three wins gets them back in the conversation. The rest is not knowable at this point. Full transcript
Syracuse must have been on top of the world after finally gaining the No. 1 spot last week. Finally, the Orangemen could enjoy being the top dogs for an extended period of time, like their brethren in Kansas and Kentucky. Now, just to take care of Louisville, and ...
Oh man, that's rough. Fortunately, they only fell to No. 3, so it's not like the voters have abandoned them completely (one guy even kept them as No. 1). They're in the catbird seed for a one-seed, but out of the next few teams, which would get your pick as the final top pick?
"

I wonder what genius kept Syracuse as their #1...

"

-- marchphog88
Justin (New Jersey)
Hey Jay, who do you think is gonna be that last number 1 seed after kansas st. and duke losing last night. Joe lunardi has it as kansas state? but they just lost by 17 to kansas!!
Jay Bilas
Duke has more top fifty wins, if that is your cup of tea. I go with the best team. There is still time left, and Duke could prove to be that team, but I still think that Ohio State will sneak into consideration. How come we are so worried about other injuries but nobody cuts the Buckeyes a little slack for being without Evan Turner for six games?! Watch out for the Buckeyes. Full transcript
What do Connecticut, North Carolina, Ohio State, Duke and Illinois have in common? Each was ranked No. 1 in the first poll released in March in the last five seasons, respectively. And unless we missed something, not a one of them won the title in that season (although at least the Tar Heels got one the next season). So there you go; there's the explanation for every team at the top of the polls seemingly pulling a Michael Spinks to get out of the way of the No. 1 ranking. Or maybe it's just college basketball.
Syracuse inherits the top spot in the coaches' poll after Kansas, Kentucky and Purdue all lost over the weekend. But the real question is whichever team you would rank No. 1 right now, which team would you bet the farm on to go all the way in the NCAA tournament?
"

I think all year that SU and KU have proven to be the best two teams in the land. No offense to UK, but the schedule you guys played just doesn't warrant being in the conversation. A lot of talent, but no one to test it against. I believe that will bite them in the NCAA's. I truly hope SU and KU are on opposite sides of the bracket so there is the potential for a 2003 Rematch in the Finals. GO ORANGE #1!

"

-- mastroleo80
Chris (Washington, D.C.)
What would Georgetown have to do to secure a 2 seed?
Joe Lunardi

I think that ship has sailed, Chris. Full transcript
College basketball's No. 1 and No. 7 teams take the court on Big Monday! All right, so top-ranked Kentucky (vs. Oklahoma, ESPN, 9 p.m. ET) and seventh-ranked West Virginia (at Connecticut, ESPN, 7 p.m. ET) aren't taking the court against each other, if you want to get precise about these things, but why let that stop you from tuning in? Are you really that interested in the free skate in ice dancing?
The most drama probably resides in Storrs, Conn., where the Huskies' grip on the NCAA tournament bubble as the Mountaineers come to town brings to mind the signature big red orbs in ABC's "Wipeout" series. Doug Gottlieb addresses their prospects in the video above, but how would the picture look with another big win tonight?
John (Utah)
Hi Fran, what do you think it takes for Uconn to make the tourney?
Fran Fraschilla

Wins! They have some quote-unquote opportunity games against teams that are ranked. For example, a win against West Virginia on Monday night would look great on their tourney resume. They are very dangerous because their big three are as good as any in the Big East. And of course, their Hall of Fame coach is back. Something tells me they will play their way into the field of 65. Full transcript
Lance (Baltimore)
If Kansas and Kentucky played today who would you pick to win? I would pick Kansas to win in a thrilling close contest.
Mark Schlabach

I'd go with Kansas' experience in March. Collins and Aldrich could match Wall and Cousins. Definitely a potential championship game. Full transcript