SportsNation Blog Archives

Liberty Flames
Liberty is headed to the NCAA tournament after defeating Charleston Southern in the Big South conference championship game. This wouldn't be so terribly unusual, save for the fact that Liberty has lost 20 games this season. Despite their losing record, the Flames will have a chance to take part in March Madness. Manhattan (14-17) also has a chance to go dancing if it beats Iona in the MAAC championship game Monday night.
sarge rofles: "all this does is take away a spot in the tournament from real teams, in real conferences, with real hopes of making a run in the tournament. "
Stephen 7702: "if you can win your conference then you deserve to be with the best teams out of every conference...that is why LU is headed to the tourney...they earned it!"
dbcrutchfield: "Here is the problem with everyone saying that sub .500 teams shouldn't make the tournament. In most scenarios this happens only with the mid-majors. The conferences who have these teams need to have these tournaments because they are some of the only real money making opportunities that they have. "
Topeka Peterson: "This is the awesome part of CBB. YOU HAVE TO TAKE CARE OF BUSINESS. Obviously, Liberty did that."
64Dodger: "The selection process is broken and needs to be fixed. No way does this team deserve to be in the tourney."
walternate4state: "This is exactly what is wrong with college basketball."
Join the conversation or respond by signing in or creating a profile and blogging.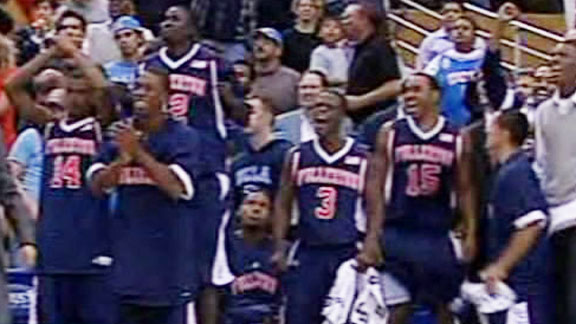 Any day with college basketball on television is a good thing. A day when college basketball is always on television is a great thing. With the march to the Final Four in Indianapolis underway (and the march to San Antonio for the women), ESPN is showing nothing but basketball Tuesday -- 12 games in 24 hours. And that doesn't even include the games going on ESPN2, ESPNU, ESPN360.com and ESPN Mobile. At this point, you've already missed the start of class (and Cal State Fullerton upsetting UCLA) but there's still time to salvage the day.
"

The benefits of working from home!

"

-- usf_football
"

I love the 24 hour marathon -- took Tuesday off from work. Good thing the Monday Night Fooball game is so terrible ... so I can get a nap in after work before the marathon tipoff.

"

-- bh4312