SportsNation Blog Archives

Yovani Gallardo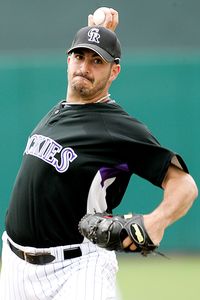 We salute NFL commissioner Roger Goodell for summiting Mount Rainier, although running a league that includes the Bengals does give him at least a little experience with things that tend to erupt and leave a swath of destruction in their wake. But as the MLB All-Star Game approaches, Goodell's trip takes second place to the high-altitude exploits of Rockies pitcher Jason Marquis.
Passing the still-frozen bodies of Mike Hampton and Denny Neagle (proverbially speaking, of course) on his way to the summit, Marquis is a legitimate Cy Young contender with 11 wins. We get that the humidor makes Coors Field slightly less ominous than the setting for the next "Saw" for pitchers these days, but there's still not exactly a line forming to go face batters a mile above sea level.
"

Vazquez is, and has been, an over-rated bum his whole career. Can't win with run support, can't win without it. There's a reason why his career numbers hover around .500, and its nothing to do with the rest of any team he's been on.

"

-- JeffSigmaChi
"

Start Tim Lincecum for the NL. The man is a serious freak of nature and an amazing picture. Just ask the last 3 teams he has pitched against.

"

-- jaws2355
The Brewers have been solidly ensconced in the top 10 of SportsNation's Power Rankings for seven of the last eight weeks, but just imagine how the team would be doing if Ryan Braun were in charge.
Fed up with three losses in four games at Wrigley, Braun panned the team's pitching and called on general manager Doug Melvin to make changes. Although this wasn't addressed, we hear he's also not pleased with the bratwurst's recent performances in the sausage races at Miller Park.
"

I listened to his interview when they were playing the Mets. He sounded really intelligent surprisingly. It's interesting that he backtracked with his "I know Melvin is trying to make the team better" comment. What is this all about then? I think a 2 year old realizes that the Brewers need pitching. There is no CC or Sheets anchoring your rotation. Luckily, Gallardo is a top pitcher in the game and there a few veterans behind him in Looper/Suppan. He can't be callling them out - they are who they are and Gallardo has been awesome. This must be directed at Manny Parra

"

-- migarvin21
"

Braun should have been saying this before the season. Honestly, I'm surprised the brewers have even come this far with that pitching staff. It's like one decent ace and four number 5 pitchers. When Jeff Suppan is your opening day starter, you got problems. They got a stroke of luck with Hoffman, but this team needs alot more pitching because its gonna catch up to them. I hope there's another CC out there, but i really doubt it.

"

-- pimea.mark