SportsNation Blog Archives

Kansas Jayhawks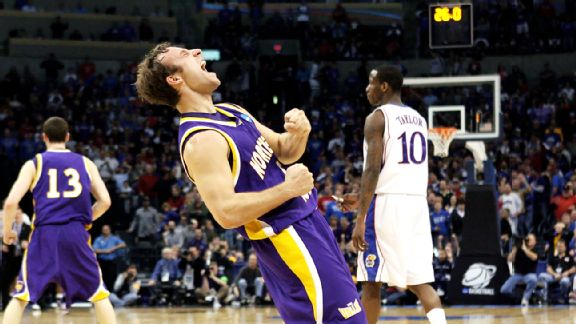 Nelson Chenault/USA TODAY Sports
Five years later, Ali Farokhmanesh is still trolling Kansas fans.
Who can forget the moxie of the Northern Iowa guard with the long last name who heaved up a 3 late in the game that essentially buried the overall No. 1 seed Jayhawks in the first weekend of the 2010 NCAA tournament?
Kansas fans certainly haven't forgotten -- but perhaps years of mental therapy have erased his face from their memories. At least that applies to the KU partisans he interviewed in Omaha, Nebraska, where the Jayhawks are playing in the tournament this weekend.
The Omaha World-Herald had Farokhmanesh pose as a reporter and walk around with a microphone, interviewing Kansas folks about their worst NCAA tournament memories -- pressing them on that UNI heartbreaker if they at first named others. None of them recognized the villain from Cedar Falls, which made it all that much funnier when he identified himself.
Watch for yourself here -- unless you are a Jayhawks fan, of course, in which case we'll understood if you feel it's just too soon.