SportsNation Blog Archives

Al Horford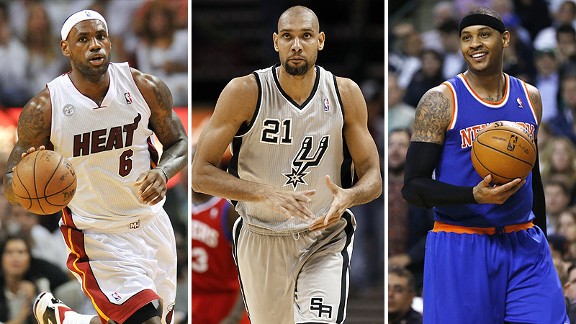 A power forward's job is to control the low block area -- they are able to play with their backs to the basket as well as step out to nail a mid-range jumper. Tim Duncan and Kevin Garnett are known to have that skillset. Some are also known for their ability to intimidate with powerful dunks, like Blake Griffin. Then you have the Carmelo Anthony and Dirk Nowitzki types who can pretty much do it all, from inside the paint to outside the arc. How do you round out the NBA's best at the four position? NBA insider Bradford Doolittle had his say and so did the NBA 5-on-5 crew, but now it's time for SportsNation to weigh in.
Rank 'Em: Point guards | Shooting guards | Centers | NBA teams' under-25 talent


NBA Power Forwards

LaMarcus Aldridge

LaMarcus Aldridge
Portland Trail Blazers
2012-13: 21.1 PPG, 9.1 RPG, 1.2 BPG

Ryan Anderson

Ryan Anderson
Pelicans
2012-13: 16.2 PPG, 6.4 RPG, 0.4 BPG

Carmelo Anthony

Carmelo Anthony
Knicks
2012-13: 28.7 PPG, 6.9 RPG, 2.6 APG

Anthony Davis

Anthony Davis
Pelicans
2012-13: 13.5 PPG, 8.2 RPG, 1.8 BPG

Tim Duncan

Tim Duncan
Spurs
2012-13: 17.8 PPG, 9.9 RPG, 2.7 BPG

Kenneth Faried

Kenneth Faried
Nuggets
2012-13: 11.5 PPG, 9.2 RPG, 1.0 APG

Derrick Favors

Derrick Favors
Jazz
2012-13: 9.4 PPG, 7.1 RPG, 1.7 APG

Kevin Garnett

Kevin Garnett
Nets
2012-13: 14.8 PPG, 7.8 RPG, 0.9 BPG

Pau Gasol

Pau Gasol
Lakers
2012-13: 13.7 PPG, 8.6 RPG, 1.2 BPG

Blake Griffin

Blake Griffin
Clippers
2012-13: 18.0 PPG, 8.3 RPG, 0.6 BPG

Al Horford

Al Horford
Hawks
2012-13: 17.4 PPG, 10.2 RPG, 1.1 BPG

Serge Ibaka

Serge Ibaka
Thunder
2012-13: 13.2 PPG, 7.7 RPG, 3.0 BPG

LeBron James

LeBron James
Heat
2012-13: 26.8 PPG, 8.0 RPG, 7.3 APG

David Lee

David Lee
Warriors
2012-13: 18.5 PPG, 11.2 RPG, 0.3 BPG

Kevin Love

Kevin Love
Timberwolves
2012-13: 18.3 PPG, 14.0 RPG, 0.5 BPG

Paul Millsap

Paul Millsap
Hawks
2012-13: 14.6 PPG, 7.1 RPG, 1.0 BPG

Dirk Nowitzki

Dirk Nowitzki
Mavericks
2012-13: 17.3 PPG, 6.8 RPG, 0.7 BPG

Zach Randolph

Zach Randolph
Grizzlies
2012-13: 15.4 PPG, 11.2 RPG, 0.4 BPG

Josh Smith

Josh Smith
Pistons
2012-13: 17.5 PPG, 8.4 RPG, 4.2 APG

David West

David West
Pacers
2012-13: 17.1 PPG, 7.7 RPG, 0.9 BPG
Tags:
SportsNation Rank, NBA, NBA, LaMarcus Aldridge, Ryan Anderson, Carmelo Anthony, Anthony Davis, Tim Duncan, Kenneth Faried, Derrick Favors, Kevin Garnett, Pau Gasol, Blake Griffin, Al Horford, Serge Ibaka, LeBron James, David Lee, Kevin Love, Paul Millsap, Dirk Nowitzki, Zach Randolph, Josh Smith, David West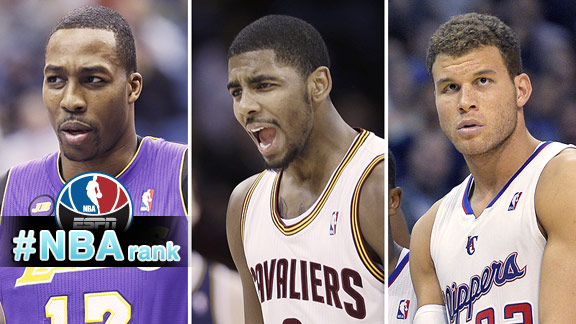 ESPN.com's NBA experts and the TrueHoop Network have once again come together to rank the top NBA players via the #NBArank project, counting them down from No. 30 to No. 1 on Twitter (@NBAonESPN). The 2012 #NBArank project had LeBron James as the league's best player, while SportsNation preferred Kevin Durant. Who tops your rankings as the 2012-13 season comes to an end?
All stats from 2012-13 season through games of April 8.


Top NBA players
Carmelo Anthony

Carmelo Anthony
Knicks F
28.4 PPG, 6.6 RPG, 2.5 APG
Chris Bosh

Chris Bosh
Heat F
16.7 PPG, 6.7 RPG, 53.2% FG
Kobe Bryant

Kobe Bryant
Lakers F
27.0 PPG, 6.1 APG, 5.5 RPG
Stephen Curry

Stephen Curry
Warriors G
22.5 PPG, 6.9 APG, 45.2% 3-pt FG
Tim Duncan

Tim Duncan
Spurs F/C
17.7 PPG, 10.0 RPG, 2.7 BPG
Kevin Durant

Kevin Durant
Thunder F
28.4 PPG, 7.9 RPG, 4.5 APG
Marc Gasol

Marc Gasol
Grizzlies C
14.3 PPG, 7.7 RPG, 1.7 BPG
Blake Griffin

Blake Griffin
Clippers F
18.2 PPG, 8.4 RPG, 53.9% FG
James Harden

James Harden
Rockets G
25.8 PPG, 5.9 APG, 4.8 RPG
Al Horford

Al Horford
Hawks C
17.4 PPG, 10.2 RPG, 1.1 BPG
Dwight Howard

Dwight Howard
Lakers C
16.7 PPG, 12.5 RPG, 2.4 BPG
Kyrie Irving

Kyrie Irving
Cavaliers G
22.5 PPG, 5.8 APG, 1.6 SPG
LeBron James

LeBron James
Heat F
26.9 PPG, 8.1 RPG, 7.2 APG
Joakim Noah

Joakim Noah
Bulls C
12.2 PPG, 11.4 RPG, 2.2 BPG
Dirk Nowitzki

Dirk Nowitzki
Mavericks F
16.9 PPG, 6.8 RPG, 47.4% FG
Tony Parker

Tony Parker
Clippers G
20.6 PPG, 7.5 APG, 35.3% 3-pt FG
Chris Paul

Chris Paul
Clippers G
17.0 PPG, 9.6 APG, 2.4 SPG

Dwyane Wade

Dwyane Wade
Heat G
21.3 PPG, 5.0 RPG, 5.0 APG

Russell Westbrook

Russell Westbrook
Thunder G
23.4 PPG, 7.6 APG, 1.8 SPG
Deron Williams

Deron Williams
Nets G
18.7 PPG, 7.7 APG, 1.0 SPG