SportsNation Blog Archives

Joakim Noah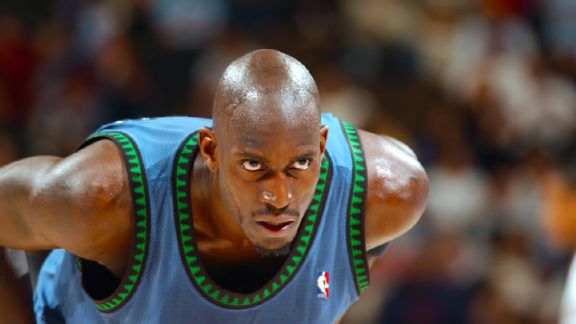 Nathaniel S. Butler/Getty Images
On Monday, Bleacher Report released an oral history of Kevin Garnett. Now, an oral history of one particular player might seem a little much, unless that player is a human anecdote machine -- which the former/current Minnesota Timberwolves and former Boston Celtics and Brooklyn Nets big man most certainly is.
We pulled some of the best quotes from the piece related to Garnett's infamous intensity and trash talk, but it really is worth the whole read:
Joe Abunassar, Garnett's personal trainer: "We had been working out and we went to Memorial Park [in L.A.], and he had forgotten his socks. It was him, [Chauncey] Billups, [Al] Harrington, Ty Lue, Michael Ruffin and a few others. He played every game. He was dunking on guys and blocking shots -- all with no socks on. Hours he was playing. When it was over, there was blood seeping through the front of his shoes. Part of his feet and toes were just bleeding. It was unbelievable."
Chris Bosh, Miami Heat/former Toronto Raptors forward: "Usually I don't talk back, but if he said something to me, I said something back. I had just a terrible game for me [against the Celtics in the 2011 playoffs]. He got me all off my game. He scored, like, four times in a row on me in the crunch. And I was so embarrassed and so upset, and he got in my head. Ever since that day, I never said anything else."
Paul Pierce, former Celtics and Nets teammate: "One time, he asked [Joakim] Noah if he could rub through his hair, like a female or something. ... And I know that kind of made [Noah] hot. And this was when Noah was a rookie, too. I remember Noah looked up to KG. He was like, 'Man, KG, I had your poster on my wall, I looked up to you, man.' And then [Garnett] just said something like that, and was like 'F--- you, Noah.' I was like, 'Whoa.' This kid fresh out of college, looks up to KG, just said he had his poster on the wall, and he tells him that! It crushed him. It crushed Noah."
Pierce again, recalling a light moment between himself (then with Boston) and Garnett (then with Minnesota): "We were both on losing teams at this point. This is probably around the last week of the season. We're talking [trash] at the free throw line. I'm like, 'Man, everybody needs to shut up, because we all going to the Bahamas next week.' And as intense as he was, he had to look up and just start laughing. ... I said, 'I'm going to Cancun. Where are you going, Ticket?' He said, 'I'm going to St. Lucia.'"
Tyronn Lue, former NBA guard: "A lot of people do all their howling on the court and they're faking just for attention, but what he does is genuine. So one day we were at his house and we were watching Puff Daddy's show 'Making the Band,' and in one of the scenes, some new guys came in and were trying to sing and were trying to compete against the guys who had been there. And KG just got so hyped: "M-----f-----, you've got to stand up for yours! You've got to fight! M-----f----, you've got to come together!" He's going crazy, he's sweaty. And he just head-butts the wall and put a hole in the wall of his house."
Check out the story here.
Joakim Noah was, for a brief moment Monday night, a happy man. The Bulls had just beaten the Magic, he'd put up a double-double in said win, and the weather was finally looking up after a worryingly brutal winter. Then a reporter informed Noah that it was snowing.
Again.
And Joakim Noah was no longer a happy man.
A sport's "unwritten rules" are generally unwritten for a reason, but for some players, they are of paramount importance. Kendrick Perkins hasn't been having the best season, but he was able to eject Bulls center Joakim Noah from the Thunder's locker room when Noah tried to visit Thabo Sefolosha. Sefolosha had visited the Bulls' locker room without incident after the Thunder's 107-95 win, but when Noah returned with him to the Thunder's den, Perkins took offense, saying, "They just let anybody in the locker room?" Noah wisely made his exit, but the two exchanged words again outside the locker room. Fortunately, nothing else transpired, otherwise this would just be sad. Right now, it's sad and hilarious.
Here's a sampling of what readers had to say in our Facebook conversation on the story:
Thomas Debise: "At this stage of his career, Perkins is pretty much a non-factor on the floor, so he feels the need to make up for this in the locker room. The same stance from Westbrook or Durant would have had a much bigger impact."
Mo Atmore: "I'm actually kinda surprised that Noah didn't react differently. I love his passion plus I think he could take Perk (he's too slow). Glad he was the bigger man though."
Daniel Darroch: "I don't like Perkins, but I semi-agree with him, I hate the 'everyone is buddies' NBA culture, I doubt any opposing player would be allowed in an NFL or NHL locker room. Meet after the game or offseason. I hate as a fan watching everyone being buddies before tip-off. Larry Bird or MJ wouldn't have allowed it either."
B.J. Ramon: "I'm really surprised at the comments supporting Noah. You can't walk into the other team's locker room. The Bulls should change their policy too. True that Perk is not getting minutes and does not put up numbers but THIS is what he does. He protects the team. "
K. Sheldon Bailey: "I wondered what the problem was since Thabo brought Noah into their dressing room. But, then I looked at the boxscores and I knew what the problem was: Noah: 23 pts 12 rebounds - Perkins: 0 pts 4 rebounds. Perkins was already mad because Noah dropped a double-double on him."