SportsNation Blog Archives

Kevin Durant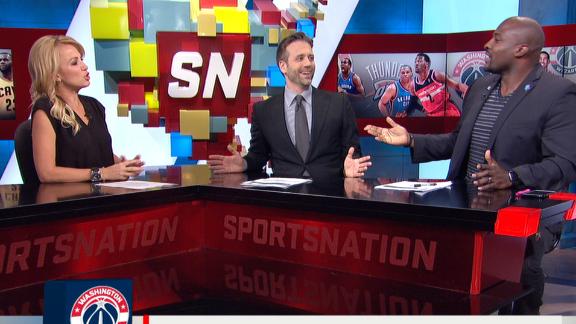 Washington Wizards fans aren't exactly hiding their desire to have hometown kid Kevin Durant return as a free agent.
Durant, though, isn't exactly a fan of their actions, calling them "kind of disrespectful" to current Wizards players.
Max Kellerman agrees. But the SportsNation crew wasn't unanimous. And apparently some Wizards fans didn't take too kindly to Durant's words, reportedly booing him when he touched the ball during Tuesday night's game between the Oklahoma City Thunder and Washington.
Your take?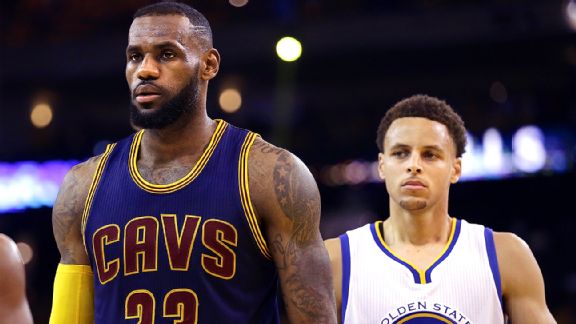 AP Photo/Ben Margot
Recently we brought you the top 10 players, as rated by the latest "NBA 2K" game.
The ratings for "NBA Live 16" also are here -- and they're quite a bit different.
Here's the top 10 (and ties):
1. LeBron James (97)
2. Kevin Durant (96)
T-3. Anthony Davis (95)
T-3. Marc Gasol (95)
T-3. Blake Griffin (95)
T-3. James Harden (95)
T-3. Chris Paul (95)
T-8. LaMarcus Aldridge (94)
T-8. DeMarcus Cousins (94)
T-8. Stephen Curry (94)
T-8. Russell Westbrook (94)
That's right: LeBron James (no surprise) is No. 1, 2014 NBA MVP Kevin Durant is No. 2, and a handful of talented stars across positions come in tied for third.
Meanwhile, the reigning NBA MVP is tied for eighth -- definitely an eye-opening number for a player many consider the best in the league. Then again, perhaps "NBA Live" is drawing upon more than just last season for its ratings; few before 2014-15 had Curry in that top-player-overall conversation.
September 23, 2015
Sep
23
The ratings for "NBA 2K16" are out, and -- unlike in "Madden" -- nobody in the league was given a 99.
In fact, the highest rating was a 94, given to a player whose name long has been synonymous with "best in the NBA."
The 10 overall ratings in #NBA2K16. What do you think? Let the debates begin. pic.twitter.com/qGyUIHajzA

— NBA 2K 2K16 (@NBA2K) September 22, 2015
That's right. Even Stephen Curry's MVP season -- which gave him a four-point jump over his score a year ago -- couldn't push him past LeBron James, although the latter dropped four points (partly due to, as Bleacher Report explains, a new way of calculating rankings).
James Harden's players' choice MVP campaign got him a four-point boost, as did the continued scary-goodness of Anthony Davis, but they still couldn't take down The King. Kevin Durant's injury, meanwhile, likely was the reason for his fall from second place and a 95 rating a year ago. (Interesting note: The three non-LeBron top-four players are on the cover.)
There were a couple of surprise inclusions on the list. Carmelo Anthony was 20th in player efficiency rating, 49th in real plus-minus and 81st in wins above replacement last season, yet checks in at No. 8. LaMarcus Aldridge (11th/25th/22nd) was also an eyebrow-raiser at tied for eighth/No. 10.
Not that either is bad, far from it, But still, no love for the best player on Aldridge's team?
Russell Westbrook had an incredible statistical day Sunday: 54 points, nine rebounds and eight assists.
But other things did not go as well for the Oklahoma City Thunder star. His team lost 116-104 at the Indiana Pacers, which kept them behind the New Orleans Pelicans for the final Western Conference playoff spot because of the head-to-head tiebreaker. And the guard was called for the following technical, which will have him suspended one game, per NBA rules:
Westbrook's injured teammate, Kevin Durant, was apparently not happy with the call: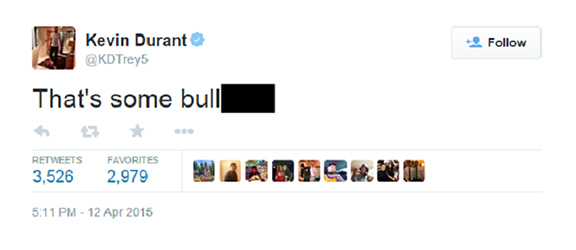 KDTrey5/Twitter
Durant, who has been rather outspoken of late, did not delete the tweet (at least as of this writing). He followed with another that showed how much it pains him to watch this playoff race from the sideline:
Good fight fellas! Love yall, let's get this one tomorrow!! #Imissgoingtobattlewiththemob

— Kevin Durant (@KDTrey5) April 13, 2015
If the technical isn't rescinded, Westbrook will miss Monday's home game against the Portland Trail Blazers. That game is followed by a visit to the Minnesota Timberwolves.
The Pelicans, meanwhile, also travel to Minnesota, then play host to the San Antonio Spurs.
Both teams are 43-37.
UPDATE: The NBA rescinded Westbrook's technical, meaning he will play Monday night.
There's talk that the Oklahoma City Thunder possibly would trading Kevin Durant before he leaves in free agency. Thunder general manager Sam Presti has dismissed it. But should he be worried about losing the reigning NBA MVP?