SportsNation Blog Archives

Patrick Kane
Growing up, Patrick Kane played on local rinks throughout his native Buffalo, New York.
Recently, the two-time Stanley Cup champion and 2013 Conn Smythe Trophy-winning Chicago Blackhawks forward returned to his hometown to do that once again.
So this Kane guy showed up to the @Piranhas3DPuck game last night... he was pretty good pic.twitter.com/vX5WaXTNYS

— Px Hockey League (@PxHockeyLeague) July 22, 2014
The results, naturally, were devastating. For his opponents, anyway. Five goals. Five assists. A 13-5 win.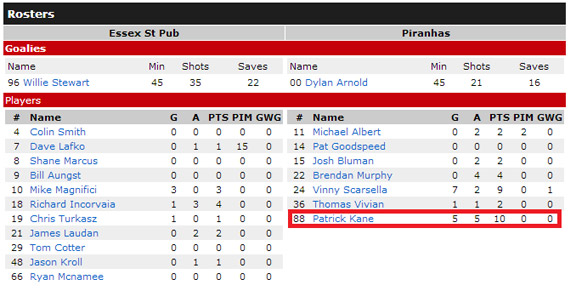 Performax Hockey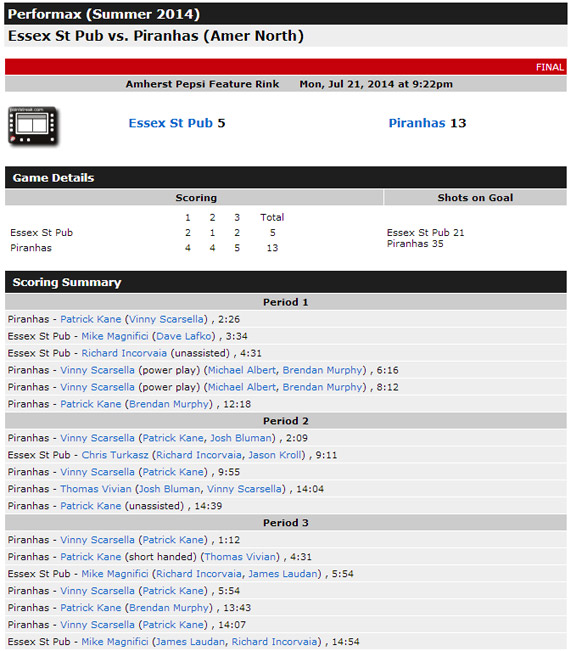 Performax Hockey
Let's not overlook the man on the receiving end of Kane's five assists: Vinny Scarsella, a 24-year-old most recently of the ECHL's Utah Grizzlies, who scored seven goals and added two assists.
Nor should we ignore the fact that this is Kane's second game with Piranhas -- and he only tallied one goal and two assists in the first (a 12-1 win).
WHAT HAPPENED IN THAT GAME, KANE?
H/T BarDown
Stanley Cup: Blackhawks-Bruins
The Blackhawks are one win away from a Stanley Cup championship thanks to two goals from Patrick Kane in Game 5. However, injury concerns to a star player on each side -- Patrice Bergeron for Boston and Jonathan Toews for Chicago -- create an interesting sub-story to Game 6. What impact will the injuries have on the series? Will Chicago wrap it up in Game 6 or will the Bruins bounce back and treat sports fans to another Game 7?