SportsNation Blog Archives

Memphis Tigers
3. Will Georgetown get a big win on the road at Memphis?
Hopefully you wrapped up your holiday shopping early because it's a perfect night to hang the stocking with care and settle in for some long hours in front of the television. In addition to college football, NBA, NFL and NHL action, we've got a top-20 showdown in college hoops. What's your pick when Georgetown visits Memphis?
"will be interesting to see how GU's guards will handle length of Memphis guards. Memphis will force their share of turnovers, but if they press and overcommit all game, GU will have a field day and get a lot of easy buckets. Wright and Freeman are too quick, strong, and poised to be thrown off by a pressing team (see 111 points scored against Mizzou)." -- SN commenter eddie_yvp
The Final Four long ago outgrew arenas like Madison Square Garden, but in addition to raising money for a great cause, will tonight's Jimmy V Classic offer at least a partial preview of what we may see in April at Reliant Stadium in Houston?
Only No. 4 Kansas currently ranks among the top quartet as it prepares to face No. 14 Memphis (ESPN, 7 p.m. ET), but it seems unwise to count out the Tigers or No. 7 Syracuse and No. 8 Michigan State, who square off in tonight's second game (ESPN, 9 p.m. ET). None of the top four teams at this time last season eventually made it to Indianapolis, those latter teams instead ranking No. 7 (West Virginia), No. 8 (Duke), No. 14 (Michigan State) and No. 20 (Butler).
Scott (South Dakota)
Hey Fran - how good are the Jayhawks this year? Longtime fan, so I've been duped by some good pre-season rankings and regular season results. How "good" are they in reality? Thanks!!
Fran Fraschilla
You've been duped by regular season results? What planet have you been on? Has anybody had a better run than Bill Self? Remember, Roy Williams and Larry Brown lost NCAA tournament games as well. I really like this Kansas team. Offensively it has a lot of weapons and will certainly be improved once Josh Selby is eligible on Dec. 18. Marcus Morris just might be the most versatile forward behind Singler and his brother does great dirty work. If UCLA exposed an Achilles heel defensively last week, it was in pounding the ball inside against the twins and Thomas Robinson. Overall they are a top five team and one of my picks to get to the Final Four. Full transcript
dave (ri)
has the [V Foundation] helped anyone in your family?
Nick Valvano
As a matter of fact, my brother's middle daughter Jamie, who is 38, was diagnosed five years ago with breast cancer. I wouldn't say it's research that we funded that [means] she's cancer free right now, but it was research that was done years ago that helped her. It's kind of eerie that in his ESPYS speech he said that the research might help someone in his family and it did. Full transcript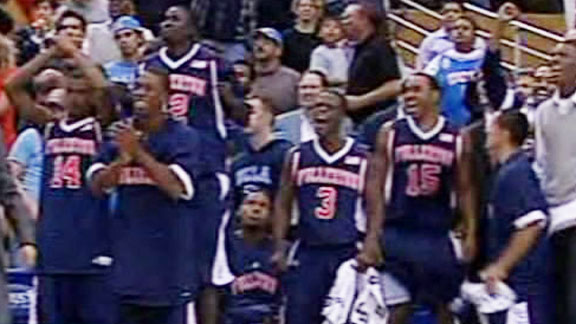 Any day with college basketball on television is a good thing. A day when college basketball is always on television is a great thing. With the march to the Final Four in Indianapolis underway (and the march to San Antonio for the women), ESPN is showing nothing but basketball Tuesday -- 12 games in 24 hours. And that doesn't even include the games going on ESPN2, ESPNU, ESPN360.com and ESPN Mobile. At this point, you've already missed the start of class (and Cal State Fullerton upsetting UCLA) but there's still time to salvage the day.
"

The benefits of working from home!

"

-- usf_football
"

I love the 24 hour marathon -- took Tuesday off from work. Good thing the Monday Night Fooball game is so terrible ... so I can get a nap in after work before the marathon tipoff.

"

-- bh4312