SportsNation Blog Archives

Kentucky Wildcats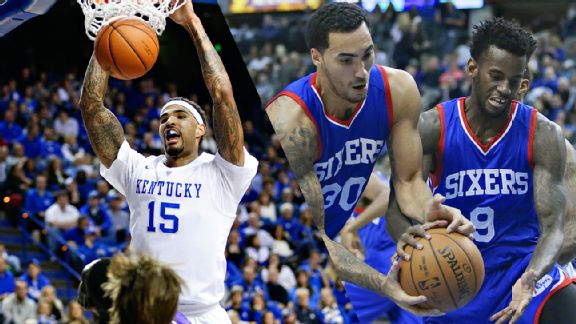 Getty Images
On a Wednesday SiriusXM NBA Radio appearance, Phoenix Suns guard and former Kentucky Wildcat Eric Bledsoe said his school -- fresh off a 72-40 dismantling of the fifth-ranked Kansas Jayhawks -- would beat the 0-11 Philadelphia 76ers in a seven-game series.
"I'm definitely taking Kentucky," Bledsoe said when presented with the scenario. "I think Philly would probably get maybe one game."
Bold statement. Philadelphia indeed is terrible and Kentucky appears to be great. But would a cast of current NBA players really lose to future ones?
(Side note worth mentioning: The Suns play at Philadelphia on Friday.)
Big problems with the NCAA?
Kentucky coach John Calipari isn't all that pleased with how the NCAA does things. According to a report in The Wall Street Journal, the Wildcats coach in his new book compares college sports' governing body to the last years of the Soviet Union, saying it has failed to change with the times. Calipari also proposes several changes, including allowing players to transfer without sitting out if their coach leaves, a $3,000-to-$5,000 stipend and more. What's your take?